Eric Burch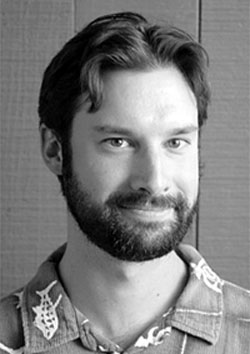 Eric was born and raised in a rural Mendocino County town up in Nor. Cal. He has lived elsewhere but has since gravitated back to his roots. He's pushing 30 with 8 years of newspaper experience. A man of my own skill trade Eric is a writer, copy editor, photographer and graphic designer. He was doing his own magazine but has put that on hiatus for the time being. The design work is what currently pays the bills. (This means he can afford a date!) And don't I know it; free magazines don't pay the bills.

As far as skateboarding goes, Eric has been riding for close to 20 years. There was a period during the '90s when he quit skating to progress but felt that was a stupid thing to do. Of course it was Eric! He got back into riding in the twilight of the '90s as skateparks began popping up all over northern California.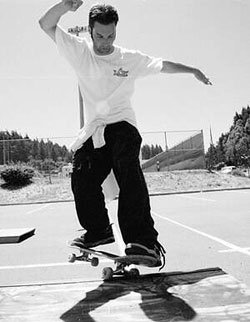 photo Patrick Cant
Eric was one of the original three to spark the reassurance of the local skatepark movement in Willits. He volunteered his time after moving away and within 5 years, Willits had a skatepark. More recently Eric has become an advocate for Skaters for Public Skateparks, as well as volunteer and advocate with the crew behind the Ukiah Skatepark Committee. He is also going to work with me on changing SB994, a very sticky helmet and pad law.

Keep up the good work Eric, you big ole huggie bear, and thank you for being my hunk!