Ah, Tampa AM, probably the biggest and most popular pure skateboarding contest. It's just a weekend full of kids from all over the world throwing down crazy shit inside and outside the skatepark. Take a second to imagine a daycare center that caters to skateboarders. One that is held inside a warehouse with ramps instead of swing sets and sick ass bowls instead sandboxes. And to top it all off, the owner of this daycare has a mohawk. Not a typical place to send a bunch of kids to for a weekend is it?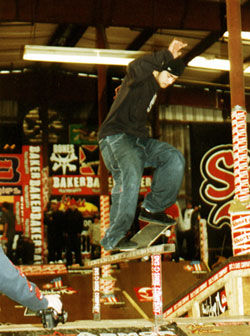 These ams are getting younger and younger every year. There were 15 kids in the semi-finals that were between 10-15 years of age. And don't think cause these kids were the youngest, they weren't pulling any tricks. Evan Mirchell, the only ten year old entered in Tampa, threw down a frontside boardslide body varial to lipslide, twice. As predicted, everyone was going balls-to-the-wall trying to get noticed, get sponsored, or clinch a title at the coolest contest around.
I left North Carolina Thursday night about an hour after the snow started to fall, with Chris, a friend from back home, and Duffy, a guy that was staying with one of my neighbors. The road trip itself had a novel worth of stories to tell, but to keep the words to a minimum and the content rated PG, I am forced to skip most all of it. But after the trauma of hitting a dog, driving trough a snow storm, taking the wrong interstate, a bottle of No-Doz pills, and 14 hours later, two guys and a man named Duffy stepped foot on S.P.o.T. soil (Skate Park of Tampa).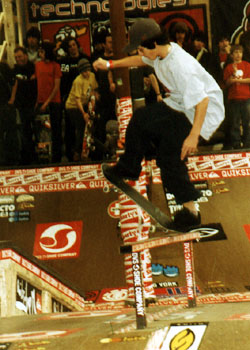 Nothing much happened on Friday. I didn't get there till around 2:00 to start shooting photos, since we had to find a hotel. It was about the 4th heat I think and most skaters had left the park. Not too much had happened that day, but you could tell shit was about to do down. Kevin "Spanky" Long earned a golden ticket, advancing him straight to the finals to join Billy Marks who had won the Damn Am and a golden ticket prior to Tampa Am. But Billy wasn't about to wait till Sunday to start skating the course. As soon as the last heat of the day was over, Billy and Trevor Sharratt somehow started an unofficial best trick contest with almost 50 bills thrown on the ramp to see who could land a 360 flip to lipslide (Billy Marks) or a kickflip backside lipslide (Trev Sharratt). Toy Machine rider Billy Marks quickly ended it with his trick, then following it up landing it to fakie the very next try. And if that wasn't enough, Marks comes back to the rail and kickflips to a frontside lipslide—first try. Trev still wouldn't give up, but his board did. No worries, he came back Saturday to land it.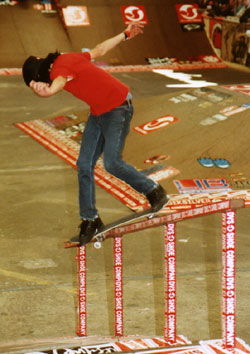 All was said and done at the skatepark and it was time to head to the 10th Anniversary party at Mascarade's in Tampa. I swear I had full intentions of going to the celebrating, but driving 14 hours straight and not sleeping for a whole night, I passed out in the hotel room. But what was I thinking, it was Tampa AM, who the hell gets to sleep at Tampa? From the Bootleg team setting off fireworks to those damn Canadians who wouldn't shut the hell up, I was quickly awake and joined a party outside the hotel.
Saturday at the park had twice as many skaters on the course. It seemed everyone from Friday who made the cuts and everyone qualifying that day were trying to squeeze time between runs and heats. Brian Schaffer tried his hardest to keep the skaters off the course, but if you saw the set-up, you'd understand how it was so hard to not want to keep skating it. It also seemed that the tricks were taking up a notch on Saturday, and as the week went on. From Aquil Brathwaite's switch cabs to Patrick "Patallic" Webb's heelflip to flat, tricks never seemed to stop coming.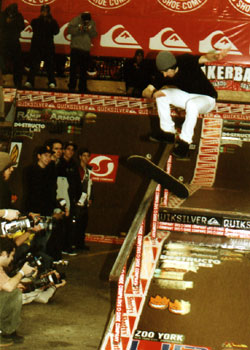 The vert competion was held on Saturday this year. Unlike a complete makeover to the street course, the vert ramp only added a rail across the roll-in and this year it didn't seem to get trashed on like at last year's after parties. I missed most of it because I tried to sit in a quite place to do a few interviews. From what I hear though, everyone highly enjoyed the skating that was shown on the vert ramp.
But I don't want to linger on Saturday, Sunday's skating was so top notch that it's not worth spending time on anything else. Sunday was more than you could expect from a competion. The morning started with a bowl contest. It was a "wash-ups" and "never was/will be" entry only type of thing. It started way too early for me to get there, so I only caught the session of skating afterwards. I made my way back to the street course in a complete daze. It was as if these kids had one day of life left and they wanted to get everything out of their systems before they died.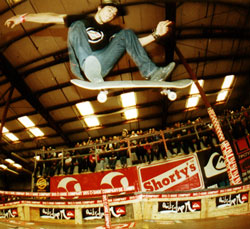 You wouldn't believe the intensity, everyone had something to prove it seemed. There were more than a few skaters with flawless runs. Danny Morrin even pulled a nollie kickflip backside lipslide across the flat bar in both his semi-final and final runs. Ryan Sheckler didn't seem to have a bad bit of luck with him, as his final run included a b/s blunt across the flat box.
Everything seemed up for grabs for anyone until Kevin "Spanky" Long dropped in. You have to see video of this kid's final run. Frontside flips over the three way higher than everyone else's ollie. Kickflips over the down rail and backslide lipslides down it. Spanky had to of visited the Red Bull truck. He had so much energy in his run and he wanted to make sure everyone knew he was there. There was no doubt in anyone's mind he was coming away with the gold. The only thing that could compare to Spanky's run was the best trick contest held while the street final scores were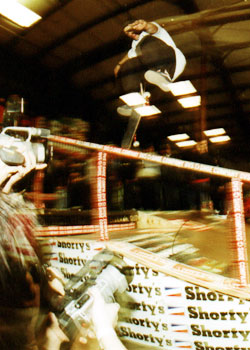 being computed. Billy Marks had every trick on lock. I'm talking 360 flip lipslides, 360 flip lips to fakie, kickflip f/s boards, varial to smith, and frontside over crooks. Sorry guys, but no one else really had a chance once Billy dropped in. So that's about all the words I can express about Tampa AM. Spanky ended up with the title, Billy Marks won best trick and it was another huge success. May I suggest you make plans for a trip to Tampa in January 2004.
Street Results:
1) Kevin "Spanky" Long
2) Danny Morrin
3) Ryan Sheckler
4) Joey Corey
5) Abdias Rivera
6) Dave Davis
7) Patrick "Patillac" Webb
8) Dylan Rieder
9) Andrew Gordon
10) Collin Provost
11) Danny Cerezini
12) Graham Bickerstaff
13) Billy Marks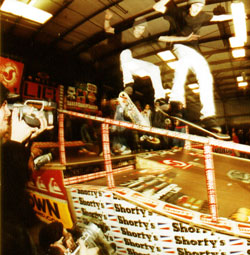 Vert Results:
1) Jean Postec
2) Mattias Nylen
3) Rob Loriface
4) Valter Vale
5) Mike Haugen
6) Chaz Pineda
7) Dan Stephan
8) Tim Johnson
9) Dennis Stien
10) Carl Michel
11) Even Menezes
Best Trick: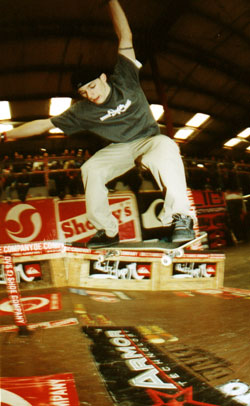 1) Billy Marks—360 flip lipslides, 360 flip lips to fakie, kickflip f/s boards, varial to smith, and frontside over crooks
2) James MeGeuiness—switch backside lipslide
3) Kurtis Colamonica—frontside tailslide 270
4) Jack Curtain—nollie 50-50
"Big thanks to Ray Goff for telling me how things work, and to Lance at Heckler for the hook-ups. R.I.P. Franklin Hernandez, I miss you already, you are always in my heart and mind, and thank you SPoT and Real Skate... Alexis