photos by Clarkie
---
Interviews
Abbey Whitney #1
Linda Vaughn
Elissa Steamer
Alayna Scheibel
Abbey Whitney #2
Ani Kellogg
Heidi Fitzgerald
Kim Peterson
Zea Page-Botelho
Articles
All Girl Skate Jam '05 - Jodi Miller covered the AGSJ for us at the Warped Tour, San Diego this year.
Skate Camp, Barcelona- Lucy Adams' experience at one of the Gurlie Skate Camps, 2005.
Slam City Jam '04 Girls Vert Comp - Sasha's account of the girls vert contest.
Strawberry Bowl Jam 03, Girls Division
Sasha La Rochelle covers (and competed) the Strawberry. Good pics by Nicole.
Guys Vs. Girls REAL SKATE's Abbey Whitney, speaks out on the controversy and bias some feel about female skateboarders.
Shannon—Skateboarding Whizz-Kid by Brian Hartley, NZ
Trippin with Elissa at ASR, '99 by Clarkie - A four-day trip with Elissa Steamer
Gallery
Open to the public – gals please feel free to send in pics of yourself skating.
Gallery 1
Gallery 2
Gallery 3
Gallery 4 New pics posted 8/20/05
Girl skaters needed for photo shoot - (posted 4/4/07)
Date: Apr 3, 2007 3:06 PMThe LOS ANGELES TIMES is currently looking for:
(5 to 6) So-Cal Amateur Skater Girls (able to wear other brands)
i.e - not professional
Ages: 15 to 18
For a Photo Shoot in L.A. TIMES Magazine
*Shoot will take place at a So-Cal Skate Park
**Must be able to skate street
Contact Cherie Whyte at MKM if you are interested... QUICK!!
cherie@teammkm.com
Don't Call Me Dude
Girl skate jam coming up, click here for more info. (posted 8/18)
---
Zine Review - by Clarkie
The Lurking Fear - Meghan McGuire
I must say that right off the bat, my first impression was Ahhhhhhhh it's legible! In fact it's the most legible zines I've ever seen. Being a typesetter/layout artist myself I always notice that kind of stuff. It's done very well, with only one page too close to the edge, which can be a problem with photo copying.
Meghan does a great job with content. All the content for her first issue is her own to get the zine started. She has already received submissions from others that will comprise her second and subsequent issues. She gets around, which is always a good thing for content. She holds a very good interview with Vanessa Torres, park reviews in Melbourne, Australia, features on Cara-Beth Burnside and Lacy Baker, coverage of the recent Wicked Wahine girls contest and all complete with excellent photos. The Lurking Fear is not a "girls skateboarding zine" but a zine that mainly features girls skateboarding, travel, art, and hopefully some music and surfing stuff in the future.
Meghan has been skating for 9+ years all over Oregon and the West Coast. Though she "lurks about" home is in Ashland, OR. She also surfs, and is into art and design.
The Lurking Fear is distributed in Australia and all over the US. Submissions are gladly accepted and may include skatepark info, skateboarding anecdotes and photos, funny stuff, band reviews, art, and surfing stories or whatever else anyone wants to submit.
To get your copy or to send submissions, please contact Meghan at
meghanmcguire (at) gmail.com
Meghan thank you for putting a great zine out there, and for doing it well. This first issue is a major tribute to female skaters and more of that is needed. I really like it!
(posted 2/13)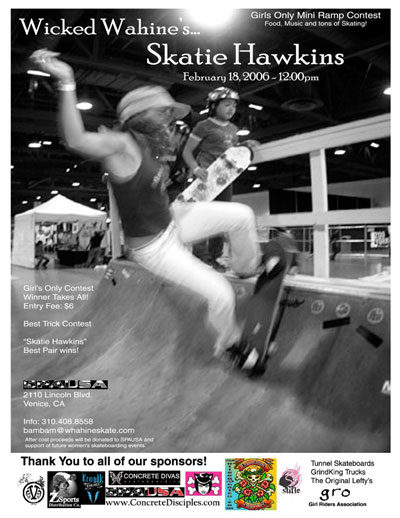 Girls will be girls, and on February 18th, they will be ripping up Venice!
Wicked Wahine is excited to announce the first event for 2006. The "Skatie Hawkins" jam will not only have a standard, female only session, it will also allow the women to team up with another skater of their choice; man, woman or beast, to compete for a "couples prize." The Skate Park Association of the United States of America (SPAUSA) has offered us the use of their mini-ramp, located in beautiful, downtown Venice. Partial after-cost proceeds will be donated directly to SPAUSA to help with the maintenance of the skate ramp and in the continuing support that the organization offers skateboarders of all levels. The plan for the day is simple - food, drinks, live entertainment, skate vendors and of course, the ladies ripping up the mini. Women of all ages and divisions will be competing for a "winner-take-all" cash prize purse. The couples/doubles session is certain to draw a crowd as teams of all skill levels snake each other to take top honors and some very unique prizes. As with all of the Wicked Wahine events, this one could only happen with the support of the following sponsors: SPAUSA, VSA, Bulldog Skates, Z-Sports Distribution, Lefty's, Kronik Energy Drink, Grindking Trucks, Tunnel Skateboards, Concrete Disciples, Cool Girls Skateboards, Stifle Clothing, Concrete Divas and more yet to contribute.
X-Games '05 Women's Street Winners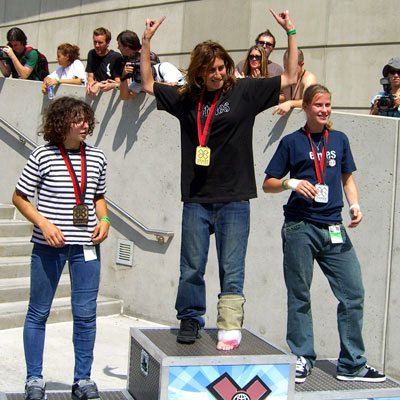 Blood, Sweat, and First Aid!
1st Elissa Steamer
2nd Evelien Bouilliart (right)
3rd Marissa Del Santo (left)
photo by Steve Cave
---
Wicked Wahine Bowl Jam Winners
Pro/Am Bowl
1st - Apryl Woodcock $1,000.00
2nd - Annie Sullivan $800.00
3rd - Holly Lyons $600.00
4th - Nicole Zuck $400.00
5th - Mandy Esch $200.00
Best Trick $250 - Apryl Woodcock (Miller Flip)
Pro/Am Street
1st - Vanessa Torres $1,000.00
2nd - Amy Caron $800.00
3rd - Elissa Steamer $600.00
4th - Lacey Baker $400.00
5th - Ariel Lockshaw $200.00
Best Trick $250 - Elissa Steamer (Switch crooked grind across the center ledge)
Intermediate Bowl
1st - Julie Kindstrand
2nd - Lexi Barclay
3rd - Felicity Corral
4th - Chelsea Olsen
5th - Gwen Marcus
Intermediate Street
1st - Amelia Rose McCoy
2nd - Chelsea Olsen
3rd - Lexi Barclay
4th - Linsay Wilendorf
5th - Amber Harmon
Beginner Bowl
1st - Alize Montes (6yr)
2nd - Carly Nelson
3rd - Candice Cooper
4th - Cassidy Marmion
5th - Anna Gault

Hardest Slam - Kenna Gallagher
Most Stylish Skater - Michelle Buck
---
The Teenie Girlie Surf & Skate Camp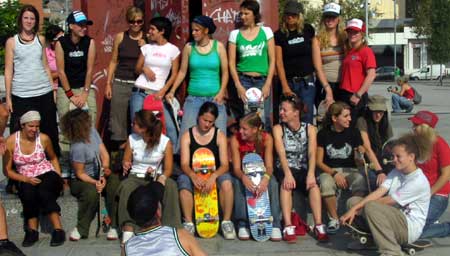 Girlie Camps has started a new concept and will be opening the doors now for their little sisters. From this summer on some of the Girlie Camps will also be welcoming girls between 11-15 years-old.
Girlie Camps organizes Snow, Surf and Skate Camps all over Europe for girls only. No matter what level of riding you are, Girlie Camps welcome you for an unforgettable week of fun and riding! You will meet other girls from all around the world, share your passion for the board sports and make friends for life.
Girlie Teenie Camps are working on a same basis as the Girlie Camps. The normal Teenie Girlie week consists of surf coaching every day by professional teachers and side activities such as sightseeing, beach games, yoga etc.
You will also get your chance to meet your surf and skate idols from our sponsors Roxy and Etnies, as their pro-riders will also be around giving you tips and helping you to progress.
Depending on the Camp you choose, the accommodation is offered either in hotels or apartments. As a bonus you will also receive a nice goodie bag from our sponsors, Roxy, Etnies and Dakine, full of great products!
As a Teenie Girlie you don't have to worry about food or anything, everything is there ready waiting for you to come and enjoy a great holiday! The girls will be well taken care of by an adult who will be there for you at any time of the day.
Four weeks of Teenie Girlie Camps will be held this summer in both surfing and skateboarding. Next year also some of the Girlie Snow Camps will be open for teenies, during the vacation times.
For more information and the dates of the Girlie Camps and the Teenie Girlie Camps, go to www.girliecamps.com
For bookings and camp information contact:
Franzi Bölting
Franzi@girlieproduction.com
+33.679.31.18.32
For Media and PR :
Elissa Koskinen
elissa@girlieproduction.com
+33.675.19.74.61
(posted 7/22)
---

ALL GIRL SKATE JAM to be Part of 48 Stops on
Vans Warped Tour 2005

Mark your calendars, Thursday June 30th, 2005 the All Girl Skate Jam (AGSJ) will be at the San Diego Coors Ampitheatre from 10 a.m. – 4 p.m. San Diego is just one of 48 stops for the AGSJ on the Vans Warped Tour.
The best female amateur and pro mini-ramp skateboarders from around the world will be under one roof to compete in the AGSJ summer 2005 event. Join us as some of the world's greatest athletes compete for incredible prizes in one of today's fastest growing sports. Sanctioned by the International Girls Skateboarding Association (IGSA), the International Girls World Championship of Skateboarding will feature three divisions Grom (10 & under), Amateur, and a Pro demo.
All Girl Skate Jam enables girls of all ages and abilities to participate. The biggest names in am/pro skateboarding such as Cara-Beth Burnside, Jessica Starkweather, Nicole Zuch, Heidi Fitzgerald, Kim Peterson, Mimi Knoop, Holly Lyons, Vanessa Torres, Apryl Woodcock, Sasha La Rochelle and many more will be skating it out for top prizes! Also be sure to look out for rising up and comers in the amateur division;, Becky Syracopoulos and Felicity Corral, who will be sure to wow the audience.
Another highlight of the event, will be the AGSJ Fashion Show. Skateboard and action sports' models will cruise the flat bottom of the mini-ramp displaying the newest, most innovative and revolutionary look in skateboard fashion.
Throughout the day, the AGSJ booth will be rocking with fun events and happenings. Anyone can learn how to ollie by participating in one of the AGSJ daily skateboard clinics. Skateboard lessons will be available in all 48 cities! Pre-register for skateboard lessons at www.allgirlskatejam.com. In addition, test your luck on the AGSJ "Spin Wheel" where only one dollar and one spin will give you the chance to win fabulous skateboard equipment/apparel, prizes worth hundreds of dollars.
The festival atmosphere of the Vans Warped Tour combines punk music with skateboarding all in one arena. Visit www.warpedtour.com for a complete listing of events.
AGSJ Tour sponsors include Vans, Girlz Garage, Cytomax, Flexfit, Woody's Halfpipe Skateshop (Atlanta,GA), Naked Bean, Randoms, Happy Campers, Nixon, Chorus, Soda Sunglasses, Bust Magazine, Surf Life for Women, Carver Skateboards, Rainbow, Woodstock Pizza, Claire's, The Bikini Room, Wahoos, Erlik, Beck(y), KUSI TV, 94.1 Radio, Pacific Coast Web Casting, IGSA, What Design, and Royal Order.
Footage from the All Girl Skate Jam will be aired on various TV networks such as ESPN, FOX FUEL TV- (GKA), PLANET-X TV & X CORP TV, TELEMUNDO TV - ADRENALINA and FOX SPORTS NET- FUSION, CONCRETE WAVE TV. Airdates will be announced on www.allgirlskatejam.com.
The concept of the original All Girl Skate Jam originated in 1990 when founder Patty Segovia organized an All Girl Skate Jam demo in Reno, Nevada. Since then Segovia, an established female action sports photographer, has gone onto hold numerous AGSJ events worldwide. In 1999, Segovia began her first AGSJ skate and surf camp that thrives today in Southern California. You can get more information regarding camps on the website.
Part of the tour's proceeds will be donated to Mental Health that benefits those who suffer from mental illness and provide funding for ongoing research.
For additional information, directions and more, log on to www.allgirlskatejam.com (posted 6/15)
---
Pro Skater Judi Oyama Opens New Design Business, "Maximum Impact"
| | |
| --- | --- |
| | Women's slalom competitor Judi Oyama, (currently second in the US and fourth in the world) has opened her own graphic design business. Judi has had many years of experience creating ads and logos for well known companies. "Maximum Impact has worked with Billabong, Sessions, Electronic Arts, Santa Cruz Surf and Skateboards, Hotline Wetsuits and many other well known brands. We've created everything from stickers, advertising, logo's, packaging, signage and tradeshow booths to forecasting the lastest color trends to styling for American Express commercials." Please visit her website. |
---
Op Girls Learn To Ride Announces 2005 Skateboarding Clinic Schedule

Instructor Certification Program For Women and Girl-Specific Skateboard Line New in 2005

LAGUNA BEACH (May 2, 2005)—Op Girls Learn To Ride (Op GLTR), the original series of action sports instructional clinics for females, today announced its 2005 skateboarding schedule of events. Op GLTR, now entering its sixth year, has assembled 30 skateboarding clinics from May through November, as the overall series expands to include over 200 action sports clinics and camps in the U.S. and Canada this year in seven different sports. This year, Op GLTR will also work with our head instructor, skateboarder Lisa Whitaker, to offer an instructor certification program for women who want to learn how to become skateboarding instructors. Whitaker is best known for the Villa Villa Cola and Thesideproject.com.
Op Girls Learn To Ride skateboarding clinics will be taught by top female skaters, including Amy Caron, Van Nguyen, Ariel Lockshaw and Holly Lyons. Presenting sponsor Teen Vogue will provide marketing and promotions support and outreach to a broad mainstream audience of young girls, and supporting sponsor etnies Girl will help create promotions and special events online, at retail and in its flagship skatepark in Lake Forest, Calif. etnies Girl will also bring out their female team riders, including Lauren Perkins and Elissa Steamer, to select locations to meet the girls.
In addition, Cherry Skateboards and Op Girls Learn To Ride have created a skateboard designed for girls who are learning to skate. The boards, which have a flatter tail and are small and light for easier control, will be available in three sizes: 7.13x28.88, 7.25x29.88 and 7.38x30.88. The boards will be available for purchase online at www.opgirlslearntoride.com and at several skate parks throughout the country. For a schedule and more info go to opgirlslearntoride.com
(posted 5/3)
---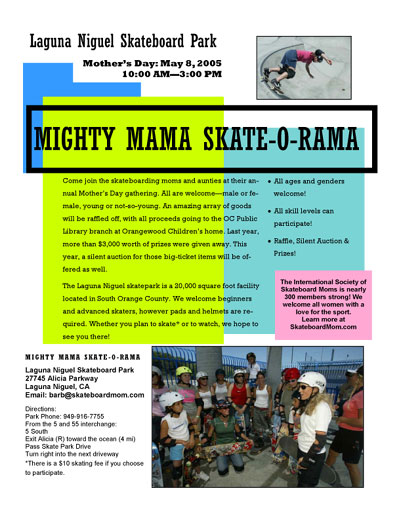 (posted 4/15)
---
Villa Villa Cola Video Screening in NYC
Please tell your pals who live in New York City who are looking for a good time....we hope you can come out tonight for this delight! If you can't make it tonight perhaps you will be able to make it to one of the other fine nights of the New York Underground Film Festival...

Element Skateboards presents:
A Villa Villa Cola Video
"Getting Nowhere Faster"

New York Underground Film Festival
Special DVD Release Screening - FREE
March 10th à 6:15pm
Anthology Film Archives
Maya Deren Theater
32 2nd Ave @ 2nd Street

Despite the fact that skateboarding's most recent mainstream incarnation has been the most widespread yet, there are still pockets of the subculture that go virtually unknown to outsiders. Ladies and gentlemen, meet Villa Villa Cola.
Over the past ten years VVC has been a unique factor in a growing community of girl skateboarders. Using the traditional tools of zines, videos and skateboard road trips, the self-proclaimed "tidy shred getters" have grown in number and reckoning power with their own flavor and stylings, promoting not just themselves but girls in skateboarding generally.
"Getting Nowhere Faster" brings to light the elusive and mysterious underworld of female skateboarders. The project features skateboarding from the most talented group of females ever assembled including professional street skaters, vert pioneers, and X Games champions: Vanessa Torres, Amy Caron, Cara Beth Burnside, Elizabeth Nitu, Faye Jaime, Stefanie Thomas, Kenna Gallagher, Alex White, Patiane Freitas, "Nugget", Lauren Mollica, Van Nguyen, Lyn-z Adams Hawkins, Jen O'Brien, and many more!
Please join us for this special DVD release screening as part of the majestic New York Underground Film Festival on March 10th at 6:15 pm. This will be the one and only NY screening of Getting Nowhere Faster. Best of all it's FREE! For more information visit: http://www.nyuff.com/2005 and http://www.villavillacola.com posted 3/10
---
Wicked Wahine Bowl Series #2
Aloha!!
Wicked Wahine Bowl Series #2 "My Bloody Valentine"
Kelly Bellmar's backyard pool
Feb. 19th @ high noon
20 gnarly girls will be ripping up the pool. $$$ for Longest Grind, Best Trick and Overall.
Space is limited so please RSVP as soon as you can. Bring money for food, beer and DONATIONS.
Thanks!
Tammy
310.408.8558
(posted 1/31)
---
Check out the link. Judi Oyama sent them some pics of herself skating back in the day. Check out the background, you'll see Steve Caballero, about 14 years of age! Judi was ripping all around little Stevie! (Sorry to date you Judi!) Judi holds the title of 2003 Women's World Slalom Champion. We will be featuring Judi in the near future. (posted 12/16)
---
"Getting Nowhere Faster — The Untold Story of
Female Skaters"
(Click graphic for a peek at the trailer.)

For for Info, please contact
Villa Villa Cola's Website

Element and Villa Villa Cola Premieres:

"Getting Nowhere Faster" The Untold Story of Female Skaters Thursday December 2nd 7:30pm at the Roxie Theatre in San Francisco
3117 16th street between Valencia and Guerrero
Admission $8 at the door


Saturday December 4th Grand Events
1-5pm Villa Villa Cola art show and cake walk
509 Cultural Center
509 Ellis between Leavenworth and Hyde


All other events at the Tenderloin Playground
(across the street from 509 Cultural Center)


1-2pm—Skateboarding instruction for skaters of the female variety (Bring your own board and helmet if you can as supplies are limited)

2-5pm—Skate demo by top female professionals plus free skate for all

3-5pm—Bands:
Willpower
Anna Oxygen
Sisterz of the Underground
Donations Appreciated
Presented by the Luggage Store Gallery
---

ROYAL ORDER ALL GIRL SKATE JAM IXX (AGSJ)
Pro-Invitational Cement Bowl Contest to take place in OAHU, HAWAII DECEMBER 4th, 2004 (Month of Vans Triple Crown of Surfing).

Encinitas, CA.—The All Girl Skate Jam continues in its 7th year of premiere pro and amateur skateboard contests. The world's TEN top professional women will be flown to Hawaii courtesy of AGSJ to skate in this history-making event.
This year's event will include a Pro Invitational Cement Bowl as well as two mini ramp contests. This is a new private state-of-the-art bowl and media and athletes must be invited. The Pro-Invitational will be featuring top Pro Female Skaters such as: Cara-Beth Burnside, Elissa Steamer, Jen O'Brien, Cnaan Omer, Holly Lyons, Mimi Knoop, Isabelle Caudle, Amber Cangilose, Nicole Zuck, Heidi Fitzgerald and Kim Peterson. The mini-ramp contests will consist of pros and amateurs of all ages and they will compete in each of the following divisions (grom, amateur, pros) jam style format where five girls skate at the same time, dropping in when they can and creating their best runs. We are honored to have the legendary Jay Adams, Peggy Oki, and Tony Alva as tandem MCees at the event!
The event will be aired on GKA Fuel TV (legendary snowboarder Tina Basich TV hostess will be on site), Adrenalina Telemundo, Concrete Wave (Canada), Project Detention Fuel TV, ESPN Summer X-Games and Winter X-Games jumbotron, and UK CH 4. Local TV stations from Hawaii will be attending the event. Pacific Coast Webcasting is providing full video coverage of the event including streaming video clips on the web.
Sponsors to date include Title sponsor Royal Order, presenting sponsor Cholos Restaurant, AGSJ Clothing, Chorus Skateboards, FlowLab, Alva Skateboards, SMS text messaging, Paper Magazine, Pacific Coast Webcasting, and Z-Cult.
An AGSJ Luau and Press Party at the Turtle Bay Resort Sand Bar Restaurant will take place the night prior to the AGSJ Dec 3rd, Friday evening. This will be a great opportunity for the press to meet and interview the athletes. Saturday Dec. 4th following the AGSJ, a VIP Party hosted by Cholos Restaurant in Haleiwa will take place. Video footage of the day's event will be viewed on the TV screens throughout the bar.
GirlParts, an original rock band based out of Atlanta, GA has influences ranging from jazz to heavy metal coming together to make driving beats, memorable riffs, and burning guitar solos. The music would be described as Pop/punk/rock and we are stoked to have them at the event.
The All Girl Skate Jam was started in 1990 by soul skater and photographer, Patty Segovia. The AGSJ has become the premier contest of its kind for girls. It has expanded from local venues to multiple events around the world. The idea for the All Girl Skate Jam can be traced back to 1990, when Segovia organized the first female All Girl Skate Jam demo in Reno, Nevada. Almost seven years later, after graduating from the University of California Santa Barbara, she saw that her female skateboarding friends were still not getting the recognition they deserved. Patty decided there was a void that needed to be filled. She pooled her resources from the action sports world, called every skateboarder she knew, and the All Girl Skate Jam was born.
Depending on the location of the event, anywhere from 50 to 100 girls compete in each AGSJ. Staying true to its motto "All ages, All abilities, All Girls," the All Girl Skate Jam will draw a phenomenal number of both amateur and pro skaters from around the world. Last year on Fourth of July weekend at Oceanside Pier, the girls competed with record breaking foot-traffic of over 500,000 throughout a 3-day weekend.
Originally an annual event, the AGSJ has grown to have multiple events in various locations such as Rhode Island, Hawaii, Spain, New York, San Diego, San Francisco, Los Angeles, Venice Beach, Puerto Rico and more. Segovia hopes to reach more and more skateboarding girls and women around the globe by making the event accessible to them.
Approximately 20 pro girls compete consistently, traveling the country to vie for anywhere from $5,000-$7,500 in cash prizes. Amateur's of all abilities compete for thousands of dollars in product prizes and are often excited about being on TV.
July 26th, 2004 Time Magazine article quoted Patty Segovia, "If girls don't have clothing and equipment designed for them, it just adds to the sense that they don't belong." According to the National Sporting Goods Association there were 1.9 million women skateboarders last year, an increase of more than 25% since 1999. Female skateboarding is on the rise.
The All Girl Skate Jam donates proceeds from each event to Cornucopia. This benefits people who suffer from metal illness and helps spread awareness on mental health.
(posted 11/21)
---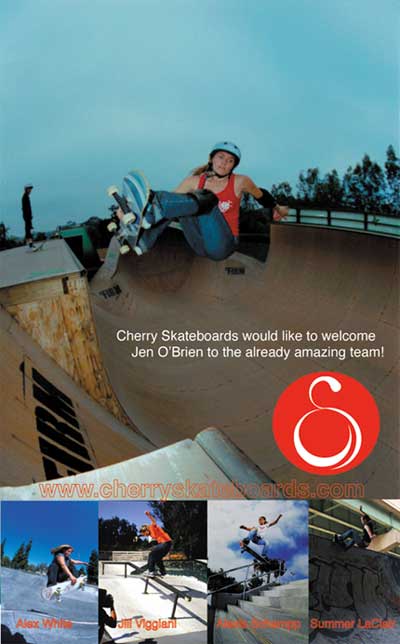 ---
ALL GIRL SKATEBOARD CONTEST SERIES
The Wicked Wahine Bowl Series is an organized series of events that are designed to promote girls in skateboarding. Women of all ages and ability levels will be competing for cash and prizes in contests to be held at various skateparks across the United States. The contest terrain will include pools and bowls of all sizes. The first contest is being held at the highly acclaimed Glendale Skatepark on September 18th, 2004. Vendors from the local community as well as the skateboard industry will be on hand providing products, food and services to spectators and participants. Spectators will also be able to participate in product raffles and free product give-aways donated by contest sponsors. For more information and sponsorship opportunities visit WahineSkate.com.
Tammy Tangalin
BamBam@WahineSkate.com
310-408-8558
Liz Brandenburg
Biscuits@WahineSkate.com
714-801-6876
(posted 7/24)
---
Skate Like A Girl 4th Annual Event, Aug 1–8, 2004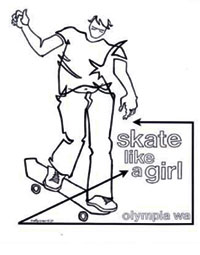 We are excited to let you know about the 4th Annual Skate Like A Girl event scheduled for August 1-8 at Olympia's own indoor Capitol City Skate Park.
Last year we drew over 500 people including spectators and competitors. For this years event, we have added an all girl week-long skate camp with local female skate instructors. The weekend line up includes clinics, competitions with live bands, dj's, sponsor booths, raffle, and demos by sponsored female skaters (last year the Gallaz team made an appearance).
In the past, our event has drawn skaters from Vancover BC Canada, to L.A., and as far east as New York. This year we expect an even bigger crowd and more competitors. For more info contact us at http://skatelikeagirl.com (posted 7/18)
---
Those Crazy Skatin Moms at it Again!
The International Society of Skateboarding Moms, based in Laguna Beach, CA, is heading to Manhattan for the Mighty Mama Skate-O-Rama, Saturday June 26. Skateboarding moms and their supporters will celebrate the first week of summer by gliding into the Hudson River Park skatepark for a day of shredding ramps as well as stereotypes. A raffle of cool skate goods will also be offered, with proceeds going to Rolling for Reading, a literacy program that puts new and gently-used children's books into the hands of kids who need them. (Distribution is done on skateboard.) The skateboarding moms will also be cruising uptown on the 26th for a Rolling for Reading book distribution, handing out free children's books while we skate—like rolling Robin Hoods. June 21 is National Go Skateboarding Day and we plan to celebrate it in various locations throughout the week. The International Society of Skateboarding Moms (a.k.a. Moms Who Dare To Have Fun) was founded a year ago on Mother's Day when journalist-turned-children's author Barb Odanaka (Skateboard Mom, Putnam, 2004) decided she was tired of being the only mom riding the skatepark. Now the society has more than 60 active members ages 25 to 80 (yes, 80). We come from across the U.S., Canada, and the UK and include teachers, marriage counselors, environmental activists, emergency-room nurses, businesswomen, journalists, homeschoolers, fitness trainers, Skateboard Moms for John Kerry, "skate-at-home" moms, and more. Details at www.skateboardmom.com. For more info on the event, please contact Barb Odanaka at barb@skateboardmom.com or skateboardmom@hotmail.com (I've had e-mail problems, so sending copies to both would be greatly appreciated!) Or simply leave a message on the guest book at the bottom of the home page at www.skateboardmom.com
Cheers! -Barbara J. Odanaka (posted 6/18)
---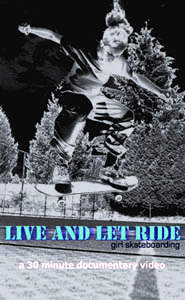 Live and Let Ride Girl Skateboarding
Tara Cooper has done a remarkable job putting together this documentary video on girl skaters. Tara totally takes you right into the heart of girl skateboarding through interviews with skaters themselves, mothers, fans, and even some boys. It's candid and honest, REAL if you will!
It gives you a peek into the all-female operated Rookie Skateboard Company from New York. Patty Segovia gives you a brief history of how the All Girl Skate Jam came about. There are some parts I found very funny.
It features all the female pros at a recent east coast contest, and you can almost feel the grunts of their wild display of sick tricks, and gnarly falls. Girls skate hard and this documentary is living proof.
Tara is offering this video for only $10.75. I highly recommend it for yourself and suggest stocking up as gifts for ANY woman interested in the sport of skateboarding. Let's support Tara so we can keep her out their shooting. This is an area needing much support and exposure, and not too many people are doing that. To order "Live and Let Ride" go to:

http://www.insound.com/cinema and search under "documentaries."
Or you may e-mail Tara for other arrangements.
Tara, thank you so much for sharing this offer with Gurlz on Boardz; Keep up the good work! Hot damn your video makes me proud to be a girl! : )
Second Wind is a zine out of Albuquerque, New Mexico. They feature several female skaters as well as other guy skaters from Albuquerque. They also feature interveiws, reveiws, writing and artwork from various people and places around the US. For more information e-mail them or send $2.00 for their latest issue.

Second Wind
Faye Richards
2311 Stevens Drive
NE Albuquerque, NM 87112 NMskatezine@hotmail.com
More Links:
Villa Villa Cola
Rookie Skateboards
Skate of Mind
Kitten Kaboodle
Peggy Oki