---
Vote for Paco!
Paco, the amazing skateboarding dog neds your vote to become the next Old Navy spokesdog.
http://www.laist.com/archives/2006/06/23/area_dog_needs_your_vote.php
(posted 6/24/06)
---
Please help out the animals! Shelters do not allow animals and they are often left behind after a disaster. This non-profit organization rescues them. We checked them out and it's a good one. They quickly responded to the south helping out animal victims of the hurricanes. If you wish to donate, please visit their website. (posted 9/2/05)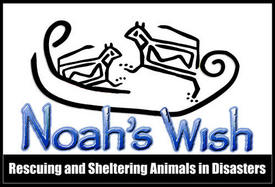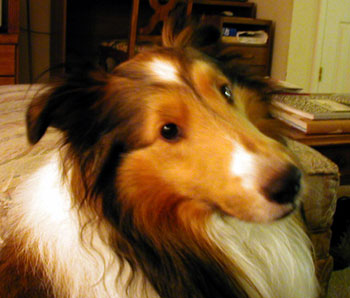 Kathleen and RC's dog, Murphy - RIP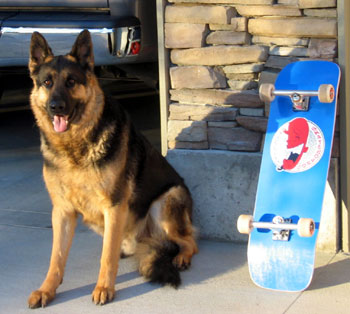 Don't know you or Ollie, but since she looks a bit like a Shepherd, here is a pic of my best friend Hank and my cool "home-cut" board. Hank digs snowboard chasing more than skateboard chasing. Asphalt and hot temps are hard on the poor fella. —Brian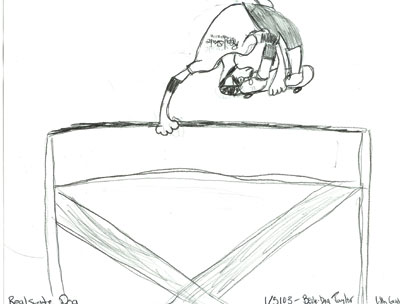 Realskate Dog - by Becky "Beck-Dog"Taylor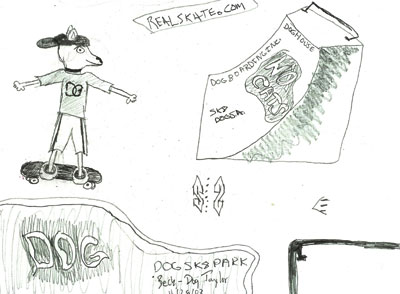 Dog Skatepark - by Beck-Dog Taylor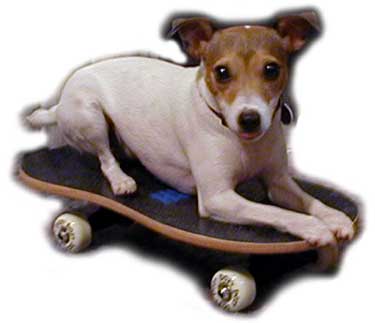 Sent in by Deanne Davenport—Here is a pic of my 2 1/2 yr old Jack Russell Terrier, Jordan! We live in VA and have traveled to LA and NY to show off Jordan's skateboarding talents, including an appearance on the Late Show with David Letterman.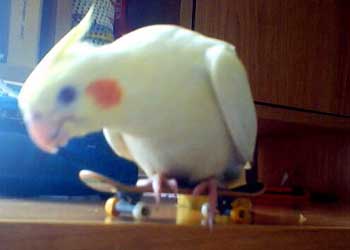 This odd looking dog is named "Ozzy" whose owner is Rosie C.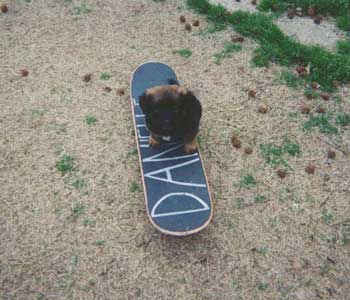 This is "Lassie" Ethan Sobin's dog (who doesn't take credit for naming her).
---
Check out this link to some amazing dogs owned by Mike Goldsun!
---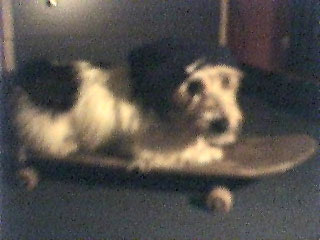 This is Chris's dog "Bud" who likes to chew up grip tape!
---
RIP Lou Dog
Louie lived a long happy life, click photo to visit Louie's
memorial page on Skunk Records' website.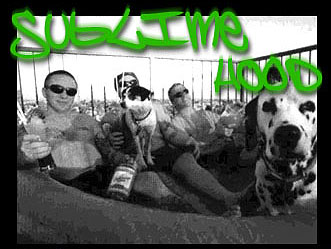 ---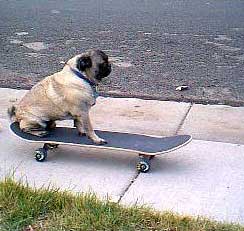 This is Brad Bailey's pug dog - Hercules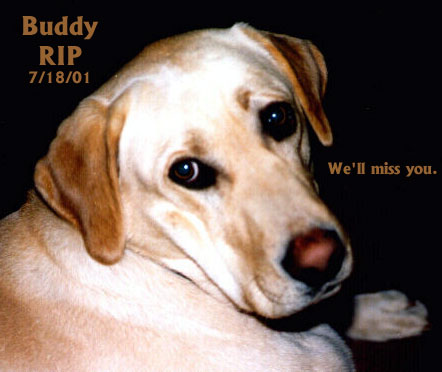 This is a Real Skate family dog, Ryde and Lindsey's dog. Buddy developed kidney problems, and all out efforts were made to save him. When the efforts seemed futile, Ryde (in total agreement with the Bud), released him from the hospital and gave Buddy the time of his life his last week. Every day they took him on an excursion to his favorite river, lake, reservoir - beautiful places in California's Sierra foothills, Buddy's stompin grounds.
Buddy left his world with no regrets. He had the good life—free to roam through the redwoods, piss'in wherever he dang well pleased, yet staying close to home most of the time, on the porch, protecting Ryde and Lind's snowboards. I will especially miss the cold nights curling up with Buddy in front of the fire, and him either trying to nudge me out of the prime floor spot, or showing me his hospitality and genuine affection in his own language; face licking.
I will miss you Budster. I just can't imagine driving up that driveway without you running up to greet me. Rest in peace, my love puppy; you're a good dog.
Clarkie
(and Ollie)
---
Deck Contest Winner!
(Who says girl dogz can't skate?)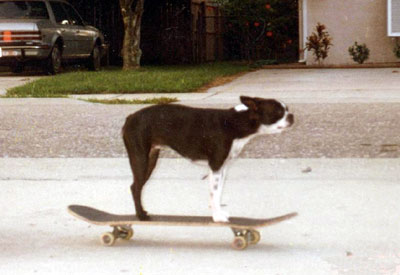 This is Pinto Bean, 6 yo Boston Terrier. She starred in "Jump off a Building."
Can you guess who she belongs too? Yup, this is Elissa's dog!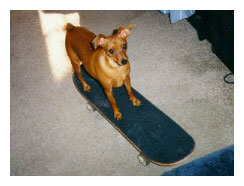 His name is Paul and he knows how to turn when going down hill, oh and he can almost ollie the two stairs at my school..im serious!"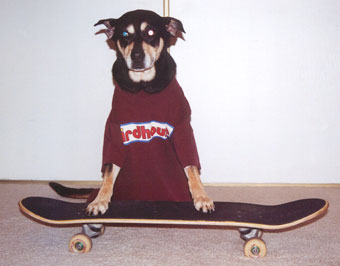 Who sent me this bird-dog? I just found it with no corresponding e-mail? Tony Hawk? Is this your dog?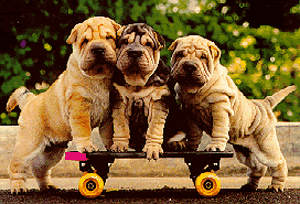 Photo: © Mike Johnson, Avanti Press, Inc.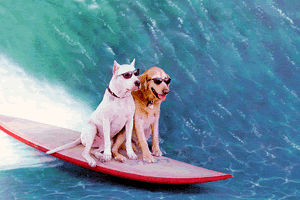 Photo: © Jeff Sewell, Avanti Press, Inc.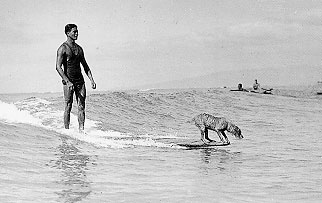 From "Surfing..." by James D. Houston and Ben Finney 1932
© R.J. Baker Collection, Bishop Museum, Honolulu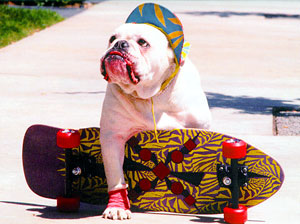 Photo: © Bob Noble, Avanti Press, Inc.