Since everyone is entitled to my opinion: Blog Time! —Clarkie
8/24/10
Real Skate will be offline for a while as we make our move out of state. Our PO box and emails will not be functioinal. Stick with us, keep us bookmarked and we will see you soon!
4/6/10
Harbor Hellcats Sell Out Civic in Record Time!
The second home game for the Santa Cruz Derby Girls on April 10th is a hot ticket – the event sold out nearly three weeks in advance! Proof positive that Santa Cruz is officially a roller derby town, and the fans are here to stay.
The SCDG Harbor Hellcats make their 2010 season debut on April 10th hosting SINtral Valley Derby Girls of Modesto. The Hellcats' roster includes favorites from 2009 along with new skaters who bring topnotch skills and training to the team. This debut bout will knock your socks off!
Joining the returning Angelina Rollie, Hallie Pena Popper, Kiki Clash, Pigeon and Pippi Hard Socking will be Crouching Cougar, Hellga Bent, Ida BlackSheep, Pink Streak, Polly Kneesya, Queen Litigious, Septicemia and Snarls Darwin. Also returning to the track and the league is veteran skater Mojo Vixen.
SINtral Valley Derby Girls hail from Modesto and will be celebrating their two-year anniversary this summer. This is the first bout of the season for the Sinners, who will be bringing their pink and black to the black and blue.
For more information on SINtral Valley Derby Girls, visit http://www.myspace.com/sinvdg
TOKYO AT NIGHT!
The Derby Girls assign a theme to each of the home bouts at the Civic, and April 10th is Tokyo at Night style! Huh? Think Harajuku girls, Anime, even rockabilly Mystery Train chic!
Editor's Note: Some of the Santa Cruz Derby Girls are also skateboarders, among other fun things. As soon as I can get this dang website working on my new computer I will be featuring some of them. I think you will find them very interesting.Thanks for your patience!
3/6/10
Santa Cruz Derby Girls - Back in Action!
Please come out this Saturday, March 13th to cheer on our local girls. These bouts are some of the best times you have had in Santa Cruz in a long time. Some of the girls are skateboarders themselves as if roller derby isn't bruising enough! We will be interviewing some gals throughout the season to give you an inside on derby life. Please visit their site often to keep up on all their meanderings and as they are an official 501(c)3 non-profit, drop off a donation. THEY support our community, LET'S support THEM!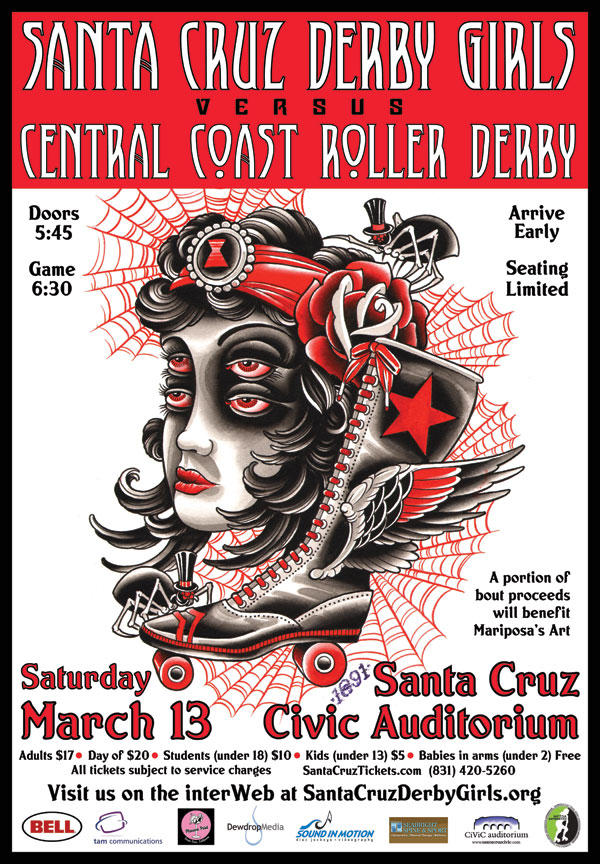 12/25/09
Happy Holidays Everybody! - Bear with us, Real Skate is going through some technical growing pains but will soon get on with more regular blogging and a couple of articles coming down the pipe. Thank you to all our readers and supporters throughout the years, wow 10 years! Your cards, letters, e-mails are always appreciated. There are some very good vibes always coming our way. All I can say is Right Back Atcha!
So sad to report that year's end has brought on a total hush of sadness and shock to the Santa Cruz Community. Sixteen year-old Santa Cruz High School student and avid skater Tyler Tenorio was murdered on the street by a group of Sureno gang members. One gang member was arrested and another fled to Mexico though witnesses say at least 10 were involved. Needless to say our community has been in total shock and doing our best to support Tyler's family and friends.
In response to this horrific senseless act a Facebook group called Take Back Santa Cruz sprung into action and grew to 2,000 members who have all agreed to take a proactive role in fighting crime in Santa Cruz. Tyler's friends put up a Facebook group for Tyler where his family and friends post daily. You are all welcome to join both these groups.
We are collecting donations to install an engraved City Parks bench for Tyler. As of now we need another $450. If you are interested in donating any amount, please make checks out to Penny Tenorio and mail to:
Real Skate (Tyler)
PO Box 2085
Santa Cruz, CA 95063
Thanks again to all our readers and have a Happy New Year! Love to all. —Clarkie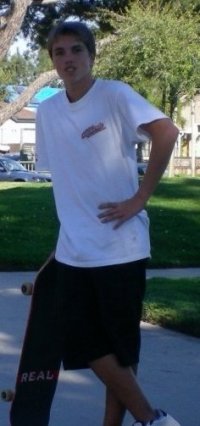 Tyler Tenorio - RIP
10/18/09
Santa Cruz Derby Girls - Last bout of the season
Get your tickets fast as the bouts sell out every time. Their last bout of the season is this Saturday the 24th at the Santa Cruz Civic. It will be a double header playing two teams on the Sac City Rollers. I just can not tell you how fun these are and are attracting quite a skateboarding crowd. Santa Cruz Skate Shop, Jimbo Phillips (does their artwork look familiar?), NHS are all sponsors of the Derby Girls and I see more and more skateboarders in the audience. Hopefully Real Skate can raise enough money this winter to become an official sponsor next season. Come out and support our SC Derby Girls! See you there.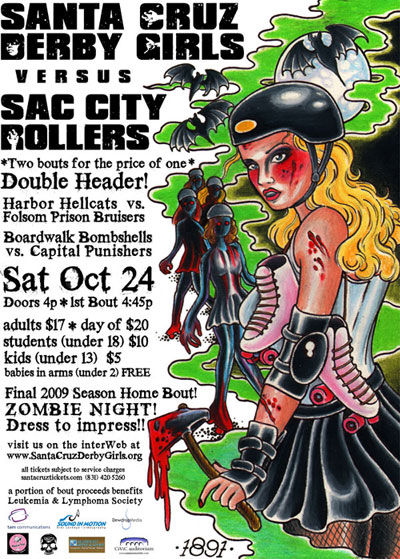 10/16/09
Skate Like a Girl San Francisco This Weekend!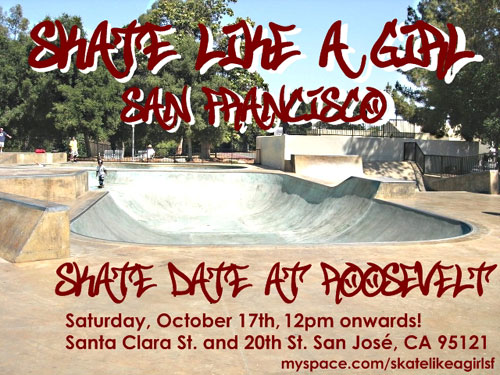 9/29/09
Willy Santos on SkateTalk tonight!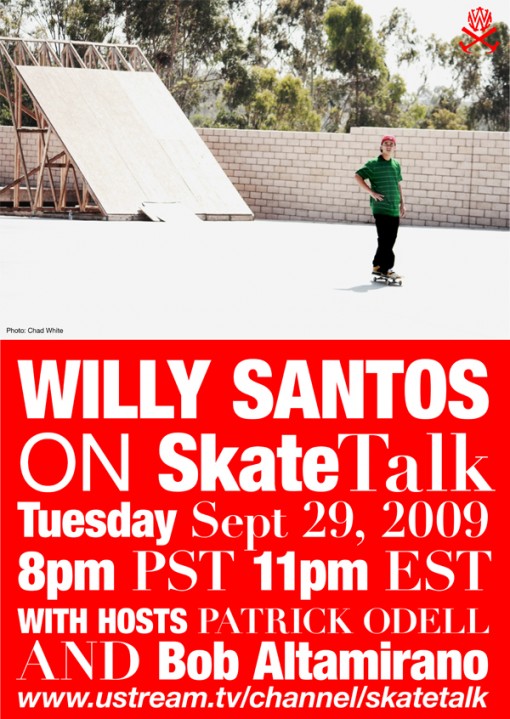 9/23/09
Johnny Kicks Cancer Foundation It's hard to believe it's been one year ago today, Johnny Romano lost his battle with Leukemia (AML). This is a good time to remember and reflect on Johnny and all his accomplishments, but also remember that the Romano's have set up a foundation in Johnny's name to work towards developing a cure for childhood leukemia. Please visit their website and if possible help out in any way you can. Thank you to Mike, Julie, Joey, and Sophie Romano. RIP Johnny.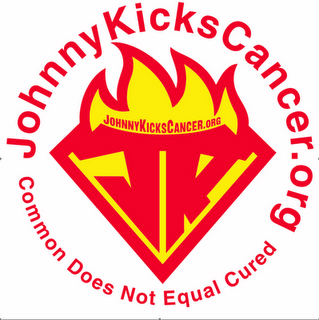 9/21/09
The New Faces of GOSK8!
GOSK8 is proud to welcome onboard pro skateboarders Erik Ellington (Deathwish Skateboards) and Geoff Rowley (Flip Skateboards) who will serve as the new face of the company.
GOSK8 is a new iPhone application/tool for physically playing the traditional game of skate. The developers of GOSK8 have gone to great lengths to spice the game up by adding three different skill levels (basic, medium, advanced) and four obstacle options (ledge, manual, transition, flat-ground), making it the only skate application of its kind.
Rowley —"GOSK8 takes the game of S.K.A.T.E. to the next level. There are so many options with the different levels and obstacles that anyone at any level can play it."
Ellington —"When I first downloaded GOSK8 to my iPhone I didn't expect it to be so sick. There are hundreds of tricks depending on what level and obstacle you choose. What I really liked most is that you can play by yourself or against another skater. This is no "sit on your ass" game. You actually have to get out there and skate with GOSK8."
Geoff and Erik will be battling it out in a series of games using the GOSK8 app. Stay tuned for videos hitting the web soon.
For more information on GOSK8 visit www.gosk8app.com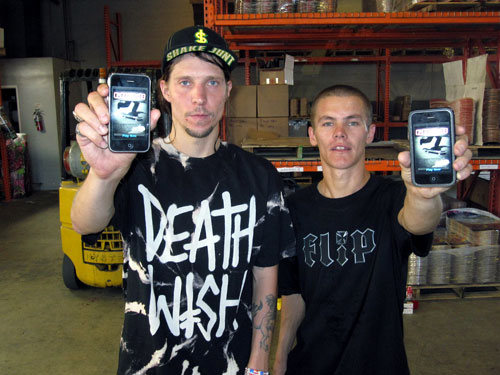 9/19/09
Supercharged, the life and times of Tim Brauch
Produced and Directed by Pete Koff

An inspiring documentary celebrating the life and skateboarding career of the late/great
Tim 'Beans' Brauch. From the legacy he left behind, to his induction into the Smithsonian Institute.
Film Description:
On May 9, 1999 at the young age of 25, Tim passed away of sudden cardiac arrest.
Tim was a professional skateboarder and an inspirational friend to all who met him. Tim had practically
conquered the skating world and accomplished more than anyone thought possible. The Tim Brauch
Documentary is an inspiring in-depth documentary that celebrates the life of Tim Brauch. Composed by a
community of friends and family, this film explores Tim's intriguing life. Learn the legend of Tim, who he
was and why he became such a big role model for future generations.
Website for the film.
Tickets available for the Sept 26th San Jose World Premiere show.
Tickets available online for the Oct 1st San Francisco show.
Tickets available for the Oct. 15th Rio Theatre in Santa Cruz show.
Premieres coming soon to Southern Cal, Italy, Texas, Australia, Portland, Seattle, Victoria BC, and Japan.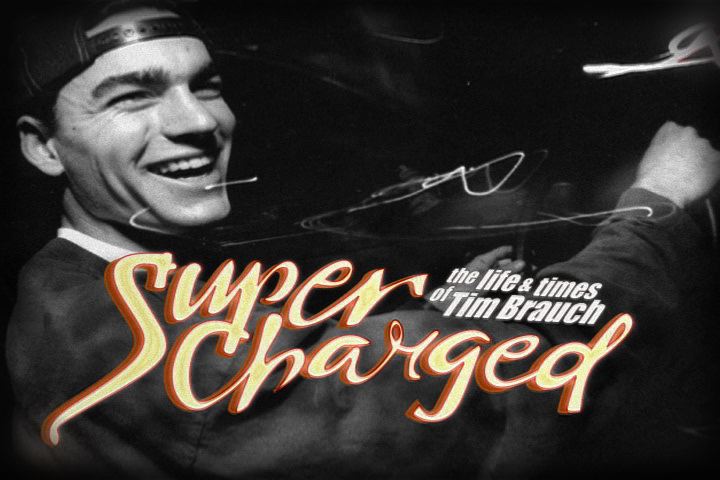 9/15/09
Exactly one year after Dane Williams was found deceased after leaving the Hurley booth he staffed at ASR, an arrest for murder has finally been made acording to this San Diego 6 news report.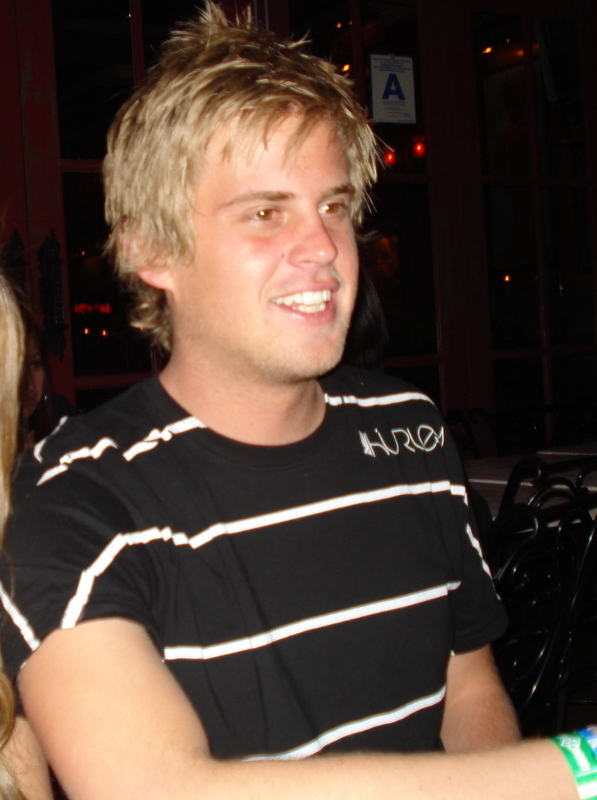 9/10/09
NOTE Olympics, 2009 - NOTE Skateshop in Manchester, UK went ahead and got skateboarding into the Olympics last month. Here is a movie (by Joe Gavelin) of how it went down at the competitions and award ceremonies. Congratulations to the lucky winning countries!

9/8/09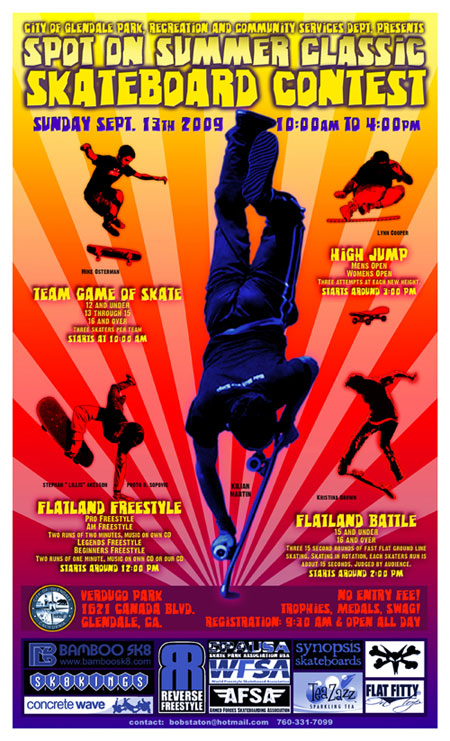 9/8/09
Santa Cruz Derby Girls This Saturday!
The Santa Cruz Derby Girls welcome Tuscon's Roller Derby Iron Curtain on Saturday, September 12th for a night of high-stakes-on-skates action at the Santa Cruz Civic Auditorium. Santa Cruz' Boardwalk Bombshells are coming off a 133 - 69 victory over Bakersfield in July, and look forward to some fierce competition from the established Arizona team, who are skating their sixth season. The half-time entertainment will be crowd favorites, Cheer SF with it's unique brand of high-energy cheerleading routines. A portion of the proceeds from this bout will be donated to Cheer SF. Come dressed as your favorite Superhero and don't miss this bout, it will be a great night of derby! Get your tickets early as every game sells out (in a good way)!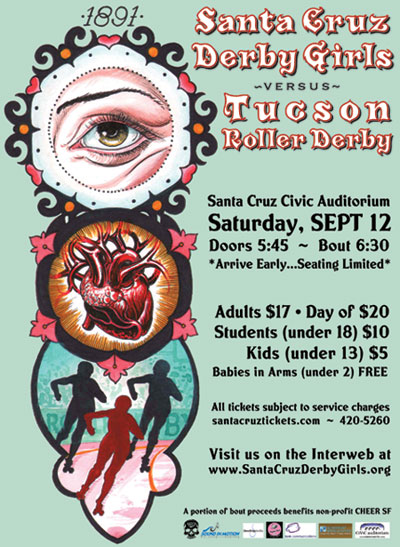 8/28/09
Concrete Disciples is having some fun on their forum with Channel Street. Long live the DIY's! Here's a word from Jeff Greenwood:
Hey all,
We have an impromptu photo tribute / photo contest of all things Channel St. running on the bulletin boards on CD. Take a look and see not just ripping, but a great community centered around this fun skatepark under the bridge. Post a pic share a story, or just enjoy what the others have posted up.

PS - We've included the link to the official Channel St. website in case you have a few extra dollars for some concrete.
8/27/09
Willy's Workshop still having fun after all these years! Signings, demos, prizes, giveaways
and game of S.K.A.T.E!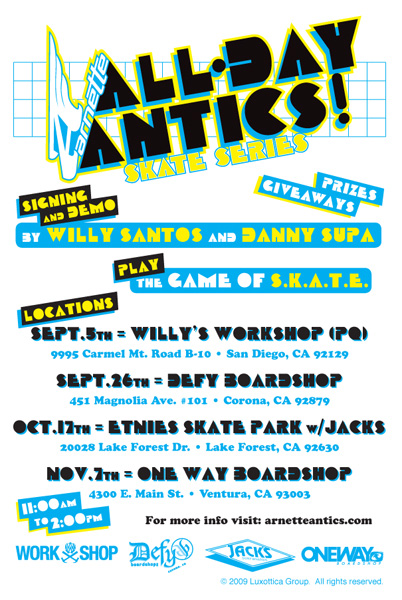 8/19/09

All Girl Skate Jam—Celebrating 12 years!
AGSJ has been traveling all summer with Vans Warped Tour, 2009. Their last two jams are coming up this weekend August 22nd in San Diego, and the 23rd in Los Angeles. Please click logo to visit their site and do whatever you can to suppport Patty Segovia-Krause and all the girl skateboarders participating in the All Girl Skate Jam—the very first organized all girl, all ages event.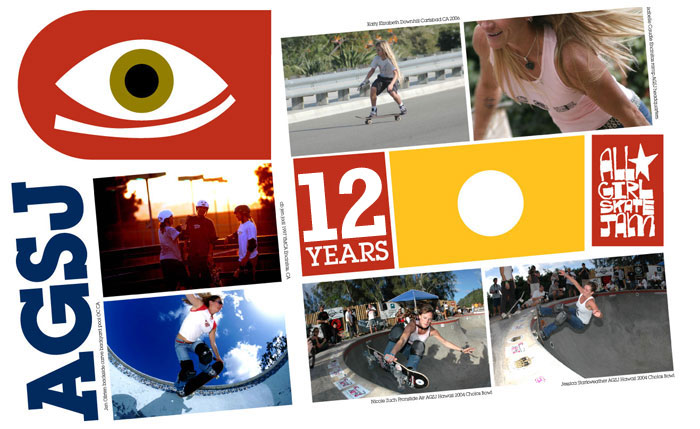 8/18/09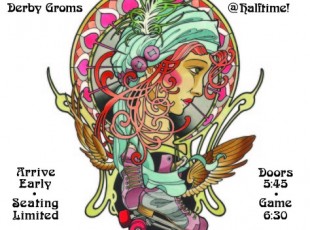 Are You Ready For Some Roller Derby?

Mark your calendars! Saturday August 22 the Santa Cruz Derby Girls' Harbor Hellcats take on Silicon Valley's Killa Bytes in a northern California roller derby rematch. The Hellcats are chomping at the bit to defend their winning home-court record in this friendly local rivalry. Fierce competition is sure to fuel some big plays, hard hits and serious takedowns. Buy your tickets early.
The Derby girls are ecstatic to announce the debut of their pride and joy, The Santa Cruz Derby Groms! This group of talented and tireless young women (ages 8-17) represents the brand new Junior Derby League. They will be performing a twenty minute exhibition bout at half-time. Stay in your seats and cheer for some future derby stars as the Sugar Skulls take on the Bumper Scars in their first live public scrimmage!
A portion of the proceeds from this bout will be donated to our feature non-profit for the month of August, The Boy's and Girl's Club of Santa Cruz. The Boy's and Girl's club of Santa Cruz is a youth guidance organization dedicated to promoting the educational, vocational, social and character development of girls and boys ages 7 to 18. The Club is the only youth service organization the greater Santa Cruz area that provides daily drop-in programs five days a week.
The Derby girls are also taking food donations in support of Grind Out Hunger
Santa Cruz Skate Shop owner Danny Keith is on a mission to end hunger in his community by energizing young skaters to give back. Since 2004, Keith's organization, Grind Out Hunger, has partnered with local schools to educate youth about hunger in their backyard and encourage students to donate food.

For more information check out the new website
Follow us on Twitter: twitter.com/SCDerbygirls
Tickets for SCDG's bouts can be purchased online at: santacruztickets.com,
by phone at (831) 420-5260, or at the Civic Auditorium's box office,
located at 307 Church Street in downtown Santa Cruz.
8/11/09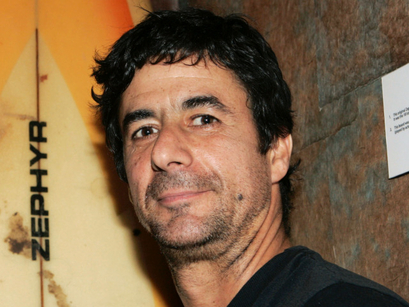 Real Skate sends out our sincere condolences for the death of East Coast legend, Andy Kessler. Andy succumbed on Monday to a hornet sting. Andy will never be forgotten for his dedication and vast contributions to skateboarding. RIP, Andy.
7/17/09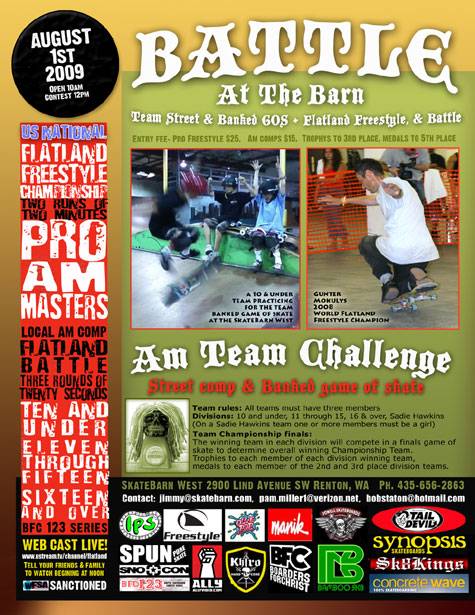 7/5/09
Please come on out this Saturday July 11th at 6:30 pm and support your local Santa Cruz Derby Girls for their 5th bout of season two! They will be bouting Derby Revolution of Bakersfield. Hah - they can beat those valley girls! For tickets and other information please go to http://santacruztickets.com Real Skate and Gurlz on Boardz are a totally dedicated and proud "Friend" Sponsor of the SCRG. I can not even begin to tell you how fun these games are. Goooooooooo Raven Von Kaos!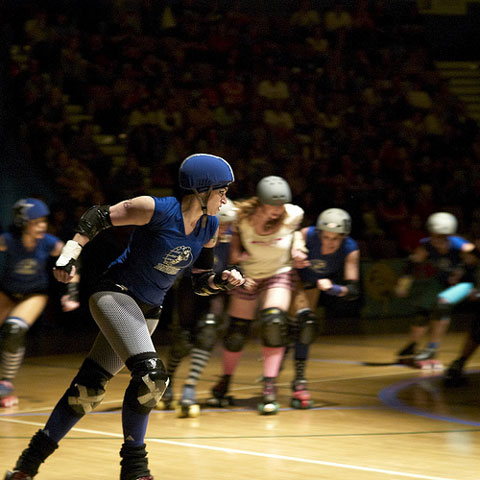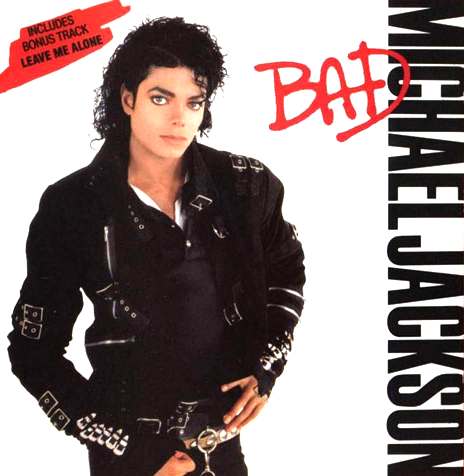 6/25/09
RIP Michael Jackson — In my lifetime, Michael was my favorite performer ever. I never once believed all the accusations he had to endure. Being fond and understanding of youth myself I completely understand deep down how innocent that part of his heart was. Michael was a victim of extortion. My love for dance made me an early fan of Michael's. He invented moves nobody dreamed of and to this date nobody has successfully replicated. Thank you for being a big part of my life, all throughout my life, Michael. Rest now in privacy. The world will miss you.
4/21/09
Kirby Nicol in the news — again. You remember Capitola Councilmember Nicol's statement at a Council Meeting in May of '07 "I don't like skateboarders and I don't like skateboard parks; never have, never will" (scroll down to 5/07). He has been in the news more recently opposing a tiki the surfers installed. WELL! seems Mr. Nicol abused his power in a drunken 3am 911 call (click on the actual call in the article to listen) falsely claiming to be the Mayor, to ask Capitola Police to drive his drunk friend home. It is a minimum misdemeanor (Penal Code 148.5) to use 911 services for anything other than emergencies. Comments are flooding in and they are not nice. I just hope justice is rightfully served on this arrogant man who is experiencing a bad case of Karmetic Disorder at the moment.
3/11/09
Fellow Skater Support - My high school neighbor across the street, Aubrey, lost all his belongings in a fire in the wee hours Monday that totaled the house he and his Mom rent. Aubrey smelled smoke, saw the fast-moving flames in the garage and immediately ran to the neighbors in his shorts to wake them up and help them and their pets out safely. The fire affected the two houses on either side also which are owner occupied and covered by insurance. But, Aubrey and his Mom Wendy rent and renters contents are not covered. They lost everything they own.
To get some pants on Aubrey I would like to ask the skateboard community for donations if you are able. I would like to get him a gift certificate for Skate Works for a start so he can pick out his own size. I'm sure he could use a bike, boards, and everything else a high school skater typically owns. Anything would be appreciated to help him and his Mom rebuild their lives. If you are able to donate some cash, please go to our Pay Pal instruction page. If anybody would like to see me (bottom right) in my nightgown with garden hose before Fire Dept. arrived, see below. This was before I knew Aubrey and Wendy escaped to the next street over. It was pretty scary to say the least. If you can help them out, thank you so much!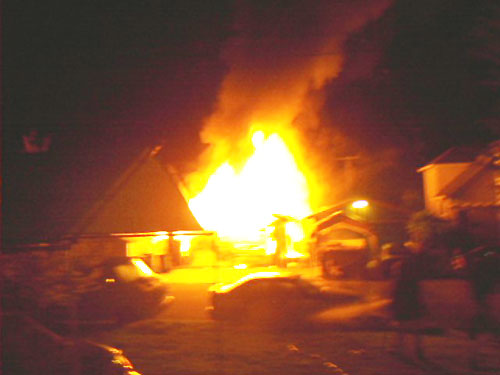 12/16/08
Happy Holidays from Real Skate! I am going to be out for a few weeks, but back in the new year working on some new projects. The skateboarding community has suffered some great losses this year. It has been hard on all of us but I want to let their families and friends know we are still and will always be connected with them in our hearts. Holidays are hard, but time heals. Take good care and always keep it real.
11/23/08
Skater in the house! (courtesy of the Huffington Post)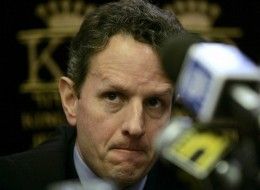 Obama's Treasury Secretary appointee, Timothy Geithner "...skateboards, snowboards and exudes a sort of hipster-wonkiness, using "way" as a synonym for "very"..." Now THAT's change I can believe in — way cool Timster!
11/6/08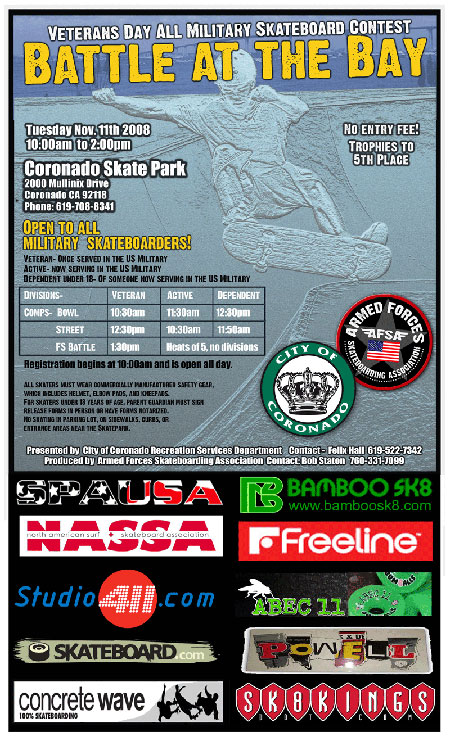 11/4/08


Way to go America!
I want to give a special thanks to all the young
people who came out and voted in this election. Keep up
the momentum, keep the hope, keep Democrats in office!
11/2/08
A Johnny Romano Story - Here is an account of Johnny's life written by Lisa Gray for the Houston Chronicle. Be sure to follow links to the upcoming events in support of Johnny, his family, and the charities of their choice. Julie Romano is continuing with the family blog and has posted over 300 pictures depicting Johnny's short life and lifestyle. What an awesome kid. Never forget Johnny Romano.
10/30/08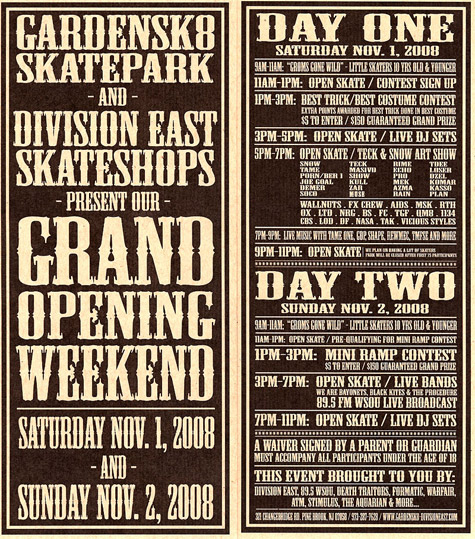 HUGE skatepark opening in Jersey - The park was helped put into construction by Todd Schwartz owner of Garden Sk8 and Dave Dowd owner of Division East Skate Shop at 460 Bloomfield Avenue in Montclair, NJ. This will be Division East's second location after 8 years of business. The park is in Northern New Jersey- 321 Changebridge Road Pinebrook, NJ and will be opening this weekend with artwork by Snow, Rime, Echo, Teck, Demer and many more. DivisionEast.com will have updates as this facility will be home to many upcoming skate contests, demos, camps as well as art and music events.

The Skatepark is 1,200 square feet and includes:
-11 1/2' bowl that flows into a 7' bowl, all pool coping
-2 mini ramps joined by a spine
-Full street course
-12 foot vert wall

Support your local shops!
10/26/08
Advocacy pays off! When Salt Lake City placed a ban on skate ramps on private property, no doubt they were deluged with worldwide e-mails from skateboarders. Way to go everybody!
Bureaucrats vs. boarders, from the Salt Lake Tribune
Less than two weeks after getting rolled by Utah's skateboarding community leading to the reversal of a backyard skate-ramp ban - the health board boss took more lumps recently from the Salt Lake City Council.
"My main purpose is to offer an apology to you," a contrite Gary Edwards, executive director of the Salt Lake Valley Health Board, told the council publicly, hours after he was admonished privately for agreeing to the (short-lived) ban.
In the days after the prohibition, council members were bombarded with angry e-mails even though they had
nothing to do with the decision.
After the backlash, Edwards acknowledged officials have no evidence skate ramps jeopardize public health. That flimsy premise - some residents complained of noise pollution in certain neighborhoods - now will be studied before the health board makes a permanent ruling next spring.
"We found out the skateboarding community is alive and well and active," Edwards said, "and nationwide."
If health officials want input, the city has "quite an e-mail list," Council Chairwoman Jill Remington Love joked.
Councilman J.T. Martin, the loudest critic of the move, insisted future crackdowns first see plenty of sunshine. "We will look forward," he said, "to the results of your very transparent, very public report."
10/17/08
I came across this interesting article today on the MTV Website:
"How Local Teens Beat Sarah Palin In The Battle Of The Wasilla Skate Park"
You gosh darn betcha *wink*!
10/15/08
Rome Snowboards - Snowboarders have for quite a while been protesting the infiltration of large multi-sport sporting goods companies into their industry they worked so hard to build (as evidenced in these shots from the snow sports equivalent of ASR this year).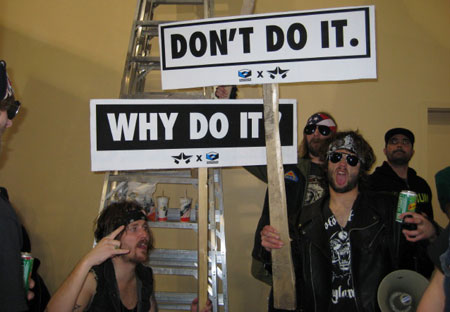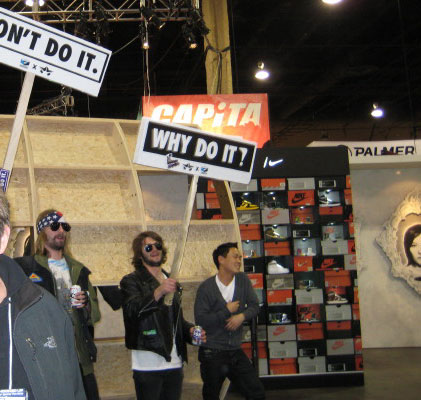 It's no surprise snowboarders are jumping on the Don't Do It campaign and have come up with a parody boot "drunk" complete with the rotten banana swoosh in a collab with Consolidated. Right on, and hope to see more company collabs! Look for the new "Rome Drunks" wherever Rome snowboarding boots are sold.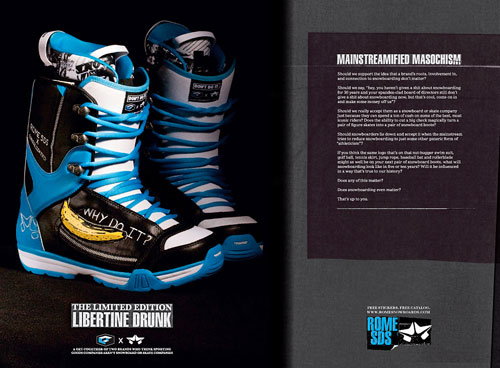 9/30/08
ATTENTION Ohio skaters - Your country needs you! Why Ohio? Because Ohio has all the cool colleges, good skate spots and smart 18 to 25 year olds. Because the majority of registered voters in Ohio are older conservatives who VOTE. They vote for the benefit of the filthy rich. The lack of the middle and working class to speak up it is partly the problem our last two elections have gone sour winding up with our current corrupt and incompetent administration. But a lot of hard work has been done to correct this and get the younger middle class registered and exercising their rights as citizens to choose the leadership of their country. Ohio residents can now register and vote early, (Oct. 6th deadline for Ohio), as early as today! Go to Obama's website and find out how. Ohio young people can call the shots and get our country back on track. Please put down those boards a minute and rule!
There are different deadlines for different states, but still time in each. Please go to Rock The Vote to get details on your state you can register right there. VOTE VOTE VOTE! Pretty please with sugar on top!

9/23/08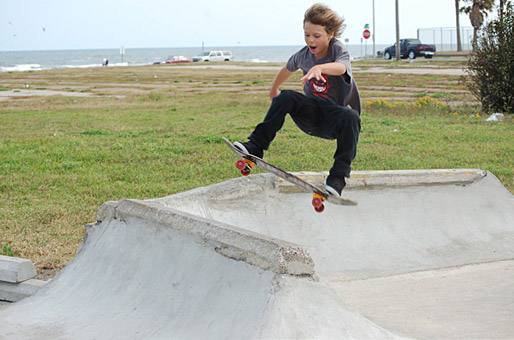 Johnny Romano, RIP - I can just barely post this through the tears. Johnny passed on early this morning. He and his family are just amazing. Getting know Julie a little better through e-mails, I've started referring to them as the "Mighty Romano's." All they have been going through and Julie takes the time out to comfort me complaining through my knee surgery making sure someone is keeping the popsicles coming. So right on and full of substance in spite of Johnny's condition and not knowing if their home is even standing in Galveston, and they still have strength for others. I am so sad Johnny wasn't able to beat his battle with leukemia. My heart goes out to the Mighty Romano's. Skateboarding communities everywhere are crying as hard, of that I am certain. Check the Romano's family blog for updates on the memorial services. Johnny's brother Joey has posted a wonderful perspective.
9/6/08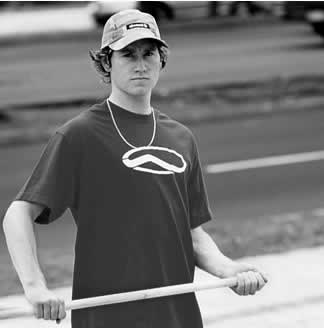 Van Wastell - RIP
News started trickling in late last night that Van Wastell passed away in Berlin, but details have not been comfirmed. Van had just turned Pro for Krooked. He also rode for Vans, Independent, Spitfire and Matix. We are very sorry to hear this news and our hearts go out to Van's family and friends.
8/25/08
What does Ryan Sheckler and John McCain have in common? Must be senility. McCain can't remember how many houses he owns and Ryan can't remember how many cars he owns. Well, for sure one is senile but maybe their commonality is they are just too dang rich! Check out this interview with Ryan (soon to be a Ferrari owner) in the Origonian.
8/21/08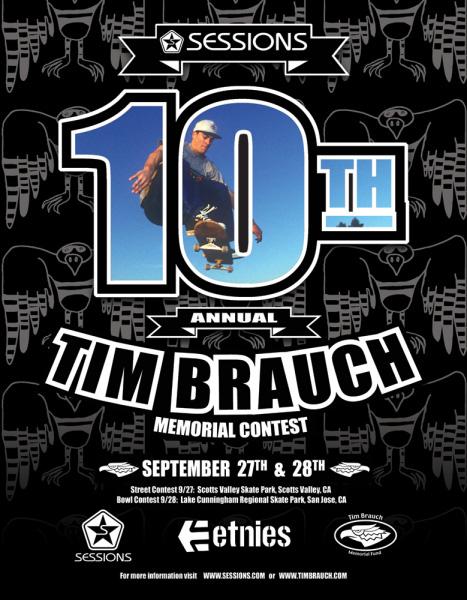 8/17/08
Come on out for Ramsay Skatepark Band Night! Real Skate will have a booth again this year drumming up interest in building a brand spankin new concrete skatepark. Come help out at the booth, skate or just chill. We will have some stickers to give away donated by Consolidated and hopefully other local skate people by then. Friday the 22nd 7 to 10 pm.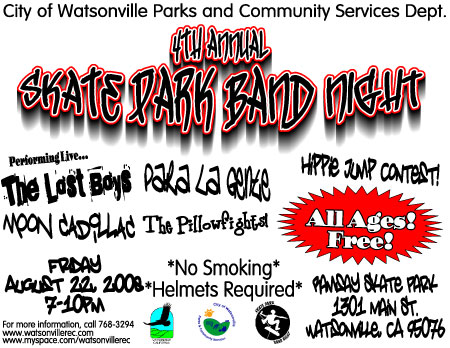 8/16/08
Santa Cruz Roller Girls (Yeahhhhh!) vs. Oakland Outlaws (Boooooooooo!) tonight, don't miss out!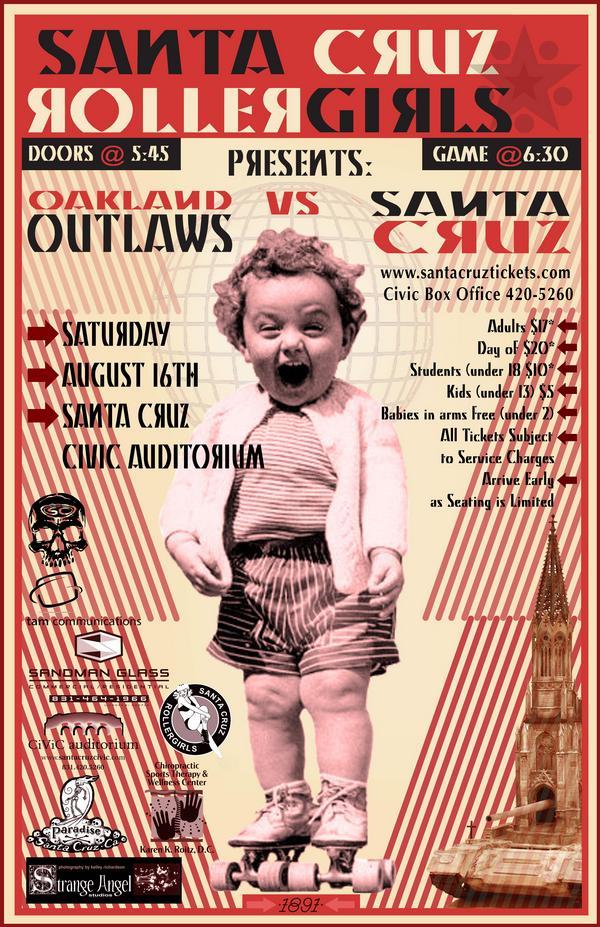 8/13/08
The O-Games - Anyone going to watch the BMX event at the Olympics? Be prepared, it's not like any BMX event anybody has ever seen before. Like with snowboarding whole new competitions have to be dreamed up to fit with the IOC guidelines.So, this will be a track race! And prepare yourselves even more for the scariest part, the UNIFORMS Nike has designed for them to wear! Yes, Nike is the official clothing provider for the summer athletes. Any skateboarders out there who still think they will have things their way if skateboarding is ever accepted to the O-Games? Well you won't find out anytime before 2020 at least. (I have a story coming soon to update you on that. There are still rumors floating around that skateboarding will be in the 2012 Olys. Nope!)
8/8/08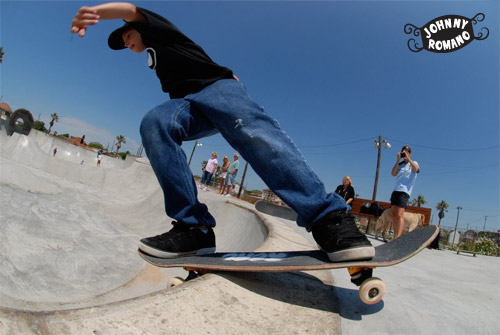 Jim at Deluxe has been a godsend to Johnny and the Romano family, beginning when he and the Real team answered Johnny's wish from the Make-A-Wish Foundation. Johnny is still in the Children's Hospital in Texas undergoing more chemotherapy. He has had his ups and downs but this week in particular has been hard, prompting Jim to ask all skaters to rally once again with shout outs to Johnny and support for his family. All the ways you can help and follow his blog are listed on the Deluxe page, and we encourage all our readers to take a minute and show your support for this awesome kid.
8/7/08
Slap Magazine goes digital. I'm not sure I agree with Slap's claim of "last outpost of free speech in skateboarding" given the fact that posts on their message boards get censored, counts manipulated, and some deleted entirely such as a controversial hot topic at the request of Jamie Thomas, one of their advertisers. Also, I vaguely remember Big Brother as the pioneer of digital transformation, though not quite up and running yet. Anyway, I hate to see skateboarding lose another print mag, but best wishes Slap!
8/1/08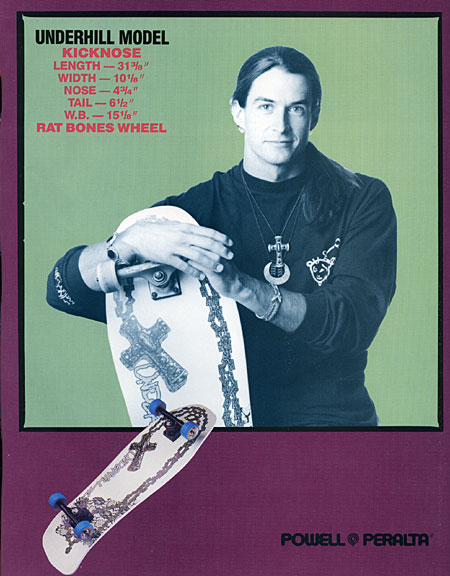 Ray Underhill, RIP - A skateboarding legend has passed away. Ray has fought a long battle with brain cancer as many of you know. Our hearts go out to his family and friends. He will always be remembered.
7/27/08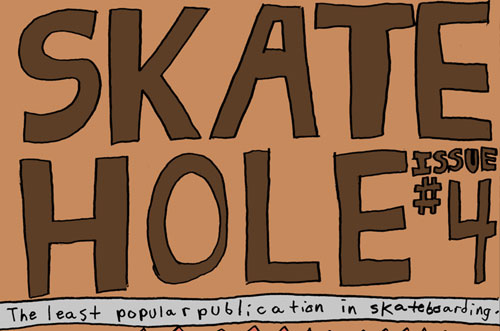 Skate Hole - Skate Hole is the first zine of it's kind, brought to you by a young (well, young to me) guy on the east coast who has been skating for 6 years. Starting up out of vacation boredom and on a very slim budget issue #1's entirety was posted on skateboarding message boards, yep— in a message! I loved it! Well the content was a little similar to parts of print mags we see over and over each issue, but what I loved is the balls he had to do it and furthermore maintain his seriousness and professionalism about it. Starting out in handwriting in black and white, Skate Hole went color by Issue #3. Of course you can imagine the flack he got from message board haters in general as messages flooded in. By Issue #4, he renamed it and subtitled Skate Hole: The Least Popular Publication in Skateboarding. I loved how he took the anonymous message board hate blows. Grain of salt is this kids's middle name.

Real Skate has had some pretty young talent on staff, Abbey at the age of 12 interviewing, Pennywise—Mike McCourt at the age of 15 shooting right alongside the pro photographers, Tim Fielder at 16 shadowing Wez Lundry for a day at Slam City Jam. I have always been a supporter and enabler of young people getting off their duffs and doing something, anything rather than criticizing how others are doing it. I've always encouraged journalism.

Skate Hole now has a permanent home on a blog, where all 5 issues are posted. He periodically interacts on message boards with his readers to get input, and sometimes quotes in the zine comments posted. I'm beginning to detect a little hint of acceptance. Keep up the good work Skate Hole, I don't care what they say - don't let the turkeys get you down, you rock!
6/27/08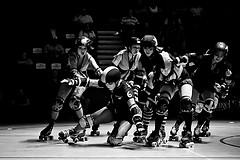 Some of the most fun I've had in Santa Cruz lately is the SC Rollergirls bouts at the Civic Auditorium. Their colors are black and blue and it's out of control! I've been to 3 bouts now so I'm getting the hang of the game. Like Lex says, "This is not your grandmothers Roller Derby!!" Lex, the announcer for the bouts and whose wife is a SC Rollergirl makes all the action way more fun. You might remember Lex Van den Berghe from the show Survivor-Africa. Being a Santa Cruz Local, he wore an Independent hat during the whole show. The first bout with the Silicon Valley Rollergirls was of course met with lots of city rivalry, Lex not helping much by leading familiar yells "Valley Go HOME!" One of my favorites Pippy Hard Socking has been an inspiration. The first bout she was knocked flat and carted off to the hospital with a shoulder injury. But intent not to miss out, she went right from emergency room to the after party at the Blue Lagoon. The next bout with the Angry Beavers was a slaughter. In fact I think they are undefeated at the home games. The last bout I went to, they played each other for an over the top demonstration game, ending with a fake fight. One gal got a black widow spider bite that morning but yep, you guessed it she was there participating 100%. The community loves these gals and they love their community, providing all sorts of support. They are sponsored by or friends of all the local skate shops, SkateWorks, Bills Wheels, Santa Cruz Skate Shop, and of course Real Skate! Since we have no income I hope to do a fundraiser in the future to better support them. They may have some tickets left for tomorrow's bout, or you can come for standing room only. Some day I will get my courage up to get on the floor and photograph them; courage being the definitive word here! But for the time being they have a lot of photos on their website. I thought you might like to see some action at for-fun bout, Santa Cruz Skate Shop vs. Santa Cruz Rollergirls. Go SCRS! Real Skate loves you. Kick some butt tomorrow!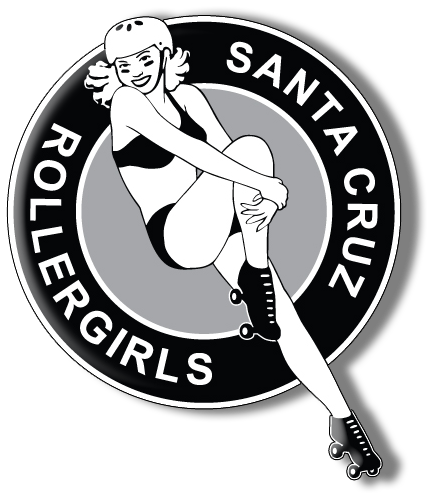 6/23/08
Go Skateboarding Day 2008...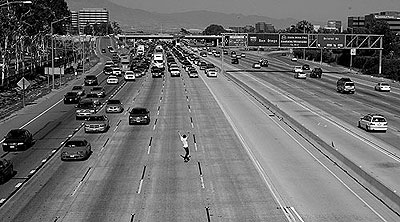 ...and the point is??? Oh yeah it will increase shoe sales.
6/22/08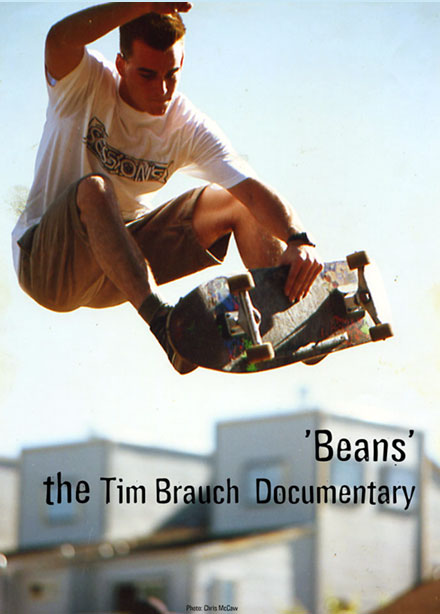 "Beans" the Tim Brauch Movie Trailer - Pete Koff is putting together a documentary film on Tim, scheduled to be out in Spring of 2009 and will go on tour globally. Pete is inviting all of Tim's friends and acquaintances to participate in this community project by posting your stories and photos on the BLOG he has set up for this purpose. Please support Pete by getting the word out. This movie will be monumental for all those who knew Tim, and history making for all skaters hereafter to know why we will never forget Tim Brauch.
6/18/08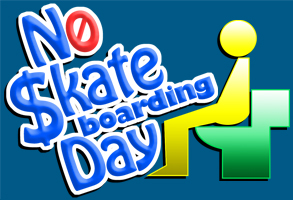 Just another reminder this year, to possibly spare skateboarders some police brutality and more arrests, that Go Skateboarding Day is a hoax. IASC copied "Emerica's Wild in the Streets" who had their very effective Love Park demonstration, and called June 21st GSD as a marketing scheme. They enhanced it by putting out media claiming that by way of Congresswoman Loretta Sanchez, (I quote from PrimeNewswire) "United States Government Goes Skateboarding—June 21 officially proclaimed "Go Skateboarding Day" by U.S. Congress. Ms. Sanchez' office totally denies this, obviously as anyone knows an act of congress requires just that, an act of ALL of congress. It's not ever likely a holiday for skateboarding will exist.
IASC's message to kids is to drop all their obligations and get out and take over the streets for "the grind heard around the world." Can you say "Go Get Yourself Arrested Day?" We all saw over and over the YouTube accounts of police interactions on skateboarders including the one famous account in Hot Springs Arkansas, when skaters celebrating GSD took over the sidewalks in an upscale tourist area where skateboarding on sidewalks is clearly posted illegal. These skaters were obviously empowered by the invincibility GSD implies as they mention it a few times in the video. Officer Joey Williams has been cleared of all charges of wrongdoing and has returned to duty. The altercations escalate every year and now cities are preparing for GSD by adding extra police forces on duty. Is this what we really want? A "Skateboarders vs. COPS Day?" Use your heads. If your town or your local shop has planned an event through proper City channels, that's great. But keep in mind the skateboarding laws are all in place and will be enforced, perhaps OVER-enforced on June 21st. Thank you very much IASC!
IASC continues to advertize and bill GSD, as an official National Holiday and has taken no accountability for the misery it has caused some skateboarders and their families, or admit it is a hoax. Congresswoman Loretta Sanchez can be reached in Garden Grove, CA at (714) 621-0102.
6/16/08
Emerica's Wild Ride '08 - Been chatting a bit with Ryan Clements of SPoT who is currently on the Wild Ride. For the remaining few skateboarders who are NOT on the Wild Ride, Ryan has posted a photo blog up today. Check it out and see what you are missing out on.
5/21/08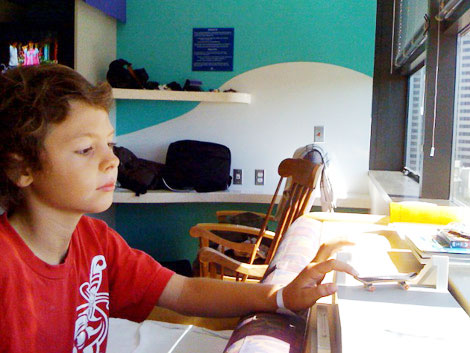 Johnny Romano - Real's youngest pro. who the team met at a Make-A-Wish Jam in Houston, unfortunately is back in the hospital with recurring cancer. Deluxe SF has made a message page for anybody to send little Johnny good vibes and supportive wishes. All our support and prayers go out to Johnny, his family and medical team. Come on skaters you know the drill, let's bombard that message board for this kid!
5/13/08
Let's Talk Shops - Skater, writer, and industry consultant Bud Stratford has written another well-researched essay on the state of skate shops. I encourage you all to take a look (grab a beer 'cause it's long) and hit him up with your feedback. We'll be hosting this in our "Articles" section.
5/8/08
Stop by and say hello to Peggy Oki in Carpenteria this weekend:
ARTIST STUDIO TOUR WEEKEND
FRIDAY MAY 9th - 5:00-7:00 p.m. -- 855 at the Arts Center
RECEPTION to meet the artists who will be opening their studios on Saturday. Come pickup a map, enjoy a glass a wine and view work of the artists on the studio tour.
855 at the Arts Center will feature artist studio artists in the gallery from May 2nd to May 30th.
Gallery hours Friday thru Monday 10:00 a.m. to 4:00 p.m.

SATURDAY MAY 10TH - 2nd annual ARTIST STUDIO TOUR - 10:00 a.m. to 5:00 p.m.
Over 30 artists (including Peggy Oki) will open their studios.
Maps are available at 855 at the Arts Center, Porch, Hurley Optical and Sand Castle Time.
information: 805.684.7789
4/26/08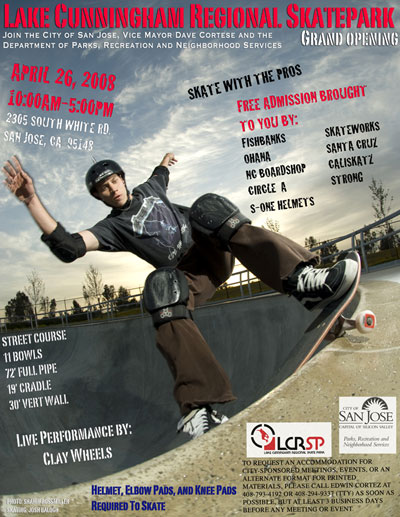 Find some old rollerblading gear from the 80's and skate the opening of Lake Cunningham Skatepark today. Good luck with knee pads restricting your pants and legs, don't get hurt. I'm very surprised insurance companies and cities haven't yet researched ACCURATE injury statistics as to better protect themselves. If they had, we'd know as the only gear requirement would be ANKLE PADS!
4/20/08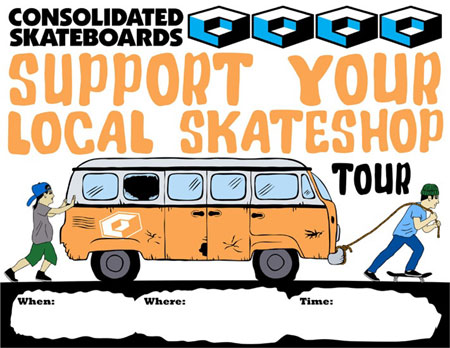 Consolidated is heading out and about on a shop demo tour this week:
S.B. Skateshop in Santa Barbara, CA Fri. April 25th 3pm
The Station in Fremont, CA Sat. April 26th 4–7pm
Derby Park "Der-b-que" in Santa Cruz, CA Sun. April 27th 4pm hosted by Skateworks
If your local skate shop is interested in having a demo, please call Leticia at (831) 457-8206

4/18/08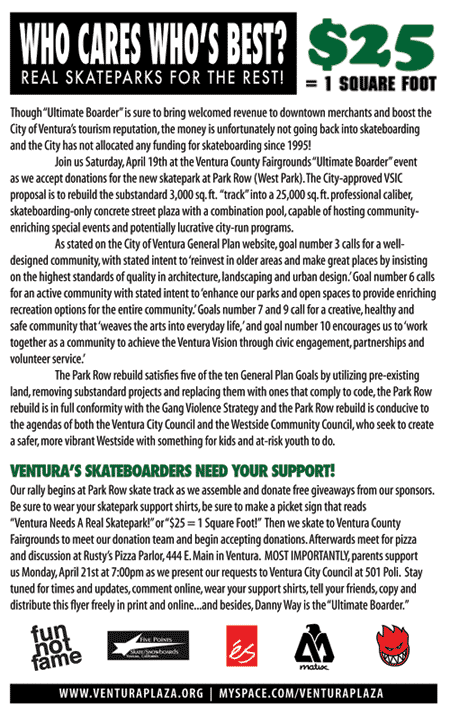 The Ultimate Border contest is set to bring in major $$ to it's promoters, $$ to the city merchants and $$ in purse to the token skater who is "crowned." The skateboarding part of this production is being held in Ventura where skaterboarders have been struggling for over 14yrs to get a decent skatepark/skateplaza built. My friendly neighborhood activists to the south decided to call out the organizer on it and protest/boycott with a demonstration at the event. The promoter caught wind of it an actually met some of their demands. But the demonstration is still going to happen as they have permission to collect (tax deducible) donations for the skatepark. Please visit their website as plans have been changing, and if you are in the area tomorrow (4/19) your support would be greatly appreciated.
I'd love to see more of this happening. People exploiting skateboarding to make their dream homes and caviar wishes come true need to give something back to skateboarders. All this money floating around and yet some of us are relying on bake sales to get our local city skateparks built. Major kudos to the skaters who are making this happen! I hope it sets precedent for more demonstrations at these high rollin events for the mainstreamers. Call 'em out!
4/17/08
"He said, for example, that kids at the Skypark skate park often scatter when they see a police cruiser pull into the parking lot. By bicycle, he says he can ride up to the park without being seen and nab kids who aren't wearing their helmets."

—Quote from Press Banner.com
Seems Scotts Valley, CA just can't seem to get enough of those $360 skatepark tickets. They've tried an undercover cop, niled the idea of surveillance cameras due to expense, toyed with ideas of a monitor, paid admission and a dress code. So now have trained a bike cop to "nab" skateboarders easier. Skating where you are not suppose to skate will get you a $35 ticket, on the streets (under 17) without a helmet is $25. So financially speaking it makes sense to me that if you want to skate in Scotts Valley don't go to the skatepark that skaters themselves raised money to build, skate illegally - right? And for safety reasons you may get off cheaper outside the skatepark but you may get killed by a car. What's wrong with this picture? I wonder what Scotts Valley plans to do, in means of police training, about some of their non-skating teen population with drug problems and some who have a habit of burning down their schools and libraries and some who formed an Aryan nation teen group. Scary priorities! I guess the best advice I can give skaters about skating in Scotts Valley is don't skate in Scotts Valley.
4/11/07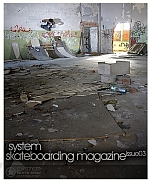 System Skateboarding Magazine. A fairly new online skateboarding magazine out of Poland. I love the layout and format; the way you can turn the pages. Check out Issue 3. It's mostly features skaters as opposed to product even though it appears to be backed by a distribution company. Nontheless, it's cool! Thanks for sharing it with us Mateusz Paszkiewicz!
4/9/07
OOps, looks like ESPN made a mistake. VERT is back in the X-Games. From ESPN PR:
ESPN X Games 14 Sports & Competition Announcement
ESPN has decided to continue its 13-year tradition of vert competitions at this year's X Games. Over the past month ESPN has engaged in many conversations with the X Games BMX and Skateboard vert athletes in an attempt to transition the Vert discipline into one featuring a skatepark course design. While many athletes were initially receptive to the idea, the majority of them have indicated to ESPN that they would prefer to compete on a halfpipe. ESPN will also continue its plans to hold SuperPark as a new discipline for skateboarding and BMX at the X Games while working with the athletes to better define exactly how the SuperPark course will be designed. "The X Games has always had a commitment to the athletes and our consistent communication with them has allowed us to collectively grow this event to where it is today" said Chris Stiepock, General Manager, X Games. "In this particular case the communication took many turns but a consensus by the athletes has emerged that has lead us to reinstate Vert as an X Games discipline this year. We will continue to work with the athletes to make the X Games relevant and successful." Pro Skateboarder and 14-time X Games medalist, Bob Burnquist, said: "I think it's great that ESPN will continue to have a Vert contest, and I'm looking forward to working with them to make sure the vert competition at the X Games is the best that it can be."
4/9/07
Real Skate supports the Olympic torch run demonstrations in San Francisco today.

4/3/07
I've been hearing the X-Games (ESPN) was dumping BMX vert and thinking of doing the same with vert skateboarding. Today they dropped the axe. Not surprising, but what is surprising is that they took a decade to figure out vert wasn't popular. They plan to event a new game, er competition for the mainstream viewing pleasure called something like "super park." Watch out street skaters the magic of television is about to invent super jock park stars to watch on Cribs. This will be interesting, I imagine the other TV fake skate competition shows will follow suit. I bet the IOC is laughing their heads off!
3/23/08
Tampa Pro going on right now at the SPoT. 411 Video Magazine is live webcasting as we speak. Consolidated has 3 pros entered. Yeah for the home team! Go DON'T DO IT.

3/21/08
You know you've been on the Internet too long when the names of 50% of the people you know, you know only by their handles. Broken Magazine sent a bulletin "bobcat stuck in the pool at the skatepark this morning..." Of course I immediately thought it was "bobcat" from Sleestak and wondered how the heck that could happen! Check it out.
Now you get it. I swear, I just got an e-mail from MoveOn.org with the subject "FOX attacks Obama." Yikes, I'm afraid to look!
Roller Derby Girls! Hells yeah. So for all you target marketeers here's the new "in" thing. But don't take it too far, because you wrecked it for them last time. They have regrouped and doing a great job of mostly having fun. Here is a letter I recently got from "A-Bomb." I love their names, tattoos, their whole thing; they are gnarly for sure. I use to go to roller derby in the bay area with my Dad. Wow, twice my Dad has appeared here lately. First Willy Nelson now this! So I saw how it got marketed, finally becoming as fake as televised wrestling, so fake it just flopped. They're back, and I can really see some of the parallels with skateboarding. I think that's why I hear from so many roller girls. Well ladies you have my support and guess what? I'm going to see the Santa Cruz Roller Girls tonight! You go girls!
Dear Clarkie,
With all the sports out there for older women, very few allow you to compete in a full-contact competitive sport with women half your age.
I hope you are well. My name is Annette Melillo. During the day, I work as a sales representative for a heating and oil company. By night, I'm referred to as "A Bomb," a 42 year old woman standing merely 4'9" tall, yet currently one of the top jammers for the NJ Dirty Dames Roller Derby League, located out of New Brunswick, New Jersey. I wanted to maybe pique your interest on the growing full-contact competitive sport for women, roller derby. In a way, roller derby has changed my life.
At this point in my life, in almost every other sport that I've previously competed in, my opponents' ages ranged from 35 to 50. Oddly enough, roller derby has allowed me to compete on a level with skaters of varying ages; however, women in this sport aren't judged by age. They compete according to the level of their league. This is a sport that is inspiring and empowers women who perhaps never thought they could play a sport or had the drive to succeed in something active or fitness oriented, yet they attend every grueling practice no matter how difficult and push themselves to become the best athletes possible and get in the best shape of their lives. They are mothers, wives, daughters, students, computer geeks, office dwellers, librarians, waitresses…you name it, but on the track they are teammates working together to win.
Roller derby has been around since the 1930s; however, the sport faded away after it became "scripted" much like professional wrestling and fans lost interest in it. Flat-track Roller derby returned as a competitive sport in 2001 and since then has grown into over 300 leagues across the country.
Just to tell you a little bit about my league and what we do: Founded in March of 2006, The NJ Dirty Dames are a group of hard working successful women from all different backgrounds, ages currently ranging from 22 to 42 who are working to get the sport of roller derby back into the public's eye. We have been featured in numerous newspapers, magazines, and on television and are constantly trying to put our name out there aside from our normal day-to-day jobs. We normally have bouts once a month and practice three nights a week. We are a "by the skaters, for the skaters" organization meaning that every ounce of work comes from the skaters themselves as opposed to being run by any corporate businesses.
I'm hoping that you will have interest in letting women know about this great sport. Many people, when they think of roller derby refer back to the days when it was scripted and consider it just a bunch of women on roller skates beating each other up. This couldn't be further from the truth and my goal is to get people to see that this is 100% a real competitive sport that has grown away from what made people lose interest in the first place.

For more info on the Dirty Dames, check out their website. Thank you so much for your letter A-Bomb!
3/12/08
Thrasher is having an interesting contest, almost like a treasure hunt. This weeks' booty is a Consolidated Roberto Aleman complete. May the best pirate win! UPDATE - Someone is really running away with the contest so Birdo and Leticia decided to also offer a complete to the second place winner. Nice!
3/4/08
Gotta love our Brazilian skater girls, not only their skating but their artistic, writing, photography talents as well. Don't miss AP and Bruna Massadas' photography show beginning March 13th.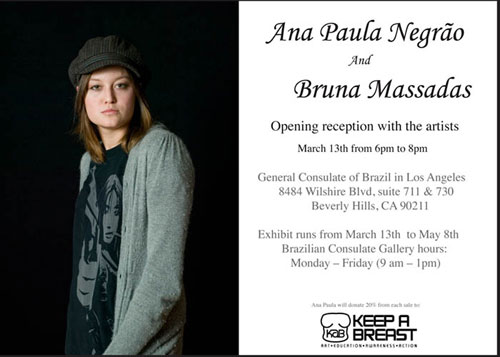 What: Ana Paula Negrão & Bruna Massadas Photography Show
Where: 8484 Wilshire Blvd, suites 711 & 730, Beverly Hills, CA 90211)
When: From March 13 – May 8
Free Admission
Contact information: Andrea Curtin, (323) 651-2664, ext. 219 or
cultural(at)brazilian-consulate.org
2/21/08
Get off the message boards and GO SKATE! Heard that one before? Well that is exactly what 37 SLAP Pals have done and came up with their own vid under the anonymity of their "handles." I love it. I'd give that a "gnar" if I could! For now it's posted on YouTube in 9 parts. Check it out and be sure to leave good comments or better watch out, you might get "kooked!"
Part 1 ericlogan, bothersome, yeah dude!
Part 2 loophole, rocklobster, MFS, brandon, Zurg, L.S.
Part 3 Gest, Sony MDR V2 headphones, ATMurrel, Duffy, tonycoxhox
Part 4 natenola, diabolik, jura, tommy tuttone, mikey pioggia, somekid, mackattack, matt/tx, forks/knives save lives
Part 5 grimcity & joshewwuh
Part 6 toy machine, stagefright, iskaterowleyclassics, foray, SRjunky, peter
Part 7 universal remonster, Raw!
Part 8 ah lee, fuckyocouch
Part 9 nick immediato, iwishilevedinfinland
2/21/08
Kat Von D., my new best friend, is throwing the biggest music/tattoo art shindig of the century at the Orange County Fairgrounds this weekend. Seriously, Kat and I are tight, after all I'm in her top 936,840 friends on MySpace! I sent her a Real Skate sticker for her new ramp but haven't spotted it yet. She's a busy girl with this event and all.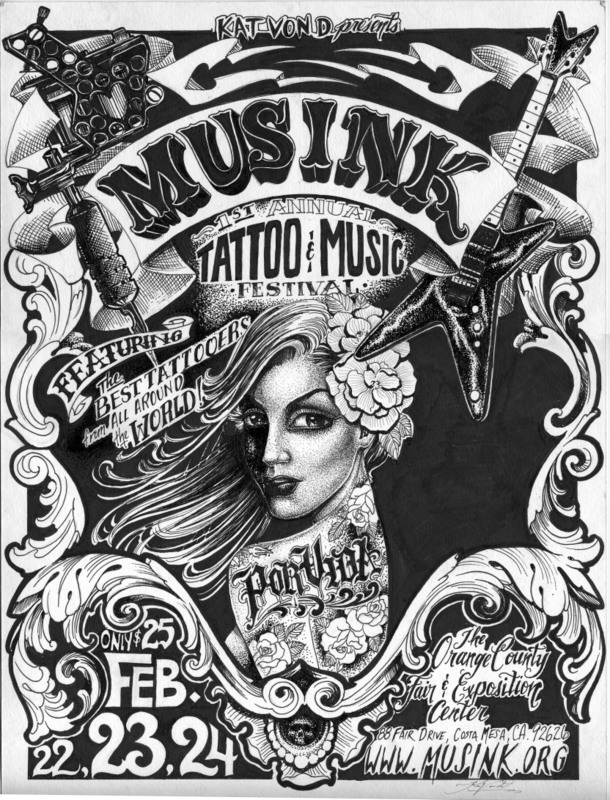 2/14/08
Abusive COP Over the Top - More info is surfacing and more charges filed against Baltimore Police Officer Salvatore Rivieri. Check this out. Was Rivieri the the inspiration for this character? This "dude" is a monster. God forbid he has kids of his own.
Note to Youth: If anyone EVER abuses you in any way no matter if it's a COP, parent, teacher, minister, doctor, neighbor, relative, friend, ANYONE, PLEASE REPORT IT to the Police or someone. If you are too afraid or don't have anyone, call me and I will report it for you!
| | | |
| --- | --- | --- |
| | Baltimore Officer Salvatore Rivieri has been suspended pending an internal investigation. Over 500,000 views on YouTube of him verbally abusing and manhandling a 14 year old skateboarder. | |

2/13/08
Birdo and Consolidated's DON'T DO IT campaign against large sporting goods companies who are taking from skater built and owned businesses got national recognition last night on CNBC's new documentary Swoosh! Inside Nike. Several more air dates are listed on the site. Of the show my favorite quote is from Michael Jordan "I never wore a pair of Nike's until I signed with them. Adidas was always my favorite shoe."

2/12/08
Cops Gone Wild (again). This time in Baltimore, Officer Salvatore Rivieri. He didn't want this to show up on YouTube, well guess what DUDE! There's eventually going to be enough of these incidences for it's own reality show. This is a total abuse of power and totally unacceptable. I'm glad skaters are exposing what really happens in their lives. The citizen review board for formal complaints' number in Baltimore is (410) 396-3141. DUDE!
2/11/08
I went to a Willie Nelson concert last night, how nerdy is that? I've always loved his songs, they are sweet. And he's 74 and still going strong. Some of his songs I remember my Dad singing around the house. Usually the silly phrases he'd sing to me like "Hey good lookin, what ya got cookin, howz about cookin something up with me" and he'd do this little dance with me standing on his toes trying to follow. He cracked me up! Looking around the theater at all the cowboys, I wondered if they sat around the campfire (we know they didn't have message boards) talking about the cowboy boot brands like skaters talk shoe brands these days. Wondering if one brand tried to monopolize and overtake the cowboy culture by soaking up all the brands. Saddles, hats, chaps, all controlled by one corp? Nah, nobody could be more shoe fashion conscious these last 10 years than skaters. Hey my Dad was a pro in his younger years! He was a bronco rider in the rodeo circuit in Laramie, WY. I don't know how good he was but he always talked about a horse named "One-eye" the meanest horse around. I like to think he was pretty gnarly. I miss my Dad, RIP. Ohhhhhhhhhh mamas don't let your babies grow up to be cowboys...let them be [skaters] and lawyers and such...
2/10/08
No love for skateboarders. Fayetteville is the sixth largest city in North Carolina, praises itself as diverse, and has won All-American City awards and other honors. It has many parks, an award-winning golf course, and Cycling, Hockey, Baseball, and football clubs. Why can't they spare a tiny little plot where skateboarders can skate legally? There's nothing more "All-American" today than skateboarding, that's for sure.
2/8/08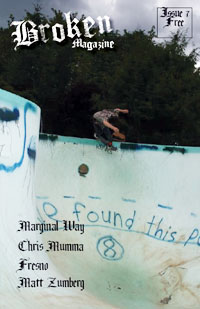 Broken Magazine is holding a photo contest - best backyard shot of Jan.–Feb. '08. Winner wins an 8.25 Scarecrow deck. "It can be a pool, ramp, DIY, or some random thing rotting in your backyard." Good times!
2/6/08
Skaters, be the first to get your new "skurban" look on! Now you too can be more presentable (like snowboarders are now that they are in the Olympics) when you go with mom to the country club. Hot! Thank you Volcolm, marketing geniuses!
2/4/08
Tomorrow is the big day. After all has been said and done and all the mud has been slung, Real Skate is endorsing Hillary Clinton. Hillary played a very important role during Bill's administration. She's one of the smartest women out there today. If you recall, their administration cleaned up our country after Bush Sr. screwed it up, paid off the deficit, ended the meaningless war, etc. Now that same clean up is needed for what little Bush has done to this country. Hillary and Bill have the proven formula. Here experience is seriously something needed at this time. She worked hard on the Health Care system, only to be rejected by the Republicans who comprised the majority of both houses. Now both houses are Democratic controlled, and with that support, I am confident we will see the changes everyone wants.
I think Obama is a very good Senator and I would not be disappointed if he became president. And, the last thing I want is another Republican regime. I swear I will leave the country. If I had the confidence in American voters, who are a majority of Republicans over 40 and only 20% of people 18 to 29, and a whole slew of brainwashed evangelicals, I would push for him. He could be president by a landslide if only young liberals would participate in voting. And that's what would have to happen in the general election. The electoral college system is not the best system but still it is based on how many delegates are appointed according to popular vote. Bottom line, you have to register and you have to vote if you want change. And if Obama wins tomorrow, I'm going to get after ALL you young flake's who don't vote!
1/31/08
We just got word from VBS.tv that the Epically Later'd episode 1 of 16 of John Cardiel is finally out. We will be posting early updates from them as new episodes are released.
1/31/08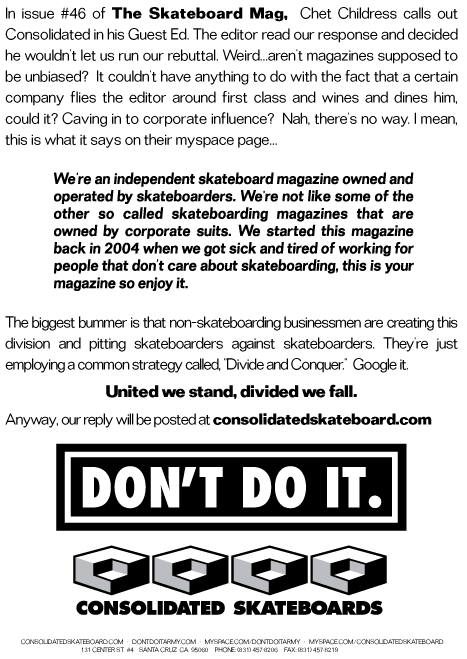 Right on THRASHER! Thrasher Mag has agreed to post this ad from Consolidated with a url to Birdo's response to Nike's Chet Childress' hypocritical bashing of Birdo (and other entities) which was printed in The Skateboard Mag. As you know TSM would not print Birdo's response. I have canceled my subscription to TSM and removed them from my Links page. Note to Chet: Take off your shoes and THEN maybe you'll have some validity in deciding who's keeping it real in the skateboarding world.
1/29/08
We are very sad to report that Dane's body was found on a street in San Diego according to this press release. Our sincere condolences go out to his family and friends.
1/28/08
Dane Williams Missing after ASR in San Diego - Got this from the ASR folks; let's hope he is OK.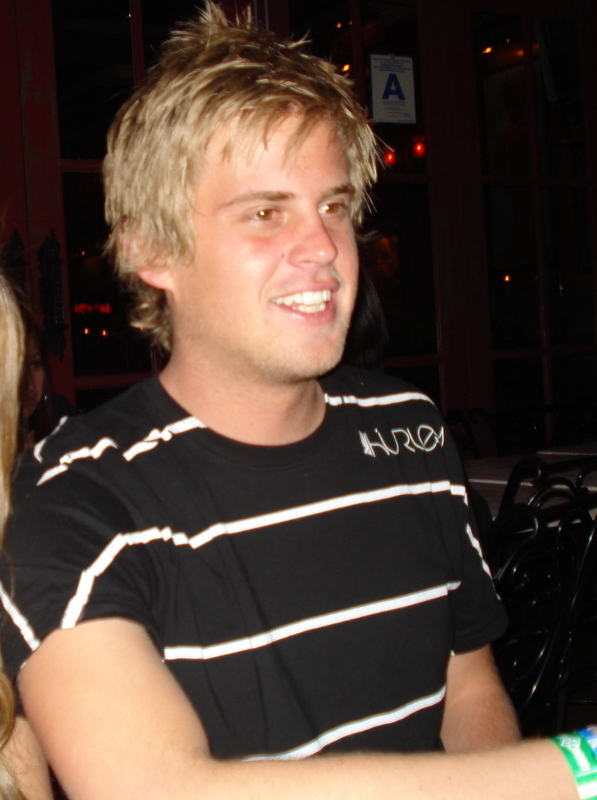 Sorry for sending two e-mails this morning. But just got this and they need everyone's help to find Dane. Please see below. Dane Williams from the Hurley Marketing Dept. has been missing since Friday night at ASR (Action Sports Retailers Tradeshow). He was last seen Friday night at close to 2 am by the Hard Rock Cafe outside of the Marriott Gaslamp in San Diego. We are worried because no one has had contact with him since then. If you have heard from him or seen him, please contact the San Diego police department or call:
Amy- 714-553-4375
Jessica- 714-330-6952
Danny-714-613-2369
Or his parents Jim and Valen- 714-960-1341
PLEASE PASS THIS ALONG TO EVERYONE WHO WAS AT THE SHOW AS SOMEONE MIGHT HAVE SEEN SOMETHING. THANKS!
Robby Adams
Hurley Creative Dept.
robby_adams@hurley.com
949.548.9376 x3307

1/27/08
Here is Birdo's (Consolidated) response to The Skateboard Mag's article by Nike's boy Chet Childress (See 1/10 below.) Interesting TSM refused to print Birdo's response. Something's flat out wrong with this scenario. Keep fighting the good fight Birdo! When the day comes when Nike dumps skateboarding shoes, their pros, their mag spreads, we'll see articles titled "We Should Have Listened to Birdo." Keep it real out there!
1/24/08
Nike is on the cover of the February Forbes business magazine, "Going for the Gold." Gold, meaning money to Nike, of course. Personally I've never known a skateboarder who would fall for such a hoax as Nike trying to convince the world they are a skateboarding company. I don't even know anyone who would wear a pair of Nikes if they were free! But, they are walking the walk by buying a few pros as they have done with all their other disciplines like golf, running, biking, hockey, etc. It reminds me of a used car dealer "have I got a car [shoe] for you" thing. Interesting read for any skateboarders on the cusp of buying into this fashion statement illusion of a shoe being marketed primarily to sneaker freaks and non-skateboarders.
1/11/08
Danny Renaud - We were hoping it was a rumor, but Stereo has confirmed their Pro Danny has survived a 9-story fall from a building in Miami. He suffered broken legs but a full recovery is expected. Stereo also has provided a way to get well-wishes to Danny as he recovers. Please check out their website. Our best goes out to Danny. We will be supporting him 100%!
1/10/08
Starting off the year with a bang, but no big surprise. Pretty predictable actions when a skater and a skate magazine jump in bed with a major sporting goods company. You know the one. So Nike pro Chet Childress calls out Birdo in print in The Skateboard Mag. Birdo writes a response but TSM won't print it?? Something is wrong here, but like I said, predictable. Check it out. We'll follow this one for sure, and if Birdo wants, I'll publish his response here, gladly!
1/1/08 - Happy New Year!
12/31/07
Lists tend to pop up at the end of the year among ambitious people. Since I don't have one of my own I will post Michael Brooke's:
WHAT IF WE TREATED ALL ATHLETES LIKE SKATEBOARDERS?
1. A scandal would rock the badminton community when it discovered that some shuttlecocks are blanks with no graphics.
2. Swimmers, gymnasts and weightlifters would be pimping out their new Mercedes Benz's.
3. Golfers, curlers and dart players would wind up on MTV "Cribs."
4. Bowling shoes would be a 3 billion dollar industry. Studies would show that 90% of all bowling shoe buyers didn't actually bowl, but purchased the shoes because they looked cool and "felt comfortable." There would be 300 different types of bowling shoes.
5. The US Military would run recruitment ads in bob sledding magazines.
6. South Korean Archery champion I'm Dong Hyun would have his own reality show with Big Black. It would be called I'M DONG AND BIG.
7. Axe Deodorant spray would pimp out world champion fencer Keeth Smart's bathroom.
8. Table Tennis clubs would be set up at churches to bring in youth.
12/28/07
Concrete Disciples and (cream of the crop) company get a secret test drive of the new Lake Cunningham monstrosity. Nice work Zach!
12/25/07
Happy Winter Holidays from Real Skate!
12/24/07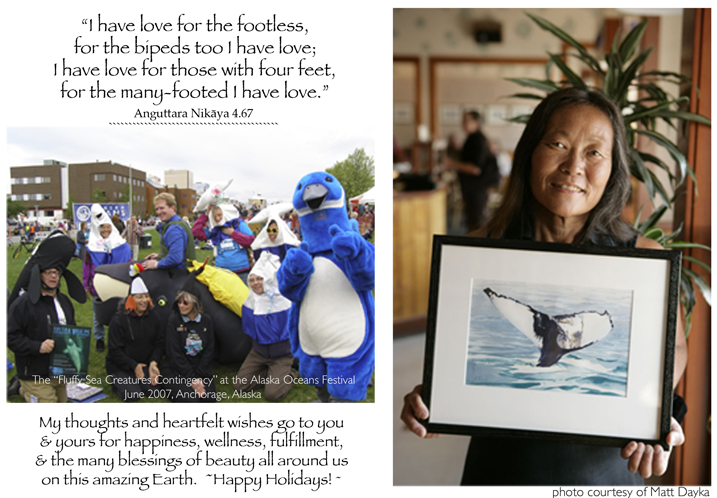 Thank you, Z-Girl! Same to you and thank you for all your hard work throughout
the years with the whale movement. Peggy invites you all to participate in the "Minds in the Water"
Visual Petition campaign and help her win the competition for a sponsored trip to the IWC
meetings next May in Chile.
12/20/07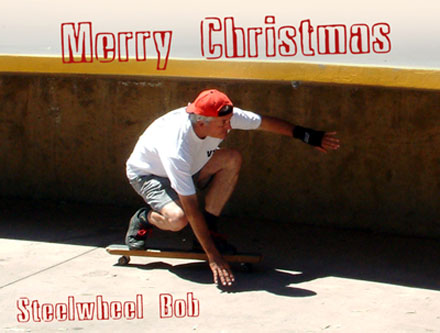 Blank Planks? A World without steel wheels? Gotta love those So. Cal. freestylers.
But, careful Bob you might incite a riot! Merry Christmas to you too, and thanks for
all your good work with the good non-profits.
12/13/07
Tribute to Big Mike - Any friend of Neal Boyd is a friend of us all. Hammond, LA's backbone of skateboarding Big Mike Jeansonne lost his life on November 16th in a freak skateboarding accident. Mike leaves behind his wife and son for whom Neal and the community have set up a trust fund. We are encouraging our readers to help out, any amount you can give will be greatly appreciated.

If you are getting Christmas money for a new deck, you might want to wait until January and grab up Mike's tribute deck, designed by Neal and manufactured by Deluxe, SF. This will be a Real deck, part of the "Actions Realized" series sold through regular distribution. Look for it in your skate shops around the 3rd week in January. Call your shop and make sure they will be carrying it. Most shops will do a mail-order transaction, so if you're stuck out in the middle of nowhere, you're covered. All proceeds from the deck sales will go to the trust fund.

Huge, gigantic thanks goes out to Jim Thiebaud and the staff of Deluxe who went out of their way to do this tribute deck for Mike's family. And of course thanks to Neal, Small Time Skates shop, and all those who have contributed in some way to help out Mikes family.

The skateboarding community and all its goodness just makes me sit down and cry sometimes!

Our sincere condolences go out to all of Mike's people who are suffering a tremendous loss.

RIP Big Mike.
11/26/07
I had a nice long chat with Patrick O'Dell about the Epicly Later'd which aired Saturday night on MTV2. I think he did a good job editing which parts would work. By work, I mean depicting what pro skateboarders are really like. While watching it, I couldn't help doing my own mind comparison to Ryan Sheckler's skateboarding life. Quite an extreme difference (excuse the word extreme) whether it was intentional on Patrick's part or not. I loved Spanky's part and his Dad recollection of him as a young kid as well as Alex Olson's interaction with his legendary skate dad Steve. Spanky and Alex are skateboarders. Ryan is an "athlete." Braydon is just Braydon! hahaahh. Of course getting around to the proverbial question was this money driven, Patrick said no in fact he lost money producing this for MTV. He added EL is not scheduled for future MTV2 shows and doesn't think it ever will show again. Let's hope not, plus I don't think this will appeal to the mainstreamers. Let them idolize the White and Sheckler jocks of the skateboarding ranking system. Save the blood, cuss, and piss (and excellent skateboarding) for the rest of us to appreciate. Thank you Patrick, keep up the good work.
11/25/07

| | |
| --- | --- |
| | We are very saddened to hear Michael Reed, 21 of Rialto was fatally shot last Wednesday trying to stop an armed robbery at the Fontana Skatepark. A teen was holding a gun to another teens head when Michael intervened and was shot instead. Michael will certainly go down in history as a hero. RIP Michael. |
11/22/07
Happy Thanksgiving Everybody! - Whether you celebrate the holiday or not there is always something to be thankful for. I'd like to thank all our readers and supporters and skateboarders all around the world. Keep fighting the good fights for your deserved rights. -Clarkie
11/20/07
Epicaly Later'd - I'm not so sure I want to post this, but so far I think EL has been keepin it pretty real. Colab with MTV though? I don't know, every skate thing that has mainstreamed to MTV has been a money driven flop, at least in the minds on non-mainstream skate minds. I'll give them the chance but well we shall see when the reviews come in. I hope they don't tell the world ALL our secrets!
Hey Real Skate,
Just wanted to drop you a note about the VBS.tv skate show Epicly Later'd. On Saturday, November 24th at 9PM/ 8C, MTV2 will air a compilation of three episodes of the popular VBS.tv web series, Epicly Later'd. Based on the photo blog of the same name and brought to life through VBS.tv, Epicly Later'd is the brainchild of Vice magazine photographer and skate world insider Patrick O'Dell. Hosted and filmed by O'Dell, Epicly Later'd features intimate and exclusive interviews and footage from the lives of pro skateboarding legends and young up-and-comers alike. It's a casual and candid look into the real, weird life of the pros. Saturday's 30-minute program profiles three of the hottest young skaters around today: Braydon Szafranski, Kevin 'Spanky' Long and Alex Olson. If you never seen it before, check out Epicly Later'd. You can also check out the clip about the show on Saturday here.

11/18/07
Longboarding - Found this article in the LA Times containing some competitive longboarding history. John Hutson is a Santa Cruz local, and there is quite a contingency of longboarders here trying to bring back the Capitola [Downhill] Classic. It's definitely not died and may even be safe to add it's growing. A friendly suggestion, please wear helmets on the roads! You are not a car. Bombing hills at high speed requires special boards and wheels. According to statistics compiled by Skaters for Public Skateparks from media feeds, last year over 40 deaths to skateboarders occurred on the streets, most of them hit by cars or just going too fast and out of control. I'd be safe to guess from my Google alerts it has risen this year. California has a mandatory state law that 17 and under wear helmets while skating on roads, it's a vehicle code. Yet the skateparks are getting stormed with riot tactics to ticket for helmets and pads which are not needed for park skating anyway. You don't see helmets and pads in the X-Games park and street comp. do you? The fine for being helmetless on the roads is $25. The fine for skating in a park without a helmet — $360 or more. Go figure.
11/16/07
So you think voting doesn't matter? Check out this article about the city of Los Gatos, in the Santa Cruz mountains and the skaters major fight to get a decent skatepark in their town. This is the first I've heard of a skatepark going up to a vote. Who do you think will win if skaters aren't registered to vote? Who will win if the majority of your town is conservative and NIMBY? If you are 18 better think twice about how lame you think it is to vote. And you can also vote for or against the city council based on their interest or lack of it in youth. Even the signers on the petition for the referendum have to be registered just to get it on the ballot. The article points out out of 3,098 sigs only 1833 were valid. They did get enough, however, to get it on the February ballot. For those skaters under 18 (which are probably the majority) better get on the campaign and get those 18 year olds on the stick and Rock The Vote in Los Gatos!

11/15/07
Mainstream Mania - Lately I have been receiving tons of skate related writings, photos from professional photographers of skaters which in their minds is a great skate shot, bands on the skate band bandwagon, and video companies producing "skate vids." This would be all good content and are the things I would normally gladly accept and post, however one glance and you know how clueless these submissions are. I'd rather post a pic a Dad took of his kid attempting a trick, no matter how blurry or fuzzy, or how "beginner" but because it is in fact a trick; it's real and depicts sincerity and meaning.
Nike, the biggest non-skate mainstreamer of them all (with no disrespect to the pro skaters they bought to form a "skate team") continues to detract all sincerity and meaning, all in the name of marketing shoes. I mean come on, Mamma, Pappa, and Baby bear skate shoes? Do they really think they are appealing to skateboarders? Check out Michael Brooke's opinion of the latest Nike "skate video."
The Whole Truth About Nike's Nothing But the Truth… November 15th, 2007

Not only did I receive the new Nike dvd, but on Monday, I received a 300 page hardcover book that features stills and information about the dvd (there is also another dvd tucked in the back of the book). I managed to catch about 45 minutes of the dvd. I have promised myself to watch the rest. The truth about "Nothing But the Truth" is that the skating is amazing, but the bits in between are having a weird affect on me. I can't really explain it, but the video (not the skate parts, mind you) seems like one of the most self-indulgent things ever done in skateboarding.
Arts for ARTS sake?
What does it REALLY mean?
How does it FEEL?
It's like some bad art film…you just want the damn thing to end.
Maybe I am too old…perhaps my generation doesn't get it…maybe we're not supposed to.
Look, I am not denying that Nike has a great skate team. They've also pumped a ton of money into skateboarding. Through an incredibly shrewd marketing dance, they have cultivated their Nike SB in core shops while at the same time moving the Nike 6.0 line thorough mass market channels…Yes Virginia, a 16.3 billion dollar company can suck and blow at the same time.
Yep, Nike posted 16.3 billion in sales in the last fiscal year. Their goal is to be 23 billion company by 2011.
That's a A LOT of money.
It buys you a lot of talent.
It also appears to buy you a lot of video tape and self indulgence. It's not just me who thinks this film was a dud.
Check out this review:
"You know what, I'm so sick of this movie, after 35 minutes, I can't stand it. full of scum, crap, lame stuff, non-skateboarding stuff (hey it's nike, what did you expect?) and it's straight up boring. i haven't been stoked once. i'll just wrap this up now, and say it's crap, i don't feel like watching the rest."
Hard to believe that a skate video would turn skaters OFF skateboarding.
Ironically enough, Craig Stecyk has contributed to the book. Yes, the Craig Stecyk who inspired and continues inspire skaters worldwide. Perhaps instead of giving him the writing gig, they should have put him in the directors chair?
The truth for me?
Nike will pump money into skateboarding till it bleeds…or their investors run for cover!
Thanks for the free content Michael!
11/12/07
SMP - Smoke More Pot? Skate More Pools? Nope, Terry Kennedy explains for Thrasher that the new acronym is Sober Mind Power. Seems the message is on the ups, let's hope this one sticks.
10/23/07
Our sincere hopes for the best go out to all those in So. Cal. experiencing the tragedy of the fires. Our support goes out to all the firefighters working with limited personnel and equipment due to our Reserves and planes being dedicated to Iraq. It's messed up. Here are some practical ways you as citizens can HELP. Help for animals.
10/19/07
Skateboarding as a Sideshow? Casino owner Joe Maloof is throwing down 1.5 million to showcase an X-Games style invitational competition they term as the Maloof Money Cup, the "The superbowl of skateboarding" to attract more attendees to the Orange County Fair according to this article in the OC Register. Step right up folks, here ya have yer livestock, here ya have yer carnival, here ya have yer skateboarders and the Flyyyyyyyyyyyyyying Tomaaaaaaaaaaaaaaato! If they're lucky, maybe a skateboarder will get badly hurt. Geeze, when we wanted to increase our fair attendance, we hired the Alaskan Racing Pigs. Worked like a charm. And they're cool. The announcer divides the audience to root for a certain pig. Their "purse" is a trough of food at the end of the course. And the girl pigs get as much "purse" as the boy pigs. Speaking of which, I noticed there will be no female vert skaters. Ya think Cara-Beth told them to $%@#-Off? If so, good for the vert ladies. Wow, just think want 1.5 mil could do for skatepark development. See you at the pig races.
10/17/07
Verdugo Skatepark Event - We are happy to announce that we will be having our third annual Teen Equinox at the Verdugo Skate Park. This is a great event and we have some great sponsors this year including eS shoes and our local Kiwanis club. We have a Battle of the Bands; which the grand prize winner gets to play at the 2008 Van's Warped Tour in Los Angeles, and a great 18 years and younger Game of SKATE with a best trick contest on a flat bar to follow. It is FREE to enter in the Game of SKATE and the Battle of the Bands but the bands need to submit a CD to us ASAP if they want to play. There will be fun booths which will include hair painting, henna tattoos, skateboard stenciling, photo buttons and more. Plenty of food and good music!
Thanks,
Adam Porte
Community Services Specialist/Skate Park
City of Glendale
work (818) 548-2786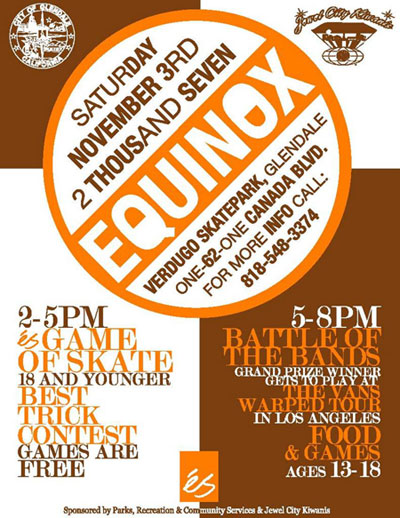 10/10/07
Capitola Skatepark - Judi O is informing that Thursday, the 11th the Capitola City Council has the skatepark issue back on the agenda. Skaters are needed to rep and support the skatepark and voice your opinion on location. Meeting starts at 7pm but the issue won't be heard until 8 or 9pm. Please attend if you can, and please help spread the word among local skaters, it's very important to have a turnout of skaters any time skateboarding related issues are on the agenda. The Council chambers are where you see all the cop cars parked.
10/10/07
A couple of good objective articles on Nike. Validates everything Birdo has been trying to get across for years. Wake up some of you, and stop stretching it - Nike is not a skateboarding company:
Praise and criticism for Nike's foray into skateboarding culture –The Canadian Press
Nike Abandons Hockey –The Star.com
10/8/07
Peggy Oki, the Z-Girl of Dogtown is still doing good things; from saving the whales to blessing our world with her beautiful art. Here are two of her current art shows:
One-Woman Exhibit of Paintings by Peggy Oki
at Zookers Cafe
8 October - 1 December 2007
Mon-Sat: 11:30am - 3pm and 5pm - 9:00pm
5404 Carpinteria Avenue, Carpinteria, CA 93013
Ph. 805.684.8893

One-Woman Exhibit of Paintings by Peggy Oki
at The Sojourner Cafe
3 November - 14 December 2007
Reception 3 Nov (Saturday) 3-5 pm
Monday thru Saturday: 11am - 11pm
Sunday: 11am - 10pm
134 E. Canon Perdido, Santa Barbara, CA 93101
Ph: 805.965.7922

10/7/07
And speaking of bananas, here is a press release on the new "Drunks" Osiris (and later other major core skate companies in solidarity) will be making in support of the DON'T DO IT campaign.
Press Release—OSIRIS TEAMS UP WITH CONSOLIDATED SKATEBOARDS FOR THE DRUNK
SAN DIEGO, CA, Sept. 26, 2007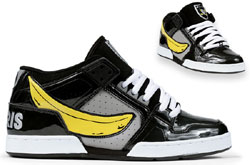 San Diego-based skate/surf lifestyle brand, Osiris has teamed up with Consolidated Skateboards to create a new special-edition of their infamous shoe called "The Drunk," which takes aim at large sporting good companies who are strategically trying to invade the action sports industry. The shoes are going to be sold only at core skate and surf shops in support of the Don't Do It campaign, a movement that seeks to put the power back into the hands of those companies that built the action sports industry.
The Drunk, a thinly veiled comedic wordplay on a popular shoe style from one of the large sporting goods companies, bears a signature banana logo on the side of each shoe. It was created as a playful knock on the large sporting goods brands that are now making a strong push to take a share of the market in the action sports industry. Though the shoe is humorous in it's design, the message that the Don't Do It Campaign conveys is a very serious one. Steve "Birdo" Guisinger, owner of Consolidated Skateboards states, "There is a reason there are no football, baseball, basketball, or soccer, player owned companies-and there should be. "We don't want this to happen to our industry." Jay 'The Wizard' Wilson, Executive Vice President for Osiris, adds, "If they can make skate shoes, we can make basketball shoes that you can skate in. Can't we all have a little fun?"
Osiris will be the first in a series of core skate companies who will be creating a new version of the Drunk each season. The Osiris Drunk is a patent leather paneled quarter top shoe, with it's design borrowed from a new style of shoes from Osiris called the South Bronx. "Ever since I can remember, I longed to work with the famous banana. It's a legend in its own right, for it's continued efforts to break down the corporate evils that plague our industry," says Brian Reid, Chief Creative Officer for Osiris.
Consolidated Skateboards, who has been leading the Don't Do It campaign since 1997, rallied the support of the heads of many of the core industry companies to lead this awareness campaign by creating a new version of the Drunk each season. "Making quality skate shoes is not our specialty, so we are excited to co-op "Drunks" with Osiris and other quality skate shoe makers." says Steve "Birdo" Guisinger.
The Osiris Drunks will be available at select core shops and will be priced at $69.95
For more information, visit: DontDoItArmy.com and myspace.com/dontdoitarmy
10/7/07
Consolidated's new video "Goin' Bananas" is being shipped out now and will only be sold in skate shops. Support your local skate shops and DON'T DO IT!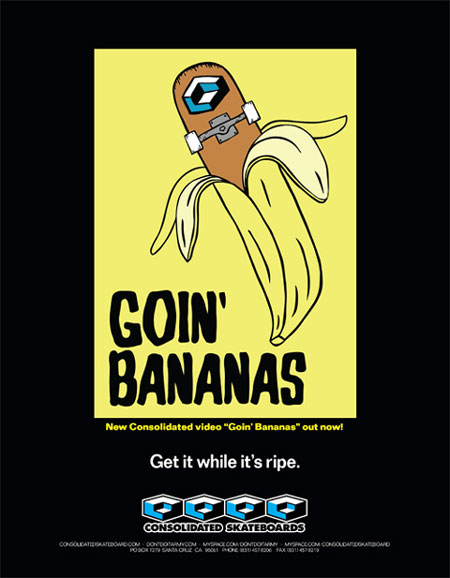 9/20/07
No Skateboarding in the Olympics! No, I'm not bugging you about my petition any more. I am announcing that there will be no skateboarding in the Olympics! At least not unless it's done right, by the rules, through the front door, and if skateboarders really want it to happen. I think we have spoken out loud and clear not only to USA Rollersports, the Cycling Fed, and the IOC but to Gary Ream's questionable USAS and International Skateboarding Federation and except for the latter, they listened.
Below is a news item that went out on Monday at "Around the Rings" a subscription-only news website all about the Olympics nitty gritty. I was given special privy to post it on Real Skate. You will more than likely be seeing this in mainstream media soon, especially by those who reported grave misinformation in all those articles in June.
Half-pipe skateboarding had been under consideration for addition to the London Olympics. (ATR)
Plans to bring skateboarding to the program for the 2012 Olympics are headed for a crash landing, sources tell Around the Rings. Discussions have been underway for months between the International Cycling Union and leaders of the nascent International Skateboard Federation about forming an unlikely marriage.
In a bid to increase youth appeal for cycling the UCI wants to add half pipe BMX to the London program, joining the motocross discipline which will debut in Beijing. As part of a play to make maximum use of the BMX half pipe track, UCI was also willing to consider bringing skateboarding into the federation for a double-barreled shot at attracting younger sports fans for the Olympics.
UCI's ardor for skateboarding has cooled, however, in the face of a number of issues, several of them involving breaches of established rules and requirements for adding sports and disciplines to the Olympic Games. UCI sports director Olivier Queguiner, who met recently with IOC officials to discuss the situation, now tells Around the Rings that the "no decision about skateboard" will take place during the UCI Congress in Stuttgart later this month. A vote of the UCI Congress is a must to bring a new discipline into the sport of cycling. Failure to act this year effectively kills the chance of adding skateboarding to London.
High-level sources in Lausanne say the IOC will take no action on skateboarding until it hears from the UCI. One source indicates 2016 is a more likely start for skateboard. But before the sport can make it to the Olympics, organizational issues have to be addressed, including whether riding along with cycling is the proper way to join the program. A number of federations which meet IOC requirements to join the program were said to be concerned over what they saw was a backdoor effort to bring skateboarding to the Olympics.
Who represents the sport is also a divisive question. The U.S. – based International Skateboarding Federation has yet to stage a world championship and is way short of the number of national federations needed to be considered for the Olympics. Efforts to reach the federation for comment for this report have been unsuccessful.
Meanwhile, the International Roller Sports Federation, which is planning to stage a world championship in 2009 for skateboarding, remains committed to seeking a spot in the Olympics for traditional speed skating, not skateboarding. And there seems to be as little enthusiasm among serious skateboarders for representation by the IRSF as there is for the current leadership of the International Skateboarding Federation. Skateboarders are also apparently divided on what event to stage in the Olympics, with the majority of top boarders believed to be in favor of a street-style event, not the half-pipe proposed by UCI.
Thank you, Around the Rings. So there you have it. Thanks to everyone who signed and helped circulate our petition and kept up the good fight on all the message boards; and thanks to those who had my back. I'm keeping the petition going as I have a hunch though this has been nipped in the bud, maybe not the end. But to anyone standing next in line to try and pull this off again, all I can say is BRING IT ON and let's play above the table this time. - Clarkie
9/13/07
Break Wainwright's Ollie Record!
WIN $500 FOR THE HIGHEST OLLIE AT THE HOBBY SHOW Canada's largest Hobby Show at International Centre 6900 Airport Road, Mississauga. Date: November 2, 3, 4 2007 Organization: Concrete Wave
Can you beat Danny Wainwright's High Ollie Record of 44.5"? If you can, you'll make it into the Guinness World Book of Records! If you do the highest Ollie for the weekend, you'll take home $500. Even if you don't win you could win clothes, shoes, boards and other prizes.
Here's how it works: Fill in the application at thehobbyshow.com. Send it along with a check or money order for $5.00 to The Hobby Show, 365 Colonsay Court, Oshawa, ON L1J 6H3. Yep. It'll cost you $5.00 to enter, but you also get a weekend pass to the Hobby Show worth $24.00!
The rules are simple. Each skater gets two shots at every level; if you fail, you are out. The finalists in each contest get three tries. The Contest winners will compete on Sunday for the final $500 and the draws for the raffle prizes.
This is your chance to showcase your skills. But even if you can't ollie that great, you'll enjoy watching the contest along with all the cool stuff at the Hobby Show. If you are under 18 we must have your parents' signature on the application. Contest times are: Friday 4PM & 7PM, Saturday 12PM, 2PM, 4PM, 7PM, Sunday 12 noon and Finals 3PM.
Michael Brooke, Publisher
Concrete Wave Magazine
1054 Center Street, Suite 293
Thornhill, ONTARIO L4J 8E5
905-738-0804

9/6/07
The Olympics apparently does NOT want skateboarding!
My suspicions all along have been confirmed by a July '07 e-mail conversation from Christophe Dubi, (IOC Director of Sport; through the e-mail address of Pierre Ducrey), when I submitted our petition to the IOC. Over the last few years, more than a dozen people in the sports field told me the IOC doesn't go looking for new sports to add to the program, that this push for skateboarding more than likely came from Gary Ream and Mike Jacki after the bombarding outrage from skateboarders effectively suggested Roller Sports change their mind about putting skateboarding in the Olympics. Gary was quoted in the media as saying he wanted to form USAS to "protect the look of skateboarding" in the Olympics. Another subsequent quote I found interesting from him something to the effect "...if we don't put skateboarding into the Olympics ourselves, someone else will," and "they (IOC) can do it with or without us." Gary hasn't spoken much to media, but every quote (NY Hearald; NY Times) implies that the IOC is responsible for approaching UCI to work on including skateboarding and that it was inevitable it would go in by 2012.
The e-mail exchange:
Dear Mr. Dubi - Skateboarders all over the world request that you do not
include skateboarding in Olympic games. It is not a sport.
Skateboarding was built as an ALTERNATIVE to sports for its
individuality and freedom. Skateboarders have no governing body and do
not want one. We urge you to leave skateboarding out of your long range
plans. Note our petition which has gained national attention.
Many professional skateboarders have signed it and big names in
skateboarding:
http://www.thepetitionsite.com/takeaction/656763888
Sincerely,
Clarkie, Editor Real Skate Magazine
Dear Ms Clarkie,
Thank you for your interest and views.
Please note that the inclusion of the discipline of skateboarding in the
Olympic Games can only be considered if an International Sports
Federation puts such a request forward.
We would therefore advise you to contact UCI [Cycling Federation], should you wish to discuss
further of the creation of an international governing body for
skateboarding.
Best regards,
Christophe DUBI
Although Gary Ream has his USAS members under gag order, (perhaps to hide the inclusion of skateboarding from the Cycling athletes as they will lose two more events to skateboarding as they did to make way for BMX, which Gary holds a seat on) I think he owes the skateboarding community an explanation. Don't you?
So given this information, we will switch our petition and address the Cycling Federation which Gary holds a seat on. There is still time to sign our petition and we will be giving you a way to give your input.
Here is an article I stumbled across showing the cycling athletes presenting UCI with over 11 thousand signatures of bike riders protesting losing two Kilo races. Here again, UCI blamed it on the IOC.
Interesting stuff. You will be hearing more very soon.
9/2/07
Skate With Gusto - I was happy to hear from Ana Paula, one of our awesome Brazilian girl skaters, and happier to hear she is still involved in supporting not only female skaters, but any skater who needs funds to travel to events in So. America. I hadn't heard from her or Luciana and that crew in a long time, but they say they are still doing their magazine, Check It Out. If you are in the LA area, please do what you can to help support the cause. They will send us pics and coverage from the event later. Contact AP for more info.
8/31/07
The X-Games always stirs a flurry of laughable disgust among the skateboarding community. Not too many, if any skate media report on the X-Games at all. We did once, since we had a staff member in Sydney and there was nothing else to cover so we ran it. We will probably even see less as these fake TV show "contests" and non-skateboard related sponsors continue to attract mainstream media and turn ordinary kids into TV stars.
I seriously loved and laughed at the article Concrete Disciples did on this year's X-Games 13. More than likely their last article on the topic, but it's a gem. They also have some good pictures, however, in their gallery (even pics of WOMEN skateboarders; unusual).
8/29/07
Got this from our Aussie friends. I think it's a video game?? Check out their website for more details.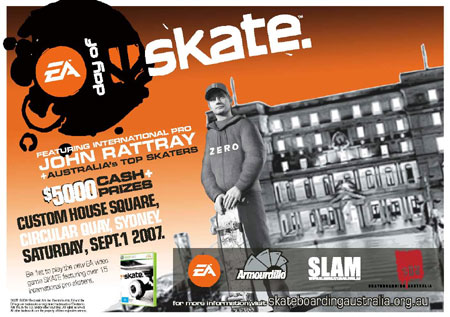 8/29/07
9th Annual Tim Brauch Memorial Contest coming up next month, don't miss it!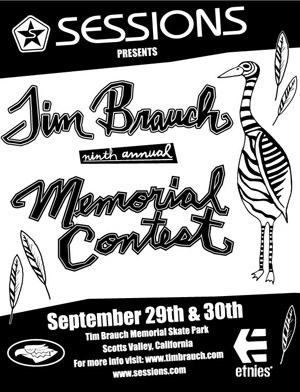 8/25/07
TWS Biz needs a few good opinions. I don't know what rock they've been living under lately, but it looks as if they may do an article about skateboarding in the Olympics. That's good, the more people getting exposed to it the better. It's being handled under gag orders and backroom dealing by people who have no business representing/governing skateboarding. Send in your letters, however note that the e-mail addy they provided doesn't work. Send to one of the e-mails on their "contact" page. You may also express your opinion (which will be sent directly to the IOC) by signing our petition (above).
8/24/07
Problems, problems everywhere! Even in London. Got this from the UK Skate Association. Please help them out by signing their online petition:
Written by Kevin Parrott, Thursday, 23 August 2007
In an amazingly odd move the management of the new London bridge skatepark have imposed a rule banning skateboarders over 18 from skating the park. Sign the petition organised by Seth and Slam at...
http://www.thepetitionsite.com/takeaction/892230000
Here's a quote from the parks management..."In the case of Whites Grounds, we are not permitted to allow unaccompanied adults on the site at any time as young people. If a young person was to be assaulted or groomed during our supervised sessions, we would be held accountable."
You also have the chance to write a comment on the petition so please keep it articulate and sensible. This is a crazy rule that needs overturning so get signing.
More info can be found on the UKSA website.
8/16/07
Well hello! No, I haven't been traipsing off on exotic tropical vacations, I chose something about the same cost this year, knee replacement surgery. Insert your favorite swear word here as I tell you it HURTS! I will be back more often, I have some cool pics people have been sending in and other things to post. See you soon! *ouch, spell-check hurts*
8/6/07
Local shop, SC Skateshop has developed a skateboarding community on their website. It's kind of like a MySpace for skateboarding. It's pretty cool, you can post pictures, vids, blogs, stories, just about anything skate related, check it out!
8/4/07
X-Games - We don't report on the X-Games, nobody cares and it's more fun to make fun of them on message boards. But one thing that must be said is how irresponsible they were in handling Jake Brown's accident. We're hearing today that he has stress fractures of the spine, concussion, fractured liver, etc. Must be in the ESPN contracts that any injured "athlete" must walk off the stage after an accident? After a fall like that anyone in their right mind would have put him in a neck brace and back board before moving him. The so-called paramedics did nothing of the sort, in fact made him get up and walk off, put him in a chair and began manipulating his neck! How much more blood and guts will skateboarders give television programming before they realize their safety is not in the best interest of their viewers? It's really too bad skateboarders didn't come up with their own way of "advancement." And now the vert jocks going along with the Olympic movement, can't get much worse. We need to hit the reset button, get back to basics, and not consider skateboarding success dependent on how many cars you drive or getting a segment on "Cribs."
Our best goes out to Jake, and we hope he will make a full and speedy recovery.
7/29/07
Articles - We covered the 4th annual Ramsay Skateboard Competition, check it out.
7/28/07
We asked local skate artist Jim Phillips to provide us with some info on his new book fresh out, no doubt slated to be every skate collector's must-have: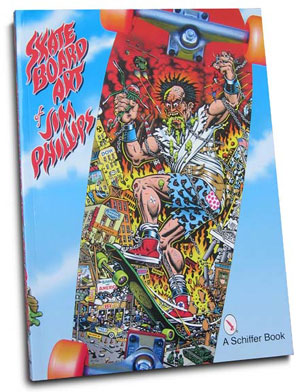 SKATEBOARD ART OF JIM PHILLIPS
This retrospective on Jim's skateboard art boards the reader with colorful skateboard decks, logos, ad art, ad layouts, photos and stickers to illustrate the history of skateboarding from before the urethane revolution up to the present. You are invited for a ride, and an inside view of Phillips Studios, to observe the wacky world of his crazed studio artists, and examine their graphic assignments. The story traces the roots of skateboarding with more than a half-century of Phillips' involvement. It provides insight into the creative evolution of the sport and the worldwide interest and influence that has occurred from this California artist. 208 pages.
If you're feeling your hand screaming, tell it to grab your credit card—Skateboard Art of Jim Phillips can be ordered online at Shiffer Books for $29.95, or check with your local skate shop to see if they are carrying it.
Good luck Jim!
7/26/07
Good article from the Wall Street Journal about branded skate gear. Pretty much validates what I keep saying about the industry being to blame for their "world without pros" scheme. The only pros that will be well-known are those on TV, and yet the industry keeps pushing skateboarding towards the Olympics where then only ONE pro will be well-known, the vert winner. Can anyone even name the 2nd place winner of snowboarding half pipe in the O-Games?
7/25/07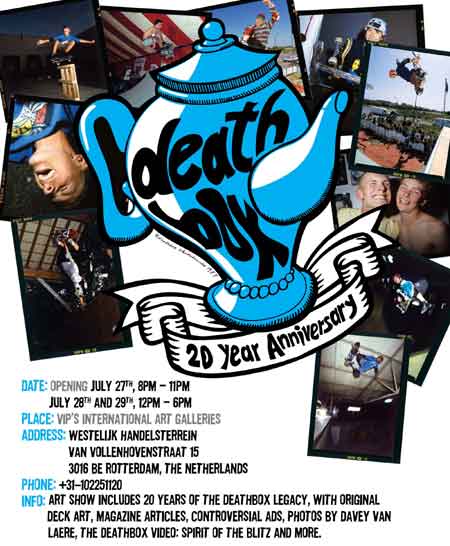 7/20/07
Ramsay Skatepark Competition (ages 8 to 21) is tomorrow from 10 to 2pm. Real Skate will be one of the sponsors this year. We'll be out there schmoozing and drumming up interest to get a permanent park built replacing the metal ramps. Consolidated and SC Skateshop have donated stickers to hand out at our booth and we'll be giving out free bottled water. Come chill with us!
7/19/07
Ok this news article is making me crazy. Read it and see what you think yourself. A city is freaked out and requiring helmets because a skater dislocated his shoulder? And they call it life thraetening? Then, the fire department takes an hour using ropes and ladders to get the kid out of a 10ft. bowl? Isn't that standard? An hour? A 6ft. guy could have just walked or skated in right? I'm glad my life doesn't depend on THAT fire department! Or is this some kind of scare tactic propaganda. I see the city aims to go into the helmet business though. Geeze.
7/18/07
FLIP DEMO IN GERMANY/WUPPERTAL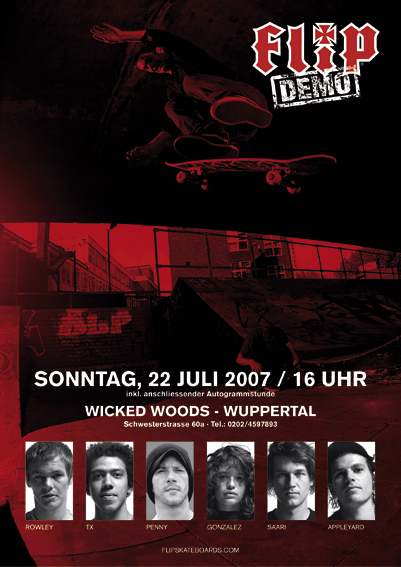 7/17/07
Skateboarding is Dying—FINALLY! Here is an interesting article showing (according to the Sporting Goods Manfacturers Association), skateboarding isn't quite the cat's meow we have all been advertising it to be. Several years back the SGMA statistics showed skateboarding high on the fastest growing list: "More kids are skateboarding than registered in Little League." It helped getting concrete skatepark approval, and I think at least in California will continue to do so. They include skateboarding in "extreme sports" which includes definite extremes like motocross. I would think that is probably the most popular spectator sport. I wonder if TV crews still stage the X-Games spectators right around the vert ramps to make it appear well attended on camera? I was at the X's when Tony did the 900 and I seriously don't think there were more than 50 people there. Me and my crew were more interested watching the street skaters practice haahahahah. By 2012 the O-Games might get 50 people to watch a vert show, who knows.
7/10/07
TWS is publishing a story written by Yoon Sul on the "Wild in the Streets" final day in San Francisco. It sounds to me like WITS 2007 will go down in history as a success. Unrelated to the ride, Yoon writes of a very disturbing incident that happened afterwards that I am posting in hopes of helping out this young woman.
"ONE MORE THING—PLEASE READ!
On that night at Delores Park, some asshole was throwing M-80's at crowds at the park. Look, I know I love fireworks, but not dynamite, and I especially dont throw little sticks of dynamite at crowds. One of the M-80's blew up the hand of Roisin Isner, a drummer from the local SF band Tinkture. Unfortunatley, her hand is now disfigured and lost a couple of fingers. Her music career is over because of this asshole. I know that park was filled with skaters, so if you were there and saw this asshole, hit up roisin's father at chrisisner (at) hotmail (dot) com. He's offering a $20,000 reward for this mark ass bitch. Here's a description of the mark ass bitch: he was a white male, mid 20's, 5'10, had a dark newspaper boy cap on and had a black with red plaid messenger bag. He was last seen riding a medium blue fixed gear bike with black wheels and stickers on the down tube. thanks." - Yoon Sul
7/9/07
It is with heartfelt sadness to report that 20 year old Chelsea "Chess" Peters, son of skateboarding legend Duane Peters, was killed in an auto accident in Orange County 7/6/07. Our condolences go out to all his friends and family, we are so saddened. We will keep you posted of any memorial services and jams.
7/7/07
Sorry for the delay, I've been gathering all the reports on arrests and tickets Go Skateboarding Day brought to skaters. The worst reported was in Hot Springs, Arkansas: Advance media reports looked grim on the upcoming "Wild in the Streets" scheduled for July 4th in San Francisco that Emerica puts on each year (normally on 7/21). Misinformed press made it look like they were expecting a riot of 5,000 skaters. I must admit, I was nervous and feared a big mess would jeopardize the new skateparks plans for SF. Mark Waters of Sole Tech/Emerica who organized and was at the event put it all into perspective for us:
The Critical Mass comparisons that have worked in the past don't work in SF due to the history of the event and the militancy of that event in SF compared to other cities. It really worked against us.
The police weren't in the dark, in actuality. I was in touch with the Sergeant in the Southern Station who was in charge since last Thursday, June 28, but the media was apparently asking the wrong people. We are not in any hurry to cooperate with police unless we have to.
I'm not sure which skatepark advocates you spoke with who didn't know anything about it. The folks in SF sure did. They brought out a banner, and raised more than $1000 at the barbeque and through Emerica.
As of Tuesday afternoon deadlines at 4p.m., everything was very neutral/factual or positive. As the event got closer and we released more info, everyone relaxed... We turned the tide Tuesday with some key interviews and everything from the day of the event was positive-There were the basic "skateboarding hooligan" questions, but most of the interviews were handled very well.
The funny thing about the police escort is that every time we've done this event we've had police escorts-so this was not really anything new or special to us. The cops know that anytime you get a large group together you've got to make safety the number one concern, and they've given us escorts in NYC, Philly, Chicago, over the last few years...
I think the 5,000 came from the expected attendance from a too-hyped media alert... The actual number on-site at the start was 700-800, and probably 500-600 who made the skate. We cooked and gave away 360 hot dogs and 120 burgers and veggie burgers, 360 bags of chips, and 900 bottles of water. I'd say that 3rd & Army had a solid 400 people for 90 minutes and another 250 for another couple of hours... It was a fun session, although it was much smaller than the last two years. I wasn't surprised based on the general SF hardcore attitude, but it was still a bummer that the number was small. But other than less people, the event was great in every way.
The Arkansas thing was terrible, but actually very typical throughout the midwest about skateboarding or anything else that doesn't fit their molds... A very similar thing happened to me in Oklahoma City about ten years ago... With no cameras there to film. - Mark
Here is the article on Wild in the Streets website.
6/30/07
Gary Ream Doesn't Speak For Me - Bud Stratford has pretty much summed it all up about skateboarding being inducted in the Olympics and calls out Gary Ream of Camp Woodward, the man most directly involved in doing just that. Please help spread his article and our Petition around especially to those who may still be confused about this and what it will mean to the future of skateboarding. So far, all Gary's dealings has been behind closed doors, closed to the public with mostly IASC members. There is nothing whatsoever informative on the websites of his self-appointed president of International Skateboarding Federation or USA Skateboarding. He needs to listen to skaters. Hopefully this will get his attention.
6/28/07
So the battle is on! Who will win the the $$$$ for being granted the "governing body of skateboarding?" Gary Ream, owner of Camp Woodward gymnastics/bmx camp and on the Cycling Federation, vs. FIRS and the Roller Sports Federation. A gymnastics/bmx camp or a rollerskating camp? Isn't it a no-brainer that skateboarding doesn't want either? Well, at least 99.999999%. The only true voice of skateboarders that I can find is our petition above. Please sign and spread the word. Stand up now, or these men could ruin skateboarding forever, trust me on this one. Petition Some pros who have signed it: Koston, Rob Roskopp, Bob Burnquist, Eric Ellington and many more.
6/27/07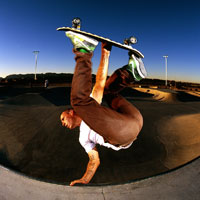 Lee Bender Benifit T-Shirt Lee was recently diagnosed with Multiple Sclerosis. His friends in Arizona have made a benefit T-shirt to help his family out with medical expenses. $15 with $10 going directly to Lee. Log on to AZPX Skateboards for details and please help out if you can.

6/26/07
Element team coming to Santa Cruz/Capitola. I'm told the action starts at noon and Strange Notes will be there to vid all the fun! Muska, Nyja and all the team is scheduled to show up.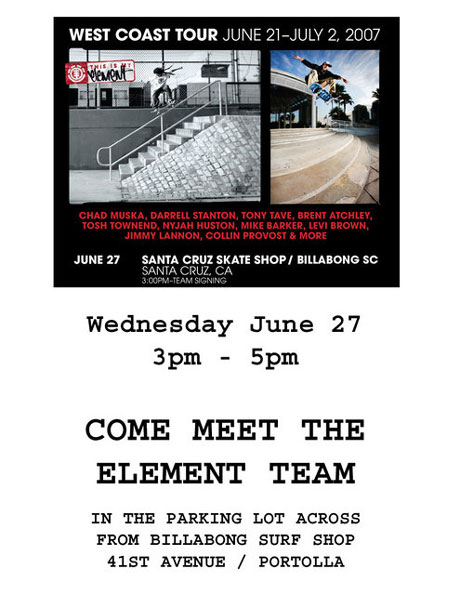 6/20/07
Go Skateboarding Day - To all the skaters planning to act like total idiots in your city streets tomorrow for no apparent reason other than the encouragement by the IASC, I just want to say thanks a lot from those of us who have been striving for years to gain respect of city officials for skateboarders.
6/16/07
Tony Hawk invents new trick—The 360° Flip Flop!
I think everyone who has read anything anywhere about skateboarding has seen a similar quote from Tony:
"Someone has to stop the madness with the Olympics. They need skateboarding way more than skateboarding needs them." -Tony Hawk
He went on to speak about how lousy the Ski Federation was to the snowboarders and how their pros boycotted it. I even checked with him before posting his quote in one of my articles to make sure he wanted that comment to be set in stone. He said go for it. According to this article in the NY Times and Herald Tribune this week he says:
"It is about time," according to the skateboarding icon Tony Hawk, who has helped organize the sport worldwide. I believe the chances are good skateboarding will appear at the 2012 Games," Hawk wrote in an e-mail message. "The Olympics desperately need a cool factor for their Summer Games. They finally figured out that snowboarding is more popular than curling during the winter. Now they need to make the same realization for summer sports."
It was announced about the same time last week that Tony has endorsed a mass production bicycle corporation, Dynacraft. Ah OK. Tony serves as one of the VP's on Gary Ream and Mike Jacki's self proclaimed governing body of skateboarding. This and their International Federation of Skateboarding which also seems to be nonexistent and is also not recognized by the IOC must be the reason Gary got himself on the Cycling Federation as he finagled betting BMX in the 2008 Olympics. What a smart move on his part, owning high end BMX and skateboarding training camps! Yeah, Tony, we need to stop this madness with the Olympics. You have disappointed your own as we were counting on YOU to be the one to stop it.
6/15/07
NO SKATEBOARDING DAY! My boy Neal Boyd, super genius of the skateboard world, and the one who brought us all "A World Without CEO's" in response to IASC's attack on shops, has struck the IASC again! Seriously, would you risk getting a ticket or arrested for being a little heathian in the streets for an IASC t-shirt? It's just another way they are using you without caring about you. Way to go Neal, and thank you so much for the shout out!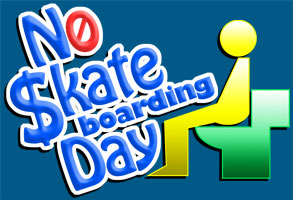 6/14/07
Oh boy the Olympic parodys are already starting to float around. I don't know who to give credit, but thanks, this is great! Only I'm sure Koston wouldn't be caught dead at the O-Games, he signed our petition! If anybody has any more, please send them my way.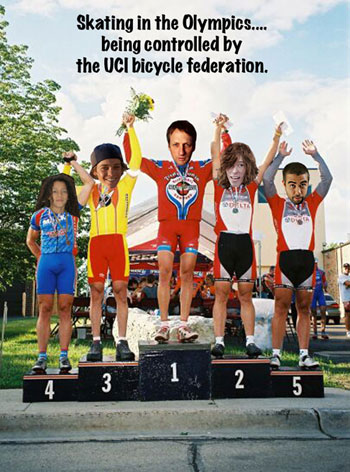 6/13/07
Concrete Wave Magazine has a special spring edition posted online for your viewing pleasure.
6/12/07
Imperial Beach Skatepark Design Meeting June 19th
The City of Imperial Beach will hold a public meeting to solicit input and design ideas for a proposed Imperial Beach Skatepark on Tuesday June 19th. Over the past year City staff and Imperial Beach council members have worked with local skateboarders to build support for a skateboard facility that would be built at Sports Park. Last August more than 50 people attended a City of Imperial Beach council meeting to urge the Mayor and Council to move forward on the skatepark project. Supervisor Greg Cox has provided a grant to the City of Imperial Beach for such a facility Emily Young, the mother of two young skateboarders has been working closely with city staff and council members to involve the skating community in design efforts, "This is a great opportunity for skaters of all ages to provide ideas for the type of facility that will provide a great recreational resource for our children." According to Young, "The Tony Hawk Foundation has been extremely helpful in this process. We are grateful to Tony's brother Steve who is a writer on HBO's "John from Cincinnati" for connecting the City to the Foundation. I am hopeful that we can work proactively with the City to identify a variety of grants to build a park we can be proud of."
The meeting will be held on Tuesday June 19th, 6:30–8PM at IB Sports Park recreational facility at 423 Imperial Beach Blvd. For more information contact Tom Ritter of the City of Imperial Beach at 619.423.8614 or contact WiLDCOAST at 619.423.8665 ext. 201 info@wildcoast.net. WiLDCOAST will provide pizza for meeting participants.
Serge Dedina, Ph.D. Executive Director, WiLDCOAST
925 Seacoast Dr.
Imperial Beach, CA 91932
Tel: 619.423.8665 ext. 202
Fax: 619.423.8488
sdedina@wildcoast.net
6/11/07
Well our petition (above) has kicked into gear since the announcement that the Cycling Federation is going to try to include skateboarding as an Olympic discipline. Anybody surprised? Let's backtrack a bit. So Gary Ream, owner of Camp Woodward, sweeps up our group forming to OPPOSE the Olympics saying he's going to protect it and its look. He fails at getting skateboarding recognized as a federation, so he gets a hot shot position on the Cycling Federation; they kick out a women's cycling event and get in BMX for 2008. Now he's acting not only as a cycling head, but the self proclaimed president of the governing body of skateboarding, along with IASC members and some vert pros. So he's consulting with himself whether or not to get skateboarding into the cycling program? Camp Woodward is a training camp right? So Gary has the training camps, a ramp building company, in his mind is skateboarding's leader, cycling leader, and he has Tony Hawk on his "governing body" wow! Sounds like quite a one-man show to make one rich man even richer, and the biggest conflict of interest I've ever heard of. All at the expense of making skateboarding dorky. And Tony Hawk has said repeatedly he is opposed to skateboarding being in the Olympics. Where are you Tony, why aren't you speaking out against this?
It's interesting how some skateboarders are taking this. Some just see it as a television appearance for 4 days or so, no big deal. But it WILL be a big deal. It will affect all competitive skateboarding at every level. Not to mention the bad publicity skateboarders will get if even once a "doping" violation happens. And they test at all times, not just during the Olympics, they test during practice and can even go into your home unannounced and hand you a sample jar! Seriously, if you do just a little research you will see how badly the corruption of the Olympics will affect skateboarding. Skateboarders have a bad enough rep as it is, which we try and change every day to our city officials and communities.
Thanks to Real Skate, we managed to get Roller Sports disinterested in skateboarders through our e-mail link to them. They gave in after floods of e-mails, they do not want skateboarding because skateboarders don't want the Olympics. Nuff said. The voices of many are very effective. We all know skateboarding is not represented by any group, but it takes a large consensus to get representation respected and validated. Skateboarders are the voice. So please take a minute to sign our petition (above). Spread the word through your MySpace accounts and let's get another 10,000 signatures like we did on the helmet repeal petition!
Here is a link to contact the International Olympic Committee
6/6/07
Update on Ali Boulala on the Flip site. As you probably know, Ali was involved in a motorcycle accident in Australia in which Shane Cross lost his life. Ali seems to be improving, Keep those thoughts and prayers headed his way!
5/26/07
We'd like to give a shout out to two skaters who were seriously beaten by 6 guys with bats at a party for no other reason than being skaters. One may lose sight in his eye, and both sustained major facial injuries. Their friends are asking that we pray for their full recovery. 16 year old Mike Frese and 15 year old Brandon Bucher, our thoughts and prayers are with you, please keep us posted on how you are doing. The guys who did this are going to hurt even moreso in other ways, guaranteed.
5/24/07
Congrats are in order for Caliskatz the Enter the Dojo shop team winner! Metro Skate Shop came in 2nd and my homies Skateworks in 3rd. Special thanks to Deluxe for putting this on. I'd like to see more events like this to help support the bona fide skate shops out there.
Always buy your gear from a real Skate Shop (i.e. one with a front door and a bathroom)!
5/23/07
A Tribute to the Life of Shane Cross - Slam Magazine out of Oz has posted a very touching tribute to Shane written by his friends and family.
5/21/07
Don't miss this one! It's bound to be the laugh of the century. When Hollywood gets a hold of skateboarding there's bound to be hilarity. Where are all the "hard core freaks" who built Burnside, are any of you in the movie? Does Vallely star as the skater who kills the security guard? Pretty funny stuff.
5/16/07
So Capitola won't feel singled out, I will rag on Scotts Valley for a bit. My letter to the editor today:
What Goes Around Comes Around
In a community where many adults (led in part by councilmember Jim Reed with the blessings of councilmembers Paul Marigonda and Randy Johnson) formed an organization to try to keep skateboarders (who they termed "undesirables") out of their town, why is it any surprise that some youth of Scotts Valley are forming aryan nations, burning buildings and making pipe bombs? Mayor Bustichi called out for a fix. Here's what you do, you start deprograming in the home and your own public offices. Sentinel Article
5/15/07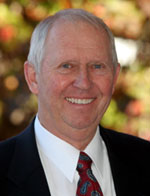 Photo: From City Council Website - Courtesy of Pacific Publishing/John Terry Photography
"I don't like skateboarders, and I don't like skateboard parks," Get this, Kirby Nicol actually added "...I never have and I never will."
Then later said "I'm done" [with skateboarders] and motioned to scrap the whole skatepark idea. I got a copy of the video from the meeting where this was said, as Mr. Nicol claimed it was taken out of context by the reporter. Not so, and I was even more shocked to hear the rest of his statement! He said later that his bias would not affect his political actions. Now to me this would be about as believable as Hitler saying he didn't like Jews, but he would treat them fairly! To make matters worse, Mr. Nicol has not apologized even though there has been quite an outcry for his apology and even demands for resignation. Here is the SC Sentinel article.
At the next meeting, Birdo, Leticia, Judi O, Victor Y. and myself showed up. Here is my speech. You will see that I apologized on behalf on anyone who sent him a rude e-mail, although all the e-mails that bc'd me were very well written, respectful and sincere. He was given every opportunity to accept MY apology, but didn't and hasn't yet. It was reported to me (after we left) at the end of the meeting he said he did like baseball players, and got a good chuckle from the rest of the council. I got a call a few days later from Councilmember Graves; no apology from him either. The whole just of that conversation was that people are too sensitive these days, clinging to "the statement was taken out of context" and "...I shouldn't believe everything I read in the paper." Yes, he did know I SAW the tape! Geeze, insult to my intelligence or what? Storey told a reporter he apologized for Nicol to all the e-mail senders, but I did not even receive a response to two e-mails and nobody I know did. Before the meeting I overheard the mayor, Termini and Graves in a condescending conversation about skateboarders. You might want to check your microphone fellows! So what's your guess, do you think Capitola is really going to get a skatepark anytime soon? Register and vote people, that's how to get rid of bigoted, small minded people controlling your cities, and country for that mater!
5/15/07


Judi Oyama's slalom class and instructors on Sunday. Judi's classes are taught through the
City of Santa Cruz Parks and Recreation Department. They are very successful and more
are planned in the future. Go Go Judi O!
5/13/07
Happy Mother's Day to all the Mighty Mama Skate-0-Rama's!
5/11/07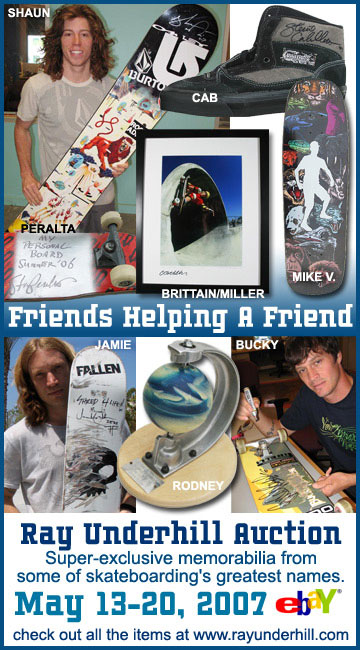 Last year Ray was diagnosed with a chordoma brain tumor. He's undergone surgeries and battled back from paralyzed vocal cords and other complications. He'll spend the summer at Loma Linda medical facilities in California for radiation treatment. It's a testament to Ray's personality that so many heavies in the skate world pitched in for the cause. All proceeds will benefit the Underhill family so you can bid away knowing that at the very least, you're helping an awesome skate brother (and also getting some sweet gear in the process). How can any significant other argue with you dropping some bills on skate gear with motivation like that? Rock on Ray!
- Miki Vukovich, Tony Hawk Foundation
5/11/07
Michael Brooke, Editor of Concrete Wave Magazine, sent us this trailer which recently went live about a documentary in the works on longboarding. Looks fun!
5/8/07
Heard from Miki at THF today with their latest press release. They are also following the Capitola situation.
Tony Hawk Foundation Spring 2007 Grant Awards Announced 23 communities receive financial assistance for skatepark construction.
5/8/07 (Vista, CA) - The Tony Hawk Foundation has announced its Spring 2007 skatepark grant awards. Collectively worth $210,000, the 23 grants were awarded by the Foundation's Board of Directors to help build free, quality public skateparks. Grant recipients were selected based on a number of criteria set out by the Tony Hawk Foundation, including the local median income and demonstrated need of the community where the skatepark will be located, the scope and quality of the skatepark design, the degree to which skaters themselves are involved in all aspects of the project (including planning, fundraising, and design), and other factors.

The Spring 2007 Tony Hawk Foundation Grant Recipients include the following communities:
Nederland, Colorado ($25,000)
New Braunfels, Texas ($25,000)
Fowler, California ($15,000)
Cedaredge, Colorado ($15,000)
Coos Bay, Oregon ($15,000)
Barstow, California ($10,000)
Spirit Lake, Iowa ($10,000)
Duluth, Minnesota ($10,000)
Poteet, Texas ($10,000)
Clifton Forge, Virginia ($10,000)
Redlands, California ($5,000)
Hart, Michigan ($5,000)


Keewatin, Minnesota ($5,000)
Crookston, Minnesota ($5,000)
New Madrid, Missouri ($5,000)
Newport, New Hampshire ($5,000)
Hugo, Oklahoma ($5,000)
Echo, Oregon ($5,000)
Pendleton, Oregon ($5,000)
Spearman, Texas ($5,000)
Almira, Washington ($5,000)
Durbin, West Virginia ($5,000)
Viola, Wisconsin ($5,000)

The Tony Foundation welcomes two new members to its staff. Scott Taylor joins the Foundation as Programs Manager and is the primary contact for the Foundation's Grant and Technical Assistance Programs. Scott spent the past decade working in the skateboarding industry, most recently as Web Editor for Skateboarder Magazine. C.C. Flashman is the Foundation's new Development Associate, and will be working with our team to further develop sponsorship and fundraising programs. C.C. has extensive experience in sales, marketing, and event planning.
Applications for the next round of Tony Hawk Foundation grants are due October 1, 2007. For more information about the Tony Hawk Foundation and its Grant Program, visit www.tonyhawkfoundation.org.
A charitable, nonprofit organization, the Tony Hawk Foundation was established in 2002 by its namesake, professional skateboarder Tony Hawk, to promote and provide funds for high-quality public skateparks throughout the United States—with an emphasis on the word "quality." Since then, the Foundation has awarded $1,712,334 to 336 communities. The Foundation focuses on working with local officials and grassroots, community-based organizations that plan to hire designers and contractors with strong experience designing and building skateparks.
The Tony Hawk Foundation was established by a gift from Tony Hawk. Its directors raise additional funds through events, industry donations, and continuing contributions from Tony and other entities. In addition to skateparks, the Foundation also makes donations to other children-related charities, as chosen by its Board Of Directors. For more information or to make a donation, visit the Foundation's Web site at www.tonyhawkfoundation.org.
5/8/07
Quote of the day! From Tom Honig's (editor of the Sentinel) blog:
Pat Kittle / May 8, 2007 at 5:08 am
In the interest of fairness, we must always remember that even though the vast majority of skateboarders may very well be truly horrible people, we should never assume that every single last one of them is.
5/8/07
Well here's one for my book! Looking through Capitola's council meetings I came across this request a couple of years ago from a business person in Capitola whose mother and partner were hit by a bicycle rider, so she wants to propose banning skateboarding???
Terri Baker, Capitola Village merchant for 15 years, informed the council that her partner and mother, Jean Baker, was run over by a 22-year-old bike rider on the sidewalk in front of their business. She discussed the extent of her mother's injuries and her concerns about bicyclists and skateboarders in the Village. Ms. Baker said she met with Chief Ehle about her concerns, and she believes verbal warnings are not working and that strict enforcement of the rules be undertaken. She also asked the council to reenact skateboard prohibition in the Village.
5/7/07
Sharing with you an editorial comment from Tom Honig, our right wing Santa Cruz Sentinel editor expressing support for Kirby Nicol and further criticizing skateboarders. Very scary stuff. The Sentinel is one of the main sponsors of Mr. Nicol's Wharf to Wharf race. I love the comment from one of Mr. Honig's blog suscribers identifying as wgscott "From a group of people who like to sport red, white and black iron cross logos on their sleeves, their feelings seem to get hurt kind of easily." I guess he doesn't know how much money NHS brings into this county; far more than Mr. Nicol's running race!
5/7/07
In case you've shown up to skate at the Fun Spot and see a sign saying "Bikes ONLY" relax, it's a good thing. The City has allowed Barry Swenson builders, The Bicycle Trip and local BMX groups to remodel the spot for BMX use only. Have you seen them? Some of those riders are amazing. While it is only temporary, (the site is scheduled for construction of a visitor center), hopefully this should help enforce the no-bikes law in the new skatepark. Here is an article from the Sentinel:
5/5/07
Mr. Nicol is apparently sticking to his story, per the front page article in the SC Sentinel today. I am reading into it a tone of acusation as being devious for posting the article on the Internet. The Sentinel posted it on the Internet. But, regardless, Nicol said it at an open, public meeting. Saying what he said is what's wrong, where his words wind up later is beside the point.
Another reason I think he should be removed from his seat is that (as reported in the Good Times in February), there seems to be a conflict of interest. Mr. Nicol is a real estate developer who according to that article and subsequent Council minutes, has his eyes set on the MacGregor property. His alternate suggestion for a location was bound to cause neighbor opposition, I think we all knew that. Noble is the worst site imaginable for a skatepark and too small. But if we proceed to support a skatepark, it puts us on very uneven ground to begin with since Mr. Nicol is apparently sticking to his biased convictions. We need elected officials to be completely unbiased or they can not honestly represent their constituents.
Also, the minutes for the 4/26/07 meeting reflect that after discussions, the Council is unanimously NOT interested in funding the skatepark, so I am confused. I think we should still advocate for the skatepark and try and work with the City and the residents, perhaps through open informal and informational meetings. We can't expect politicians to know what's up if we don't educate them.
I want to remind anyone who is writing to the Capitola City Council to please be respectful. I understand how you feel; we've dealt with hurtful remarks and stereotyping before from residents and political figures in Santa Cruz and Scotts Valley, but don't stoop to their level. We don't condone rudeness, profanity or threats of any kind; not cool.
5/2/07
I sent a letter to Mr. Nicol who replied stating that the reporter took his statement out of context and posted it on the net. I reminded him that the Sentinel does have an online paper they post every day. To give him the benefit of the doubt, I invited him to set it straight and I would print it, in that case, but he did not respond. Therefore, I am sending letters to the Council and the local paper asking for his resignation. It's hard enough trying to get a skatepark built without having a biased person in the power seat to make/sway the decisions. We at least deserve to be on a level playing field. I want to remind everyone who is writing to be extra professional and decent. We don't want to validate what in his mind is an already disrespectful impression of skateboarders. Thank you for all your support from all over the world! The Internet is a remarkable thing. (Didn't Bud Stratford just say that?) Yes, we are watching; Google alerts are definitely working.
5/1/07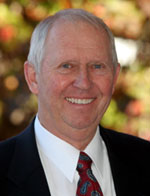 Photo: From City Council Website - Courtesy of Pacific Publishing/John Terry Photography
"I don't like skateboarders, and I don't like skateboard parks," said [Capitola] Councilman Kirby Nicol before he proposed scrapping the entire idea. -Santa Cruz Sentinel
Wow! I woke up this morning with an e-mail from Judi about this article in the Sentinel. I am in shock! Maybe we should e-mail the Capitola City Council and show them how nice and intelligent we are.
Judging from Kirby's e-mail domain "Wharf to Wharf" he at least likes athletes and races, runners that is. That event attracts tons of traffic, noise and litter - so I am confused. But maybe there's hope for him yet to change his mind that people are people no matter what their sport of choice is. If you write please cc the mayor and cc me also. I am shaking, I can't stop shaking! WOW!
4/27/07
Enter the Dojo - AGAIN! Wow, the ballot box got totally stuffed! Electronically that is. But Deluxe got wise made a few fraud prevention changes and reset the counter. So go back and VOTE one more time, (not 50) for your favorite Skate Shop who entered the best vid contest. I like all the teams, but GO SKATEWORKS!
4/23/07
We were sent an interesting article written by Bud Stratford on the skateboarding industry, marketing, IASC, etc. and wanted to share.
4/22/07
Tonight on Fuel TV skatepark advocates Neal Boyd and his friend Kerry from Hammond, LA appear on Mike V's show Drive talking about skateparks, skate communities, etc. They explain the impact that having a proper skatepark has had in their community. It airs at 7pm and 10pm Central time tonight, so check your programming guides for your time zone. They are going to try to make it Internet friendly later on so everyone can see it.
UPDATE: Here is a You Tube clip of the Hammond segment; very nice!
4/20/07
420 86'ed - 420 began at a high school in San Rafael, CA which later became code for lighting up at 4:20 on 4/20. This was in the 70's, those teens now turning 50. Jerry Garcia Band loved it. How this innocent little teenybopper secret became the USA's code for mass massacre week, I don't know. The Waco massacre, the Oklahoma City Bombing, Columbine, Virginia Tech and lord knows how many other copycat or attempts have happened we don't hear about. What's wrong with us? I say it's time to denounce 420 altogether. No more "Happy 420." There is nothing happy about it anymore and time to turn 4/20 into something fresh and positive.
4/18/07
SPoT is posting a post on the condition of Ali Boulala. His prognosis looks good! Keep those good vibes headed his way.
4/18/07
Redwood City Skateworks Grand Opening this Sat. Go on down, or up!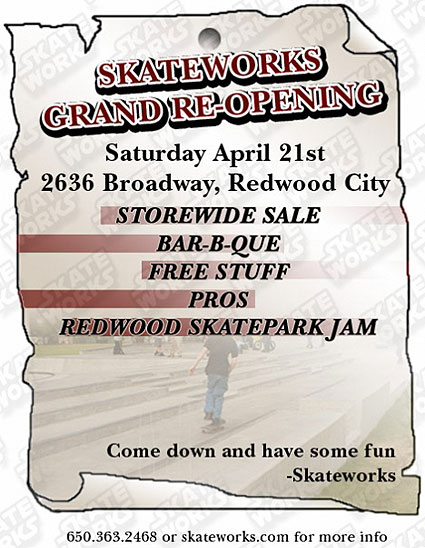 4/17/07

We get a lot of hits from Virginia Tech. Know that our hearts go out to all of you during this unbelievably difficult time. I'm at a loss for words. Bless you all, sweet Hokies.
4/14/07
When I start talking about the Olympics, people who haven't done their homework must think I'm making stuff up. Follow this ESPN Sports link for a while and you will see what I am talking about. Put aside from your mind the bright shiny faces of the accomplished athletes we see once every four years on TV and delve into the corrupt, dark, bribing, back door dealing world of the Olympics. Here you will see snowboarders mentioned all the time. About their rad snowboarding skills? No. It's all about doping charges, year round even during training sessions. Do we really need skateboarding to become a part of this smeary organization? Even Tony Hawk has said "...they need us more than we need them." Skateboarding has become pretty big on its own without any help from a huge corrupt corporation. Skateparks get built out of the persistence of local skateboarders and advocates. The IOC won't be sending checks to cities to build public parks. They will be sending huge checks to build VERT training camps. Could this by why Gary Ream of Camp Woodward formed USAS and appointed himself as "governing body of skateboarding?" Learn up, fight the good fight, and be sure to sign our petition.

4/8/07
An announcement from Peggy Oki. You know Peggy, she was the only female skater on the Z-Boys team of Dogtown days. Peggy does good things!:
Dear Friends,
Most of you are familiar with my work as a painter. However, I have also been making Environmental Art since my senior year focus in 1993 at the College of Creative Studies, UCSB. The Origami Whales Project, which I conceived of in 2004, continues to expand as the threat to whales increases at an alarming rate. Further information and photographs about the Origami Whales Project is online at: http://www.peggy-oki.com/cu_origami.html
This year's project of creating the "Curtain of 28,500 Origami Whales" will serve as a memorial representing the number of whales killed since the 1986 moratorium on whaling. Upon completion, the work will be 5 feet high and over 200 linear feet in length, and will be displayed during the International Whaling Commission meetings in Anchorage, Alaska in late May of this year.
```````````````````````````````````````````````````````````````````````````````````
I am pleased to announce the exhibit of the "Curtain of 2,285 Origami Whales"
through April 27th at
Great Pacific Iron Works Patagonia
235 West Santa Clara Street, Ventura, CA 93001-2717
Ph: 805.643.6074
Hundreds of children and adults around the world have been contributing origami whales for the creation of the "Curtain of 28,500 Origami Whales" currently in progress. Please come stitch a strand with us to add to the current project of creating the "Curtain of 28,500 Origami Whales" at the Great Pacific Iron Works Patagonia (Ventura) EARTH DAY event Sunday, 22nd of April, 11am - 3pm The information above is online at: http://www.peggy-oki.com/current.html
````````````````````````````````````````````````````````````````````````````````````
Also, from April through early May, "Origami Whale Stitching Parties" are being held to make strands for the "Curtain of 28,500 Origami Whales". All are welcome to participate. Please join us! The April calendar is online at: http://www.peggy-oki.com/events.html
Happy Easter to You & Yours,
Peggy
4/4/07
We don't bother keeping up with the endless pro team shuffle; there are plenty of skate sites and mags that do a good job of that. But we wanted to give a shout out to our homie Justin Strubing who Santa Cruz Skateboards just picked up. Best part is now guaranteed he'll show up at all our skatepark events! Right on Justin!
3/28/07
20,000 sq. ft. Skatepark for Charlston Maybe? - Perhaps something good may have come out of the incident where a Charlston, SC Policewoman pushed over a skateboarder while he was skating a ledge. I think she got her point across, but seriously would she push to the ground an old lady jaywalking where she shouldn't? The scariest part of this ordeal is the responses from people even a religous minister who said he deserved it. I don't think Jesus would have felt that!
3/28/07
E.J. Bright - Check out one of our local (Santa Cruz) rippers on You Tube. How old were you when you made your first demo tape? It also gives some good views of our new skatepark bowls. I'll have an upcoming article on the park soon, I promise. And maybe an interview with E.J.!
3/27/07
Uganda Skateboarding Union - These guys contacted us about a year ago. They have come a long way since and looks like they are finally getting through all the red tape in order to receive non taxible gifts. If you have any flow for them, follow their instructions on their website. Good luck Uganda skaters!
3/26/07
This sucks very much. Anyone with any info on this please contact Deluxe at the numbers listed below: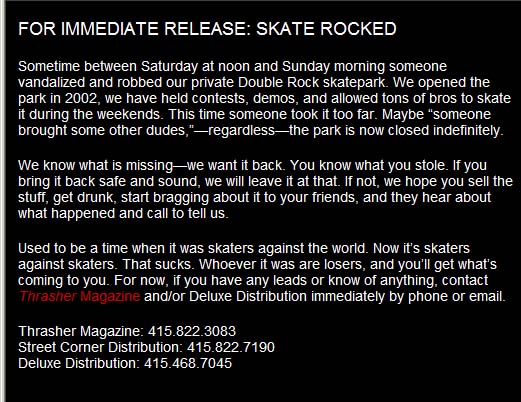 3/21/07
Nike - No, I'm not necessarily out to get Nike, but this one jumped right out in front of me. I was viewing theskateboardindustry.com who posted all the IASC stuff. I read a post from a shop owner who was praising Nike for making a commitment to shops by selling their skateboarding line to bona fide shops exclusively. On the sidebar, appeared an ad "Skate Shoes on Sale...Nike SB." I checked the site thinking maybe they were just the basketball lines, but nope, there right in front of my eyes some P. Rod's. I did a google and sure enough found several online shopping cart sites selling Nike SB shoes, one direct from China. I know Nike recently joined IASC but could they have picked up some of their bad habits already? I've alerted some shops, and some not so shops who are investigating and we'll see where this goes.
3/18/07
Year of the Skateshop (again) - The support skateshops are getting since the IASC 32-page manifesto backfired on them is amazing. What did I tell you; didn't I tell you so? I was just invited to a new MySpace account to support real skateshops. "Basically it's setup to help support skateshops by informing people where the closest one is and thus making the percentage of people going to places like [mall chain stores] as well as people ordering from mailorders smaller. It's skateshops that fuel the industry and have been since day one."
Wow, if bona fide small skateshops went public, I know where I'd be buying my stock. Rock on Skateshops!
3/17/07
Happy St. Patrick's Day - Wow, just came back from downtown - very crazy. Lots of green attire out, lots of black attire too (SCPD). Santa Cruz on St. Paddy's day is wilder than any other holiday as far as arrests go, including New Year's Eve. Halloween is a close second. A big war protest at the town clock, lots of spring breakers, a kayak contest at Steamer and our skatepark is totally full! Lots of COPs at the contest too, seems the surfers use the kayakers for punching bags during this event to claim their turf, er ocean. Amazing how the skateboarders get along. I love watching the pecking order at the skatepark and how the more experienced help out the little guys and everyone waits their turn. Ah Santa Cruz, I love you. I hope none of you think we are normal or anything, that would wreck our scene! Take care and if you've had too much green beer, please don't drive.
3/11/07
Ben Pappas - More heartbreaking news from down uder. Ben was found drowned, apparently victim of murder. Details are sketchy according to Aussie press. Hopefully we can get some of the details soon. In any case, we have lost another great skater. RIP Ben; our hearts are with you Tas.
3/11/07
A World Without Skateshops - Got an e-mail this morning inviting to join a new forum that is intended to support skateshops. A World Without Pros by IASC, then A World Without CEO's by Neal Boyd, skateboarder, then Hubba Wheel's satire of them both A World Without Hoes, and now this. This is truly skateboarding history making! You are all welcome to join in the chatter:
Hello there,
You are receiving this e-mail because we thought you might have interest in knowing about a new message board. It's called www.aworldwithoutskateshops.com Over the past several months, there has been a tremendous amount of discussion about the sale of blank and shop decks. A great many people were compelled to weigh in with their thoughts. Now that some of the dust has settled, the question of where we go next was raised. We decided to launch this site in the hopes of giving a boost to the local independent skate shop— the true heart of skateboarding who seem to be increasingly UNDER FIRE!

We NEVER want to see a world where there are no skateshops. The only way to truly ensure this is for shops, manufacturers and consumers to really communicate what works and what needs fixing.

This site is a way for EVERYONE who is involved with skateboarding to discuss what is on their minds in a very FOCUSED environment.

If you could let people know about this new site, we'd very pleased.

Thank you.
The folks from aworldwithoutskateshops.com
3/9/07


Concrete Wave has their new 2007 Buyer's Guide online and downloadable. Check it out and get in on the deals. They are giving away 4 completes and 50 skate tools! Hello there Mr. Gonz on the cover!
3/6/07
Shane Cross -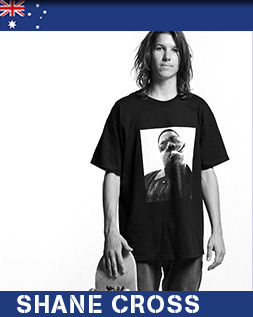 It is with heartfelt sadness to report that Flip am 20 year old Shane Cross of Australia died today in a motorcycle accident. He was riding with Flip pro Ali Boulala. Ali is reportedly in critical but stable condition. Our hearts go out to Shane's friends and family. May he RIP. Our prayers go out to Ali and his family for a full and speedy recovery.
3/9/07
Flip Skateboards is hosting a message board of condolences for Shane and one for words of encouragement for Ali with updates on his condition. Everyone is free to contribute.
3/2/07
2007, Year of the Shop - Perhaps IASC members were influenced by the Chinese New Year of the Pig when they put out their latest failed marketing scheme. They finally gave back to skateboarding in a way that was never expected. Their recent marketing actions leads me to pronounce this year, the Year of the Shop!
Anyone who as ever worked in the industry knows that it was never OK to sell blanks. But now that has all changed. I predict more blanks and shop decks will be sold this year than ever, and without guilty conscience. Skaters saw right through this blaming marketing scheme and are out in force promoting small board companies and shop products. It's now OK!
It is rumored that even mail order companies are planning to set up physical shops. Deluxe in SF is planning a shop team video competition. Skaters are coming up with their own logos for product. I have been receiving more than usual requests to link to online shopping carts, and as usual hearing from more Chinese board manufacturers wanting me to set up my own "skater boarder shop." I'm still reluctant to promote any online carts as I want to support bona fide shops as the main retail outlet for skateboarding product.
So, can the IASC morph themselves back to "the little guy?" I don't think so. Can their CEO's and high paid pros be deemed both corporate monster and also be one of you; your average Joe Skater? I don't think so. Will Michael Brooke continue to get his points across by comparing the skate industry to things like Kentucky fried rats, and Taco Bell ratritos? Yes, I think so. It will be interesting to watch how this all unfolds by the end of the year. In the meantime, Gung Hey Fat Choy to the shops!
3/1/07
Benefits - Real Skate is raising some money for legal assistance (just in case) for Neal Boyd, a skateboarder who came up with an answer to IASC's A World Without Pros with his own version: A World Without CEO's You may donate through our PayPal account.
Also, Pat Duffy was injured attempting a mega ramp stunt and needs help with mega medical bills. Here is the benefit info: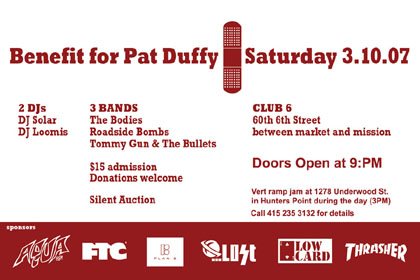 2/23/07
Save Zephtyr Surfshop - The original Z-boys shop is scheduled to be demolished. Help save and preserve this important landmark in skateboarding's history by signing this petition http://www.petitiononline.com/surfshop/petition.html
2/23/07
Santa Cruz Skatepark Grand Opening - It happened yesterday, midst rainstorms but went off well. Tons of pros around all waiting patiently to skate Zach Wormhoudt's newest creation after many design meetings with the locals. This is so far the only full pipe park in No. Cal. It was pretty exciting seeing it open after 17 years working for it. One pool is soooooooooo deep I got dizzy just looking down into it. This one will separate the skilled from the whiners! The street course has ample room and lots of ledges; not just a spot crowded into a corner of a skatepark like some I've seen. It was a good day, I saw so many people I knew. Birdo said he gave out 130 "Don't Do It" t-shirts. I will post some pics in the "Skateparks" section to finalize our skatepark's long history.
2/20/07
Mini Ramp Auction - This just in from Parks & Rec., City of Santa Cruz:
Hi all:

I'm pleased to let you know the City of Santa Cruz Parks and Recreation Department will be auctioning off the 3' Ramptech mini-ramp from the Fun Spot at the Grand Opening of the New Skate Park at Mike Fox Park on Thursday, February 22. The event, from 3–5 p.m., features official ceremonies, tours, prize drawings, refreshments, NHS/Santa Cruz Skateboards, Consolidated and Sessions tents and pros (rain or shine). Pro/Am demos and Open Skate (weather permitting).

The auction for the Fun Spot mini-ramp will be at 4:30 p.m. Dimensions are 3'H x 15'W x 22'L. Highest bid takes it!

Please spread the word to family and friends who might be interested in having a backyard ramp. If you have any questions, please do not hesitate to call me at (831) 420-5277.

Thanks,
Lisa

2/17/07
Locals: Santa Cruz County Skatepark Advocacy - We need help!
Ramsay Park, Watsonville
I have kicked off a campaign to build a permanent concrete park at Ramsay to replace the current metal modules. The families of the 5 skaters who were crash victims have built a wonderful permanent memorial in their honor, with benches for each, a water fountain, artwork in a little corner of the skatepark. This lays the foundation towards making this a memorial state of the art skatepark. We have begun circulating petitions which will be collected and presented to the City Council at some point, hopefully before the schools let out in June. Attached is a pdf of the petition, please help out by printing some out and obtaining signatures. The more we get from the Watsonville residents will be better. A LOT of residents, skaters, businesses, etc. need to get involved. The more successful skate parks happen in cities that have organized skater advocates. Otherwise, it doesn't work. Cities deal with numbers, and if the numbers aren't there other projects get priority. We're not expecting NIMBY's because it's already a skatepark located in a recreational facility owned by the city, it's already a memorial skatepark, and seriously, there are skateparks in Uganda more updated than this one. So I think we have a good chance if we can raise a lot of money, and get a lot of skaters on the bandwagon. Please help out all you can. The ongoing Ramsay webpage will be on our "Skateparks" page at http://realskate.com/ramsay.htm so bookmark it and try to get involved. Please contact me if you can circulate petitions, speak at meetings or school, raise money, have ideas or can help in any other way.
Capitola Skatepark
There is going to be a City Council meeting to discuss 3 locations proposed in Capitola. I don't know all the details, but they DO need skater bodies to show up to support the proposal. It is on It is planned for Thursday, Feb. 22 at Capitola's City Hall (at the Police Department) at 7pm.
Santa Cruz Skatepark
In case you don't already know, the grand opening is Thursday, Feb. 22 at 3pm. I hope that gets you in the skatepark building mode enough to go to the Capitola meeting and show your support.
BMX Park
I was very happy to hear the city has agreed to use the old Fun Spot Ramp Tech ramps to set up in a parking lot near Laurel St. Ext. and Main for BMX use. This is opposite the river from the skatepark. I hope this makes them happy!
Scotts Valley Skatepark
It looks like there are no council runners for the one seat other than Jim Reed. If you remember, he is the one who adamantly spoke out against the skatepark. He is fairly new to the area, highly conservative, and his main focus is on the "jewel of Scotts Valley," the town center where the skatepark is. He wanted at the last minute to downsize the park calling it "gargantuan" and campaigned heavily that it would bring in "undesirables." So, he IS going to be on council, so expect the worst up there. It's a shame.
2/15/07
I promise I won't be writing about IASC every day, though I have enough experience with them to write a book. Maybe someday I will. But one thing I will say is that this latest controversy is probably the biggest backfire I've seen in skateboarding's history. I am stoked on all the skaters responses to the report. I've always said it; the voice of skateboarding is the voice of skateboarders themselves. IASC will never be the voice of skateboarding. Their taking credit for hard work of others, trying to get skateboarding in the Olympics, and now blaming shops, blank deck sales, etc. for ruining their industry will never get them into the hearts of skaters, shops and consumers. They want to be both corporate mainstream and core. They can't have both. They screwed up all these years, did not treat pros very well, and now putting out material suggesting that you should only buy their signature product to be core and supportive of skateboarding. They have a strange notion the consumer is not giving back to skateboarding by not buying their product. Again, what have they done? Their pros are only making it by taking on shoe and other comodity sponsors.
I'm almost seeing this as a threat to drop all their pros, then blame it on the shops because they sell blank and shop decks. Doesn't their "World Without Pros" sound pretty much like a scare tactic or a threat? World Industries dropped their pros. Must be quite a savings there huh? I can see all the rest of the IASC affiliated companies following suit. IASC never comes up with anything original. It will be interesting. In the meantime, voice your own opinions on the forums. SLAP Magazine seems to be the main information highway. The Internet is very cool. 15 years ago, we had to wait for a magazine issue to come out to see who's dissing who. Other than that, the fax machine was the main communication tool. Times have changed but one thing has remained a constant. The industry still can not successfully dictate to the skaters, shops, media and consumers. Never will. Let us decide what and who is "core."
2/12/07
What an exciting time in skateboarding to start a blog. The "you know what" is seriously hitting the fan in the faces of some of the industry gentlemen. By now everyone has seen all the discussion on the skate forums. I wanted to wait to comment until I actually read the IASC report, (there are other names for it) on how shops, their consumers and blank decks are destroying the industry and may make pros extinct. They didn't post their sales reports, but we know some of these guys are livin pretty large. Didn't take me long to develop de ja vu. Could I have read this before? Well, almost.
When I worked in the industry, I remember a memo coming across my desk entitled "Gentlemen's Agreement." Almost identical to this "report" and including most of the same players. I reread it and couldn't believe it. What was this agreement about? Blank decks! And how they were going to destroy skateboarding. And when did they come up with this gentlemen's agreement? January, 1994 13 friggen years ago!
I will say more tomorrow, but until then read the report and the gentlemen's agreement, still posted on DansWorld after all these years. Enjoy! http://www.dansworld.com/meeting.html