"Where were we before we came here Clarkie?" Well, Elissa, before we were at the All Girl Skate Jam on Sunday, we were at the ASR Trade Show in San Diego, September '99. Remember?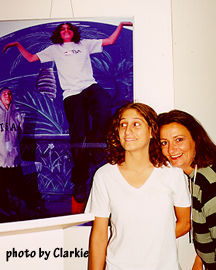 Elissa and her proud Mom, Cheryl
Elissa picked me up at the Orange airport on Friday accompanied by her Ft. Meyers entourage—Cheryl (her mom), Brent Sanders (owner of Brothers Skate Shop), and good pal John Barker. We drove back to Warner where we had planned to stay the night. First question I asked "So where's the beer?" Elissa said "in the fridge" so I grabbed it. "It" was right, for it was the only thing in the fridge, one good beer. Well maybe accompanied by an almost empty catsup bottle and some hot sauce packets from the Bell.
At the insistence of Brent and John, and against the advice of Elissa, we made a quick trip to a shitty Huntington skatepark, and John ruled there, no doubt. Elissa and Brent didn't skate. Brent filmed John, and Elissa dealt with little kids staring at her a lot and wanting to know where Andrew Reynolds had moved to. Geeze, as if Elissa's his secretary or something!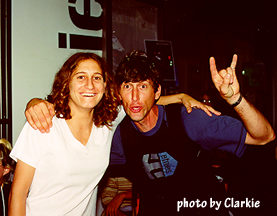 Elissa and Sasha
We went back to Warner and took turns playing with the then unreleased Tony Hawk Pro Skater demo Tony had set her up with. I felt kinda strange, being the lousy video game player I am, making Elissa crash, complete with grunts and groans and blood! I kept wanting to say "sorry Elissa."
We had agreed on calling in pizza for dinner, but then we thought what the hell, all the excitement is happening in San Diego. So with a few phone calls, and thanks to Sasha Steinhorst (Etnies Team Manager) who sugar-daddied us a room for two nights at the Marriott, off we zoomed to San Diego packed tight in Elissa's tiny green car, grabbing some pizza on the way.
We arrived at the trade show greeted by Sasha outside who passed around our name badges. Cheryl got to be someone named Ann, Elissa was Elissa Steamer, Brent was cool and prepaid and got his real name, John got to be Tom Penny, and although I was registered with Real Skate, I got to be Alex Chalmers. Oh yes, I looked a security guard square in the face and said, "Hey, my name is really Alex, OK?" Bad karma, but oh well. I'm sure I won't be the first person to go to hell for sneaking into the ASR.
The ASR was rockin. Elissa ran into so many of her friends, fellow pros, and was having fun introducing us all around. They all seemed happily enough into posing so I just started shooting!
| | |
| --- | --- |
| | |
| Elissa, Paul Zitzer, and Jessie Fritch | |
| | |
| Elissa and pleazzzzzzzzzze somebody remind me what his name is! | |
| | |
| Trade Show Frolic—Cheryl, Matt Muligan, Elissa, and Brent | |