Mike Pooley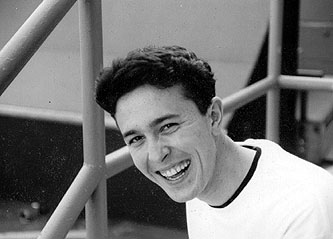 This long & lean skate machine lives and works in right here in paradise— Santa Cruz, CA and has one of those rare jobs to die for; Mike is shop and team manager for Bill's Wheels, a local retail skateshop. Shortly after we opened Mike wrote a super supportive letter to Real Skate and I knew right then he must be a hunk sight unseen! I don't know if pools were named after him, but probably.
When I went to the hunk-shoot Mike and the shop team were on their way down to do a demo at Freedom Elementary School. Since Freedom School is my alma mater, (plus, it makes me look cool to be chillin with sponsored skaters), I tagged along with the team and you'll see a little article on that later. Bill's does some good things for south county kids, thumbs up Bill!
Anyway back to Mike. He is 21 and licensed to drink! I don't know if he does or not, but from what I understand this highly responsible working class citizen may possibly be quite crazy underneath this wholesome facade he portrays! Mike is into geetar, both Fender electric and classical acoustic. He is into digital video, filming, and editing. He loves to entertain guests at his home (probably the classically minded listening to Beethoven and sipping Chardonnay; my favorite).
Mike would like to give a shout out to one of the special ladies in his life; she'll know who she is — "Hi Mom!"
Seriously, Mike thank you for letting Real Skate infiltrate into your personal life a bit, you are a good sport and a total hunk!
Say hey to Mike