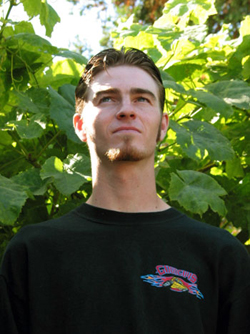 photo by Christy Dutler
Finally! I got Iain to be my hunk. I thought he'd never do it, but he agreed to be my August hunk since his birthday is August 1st. Now that's good rationale.
I've known Iain since he was 14. I was working at 60/40 at the time and met him online. He lived in San Jose and totally begged me to come over and help him pick out his first deck and get him involved in skating. In no time at all, I was shooting him ollieing six-stairs.
Over the years I became close to Iain and his family and consider Iain, truly my best friend. He takes care of my house and pets for me when I'm gone and does tons of stuff for me. He is always here when I need him and often saves my sanity. He is fam-i-ly, "dog two" I call him. Ollie was always stoked to see him, jumping all over him, claiming him as her own. She never let him out of her sight or ceased initiating play time.
Iain is tall, 22, single, and available. He just left to attend Cal Poly so you San Louis Obispo girls better hurry and track him down, cause he's looking! His ideal girl would look just like me of course, brown hair and brown eyes. But he's not all that particular, he likes girls in general especially bright ones. You'll of course have to pass my approval however, regardless of hair color.
Iain still skates and is looking for spots down in SLO. He owns a classic 1965 Buick Skylark which he is rebuilding himself. It's gonna be cherry! I guess that's about it without embarrassing him. He's a sweetie, I love him, he's a hunk by all means.