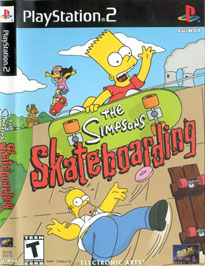 Skateboards and the Simpsons, it doesn't get much better than that. This game is like any other skateboarding game, but instead of pros it's the residents of Springfield rippin it up for the grand prize at the Springfield Skate Fest. It's all about the Benjermans here, a whopping $99. The graphics look like that one episode where homer gets 3D. And while you skate Kent Brockman makes fun of you. It's swell.
Kickflips to back flips, you can do it all except for heelflips for some reason. And it does gets a little kookie when Homer sits on the board during tail slides, but the tricks do look nifty. The characters have steeze for days. You can either do the skate jam and compete or play against your friends at a game of horse. Apparently the programmers don't play s.k.a.t.e.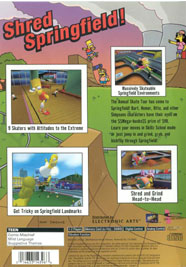 If you compete for the grand prize in the skate jam every level has three parts: Skill schools where you learn new tricks and get money to boost your abilities. Skate Jam were you try to beat objectives to open new levels and boards. And a timed trick contest were you get the high score to unlock new skaters.
This game pounds. It's kept me up till 3am for the last week. I'm addicted. So if you like the other skate games this one is better. Instead of using that old guy Tony what's his name you can use the other old guy Homer Simpson. On a scale of 1 through 10 I give this game an A++.
So check your couch, your pockets, your lunch money and get some cash to buy it now. Not now, but right now.