Got Religion?
A few years have gone by, but Bad Religion is finally back together again with a new CD release and also a current road tour. The songwriting team of vocalist Greg Graffin and guitarist Brett Gurewitz along with bassist Jay Bentley haven't lost a step in creating The Process Of Belief.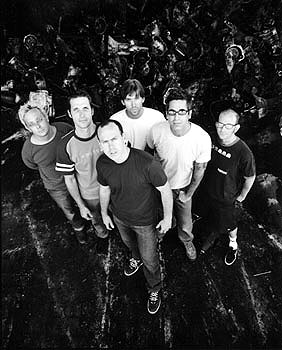 If you're a Bad Religion fan then you already know what their original and defining style sounds like. The hard driving punk/rock sound of guitars, bass, and drums along with Graffin's stand-alone vocal quality have made Bad Religion what they are today. (You won't find any wimpy keyboard melodies or horns on this CD.)
I'm not going to go through the list of songs and talk about riffs, hooks or lyrics because it's all there, (however, opening track "Supersonic" is killer) and overall this CD is really great stuff. All I want to say is that there are 14 cuts and it's all "fresh" music. No compilations, remakes or fillers. In fact, Bad Religion seems to be at a peak.
The original core members of Gurewitz, Graffin and Bentley are joined by speed punk guitarist Greg Hetson, also Brian Baker on guitar, and new addition Brooks Wackerman on drums. The engineering and mixing on this CD is great; a pretty crisp quality, especially when you consider there are three guitars furiously screaming.
You can find "The Process Of Belief" just about anywhere. It's on the Epitaph label. And if you want to find out where Bad Religion will be playing, then log on to epitaph.com for a list of current dates. And don't forget: Skateboarding IS NOT a crime... Ryde