Calgary Millennium Park article and photos by Brad Kirk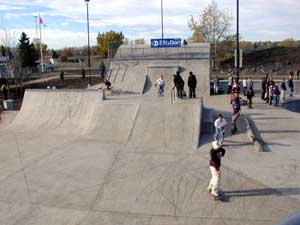 Have you been there? In this article you will witness the essence of North America's largest concrete skate park. Located in the city of Calgary, Alberta where about 900,000 residents call home. Around 4% of those people are participants in the sport of skateboarding. This means that there about 6300 rippers in the city of Calgary alone. After strong suggestion and skaters going door to door with petitions, City Hall finally hooked them up. Jay Balmer designer of Vancouver's famous Slam City Jam, Jim Barnum of spectrum skate park creations, and the fellowship of Calgary skateboarders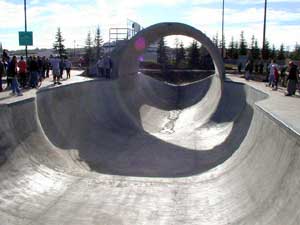 worked together to build this $1.8 million, 63,000 square foot skate park.
The Calgary Millennium Park consists of 4 distinct areas. Whether your learning ollies down the four set or lip sliding 8 set handrails, Millennium Park has the stuff to satisfy skaters at any skill level. The Beginner/Intro Park contains a low four set with a mini rail going down the middle and a ledge to the left of the stairs. There is also a mellow banked bowl with a rail, and a 100% skateable pyramid. Then its got plenty of ride-on rails, curbs, and banks to keep you busy for hours a day.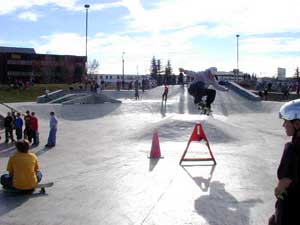 The Intermediate central park surrounds you in a 6 foot half pipe with a spine, a large pyramid, fun boxes, huge banks, transitions, roll-ins, rails, stairs, curbs, and drops. I'd say this is the best part of the park for any street skater.
The Expert Park is crazy. It's definitely for the big boys of vert and street. It consists of huge banks, quarter pipes, fun boxes, rails, and ledges. There is a enormous 30 foot bowl with a 9 foot and 13 foot vert area surrounding it.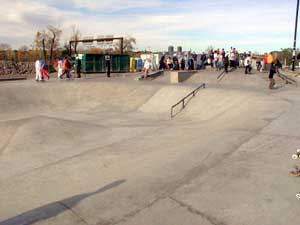 And last there is the Clover bowl which contains three bowls inside. Next summer a snake run will be built making the park a whopping area of 74,000 square feet.
Calgary Millennium Park is completely free, lighted and opened 24 hours a day, seven days a week. There is always a food/drink stand opened in the day, men and women's washrooms, a drinking fountain, a sky view from the top of the park, and many great restaurants and skate spots surrounding it.
In closing, if your ever in the beautiful city of Calgary, the Calgary Millennium Park is a must skate.