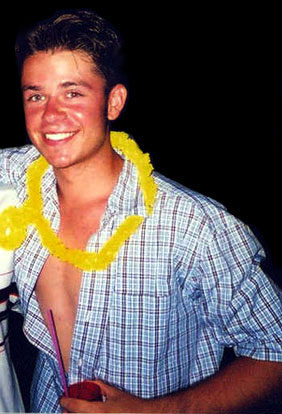 Here Jake has his arm around someone while partying in Cancun and I know it's not me cause I've never been to Cancun! I think.
Jake is an 18 year old skater from Quartz Hill, California. He started skating when he was 11 inspired by his older neighbor who was a kickass skater. So over the years he and his little bros have built themselves a 4' halfpipe, a funbox, and a launch ramp in their back yard.
Jake's a self taught guitarist, he owns 28 of them and has been playing for 7 years. He loves classic rock, blues, neo-classical, and anything with good guitar work in it. He sings mainly blues songs but most of his stuff is blues/rock instrumental work like Steve Vai, Joe Satriani, Eric Johnson, Eric Clapton and the like, however he is most inspired by Stevie Ray Vaughan.
Jake doesn't mess around when it comes to career, he works at an air force base to save up to attend a business college but that's only a back up plan to enable his music career ambitions. He has a CD finished and working on a second one and talking to a very successful producer who has worked with Bruce Springsteen, Tina Turner, Cher, Don Henley, etc. I got my money on the music career!
Jake likes honest girls with a warm welcoming smile, who have a great sense of humor and can carry on an intelligent conversation. But I don't know about this, since he has a cockatoo what yells "touchdowwwn!"
Thank you for being my hunk, Jakie Ray Hutchison, and if we ever meet up in Cancun—deal; I'll buy you umbrella drinks and yellow plastic lei's if you put your arm around me and my welcoming smile just once!