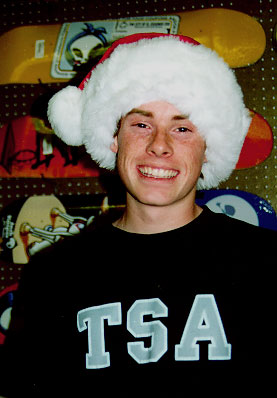 "Gino Rinaldi," does that name match this sweet, darling, kid-next-door, smile-that-could-melt-your-heart face? It sounds more like someone who would be on a team with raunchies like Joey Suriel, or Fabian Alomar. Well, read on.
Gino is 16 and lives in Santa Cruz, goes to Harbor High, has a dog and 4 cats. He likes the Beatles, but his favorite musical group is rapper, Drey Dog. (Here's where it starts getting raunchy). He likes short blondes, his favorite food is pizza, and he drives a black Ford Crown Victoria (an old COP car he bought at a limo auction). His favorite movie is the old Cheech and Chong "Up in Smoke!" His shout out was to the local DAF crew. He told me what that meant but this is a G rated zine!
But, seriously, my December "Santa" hunk is a fine citizen of Santa Cruz. He has held down a retail skate shop job (Bills Wheels) for over a year; skates on the store team, and like the rest of the employees there have been working their butts off this holiday season helping parental units pick out just the perfect board for their kid.
Gino, thank you my don, err I mean Hunk! You are a good sport for posing in my silly Santa hat that Ollie chewed on, taking all the riff from your co-workers, and especially doing all this while there were some cute girls in the store. Hey, I'm not blonde, but I AM short and next time you're out cruising for burgers, err I mean pizza, I'd love to go for a spin in that rad ride!
Happy Holidays everyone, and major props to retail skateshop clerks wherever you may be cha-chinging those registers; you are hunks!