The team invited me to meet them at their local skatepark in Gilroy to check them out and pay a visit to the shop. They had planned to work on the team vid that day, but the plan fell through due to the vid camera not being purchased as yet. They hope to have the vid done by September.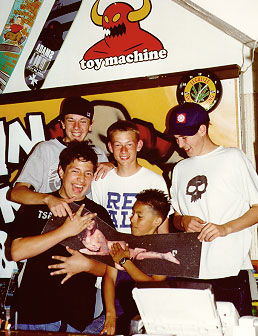 The shop is owned by Joey Fraga (13), (bottom left), and Annie Altamirano, his grandmother. His grandfather, Jesse (shop employee) was on duty that day, but he closed his eyes in the picture I took. I think I blinded him! Anyway, Jesse, it was a nice shot of all the decks on the wall behind you!
Soooo, the DTS TEAM! After Team Manager, Joey clockwise is Derek Bishop (16), Kasey Smith (14), Derek Watson (16), and Joey Flores (aka Marsupial the baby kangaroo 11). Tip: If your name is Joey or Derek, I think you have a good chance of getting on this team. The DTS team was minus one that day; Mikey Garcia (18), who was on the injured list. But, we will feature him another time.
They wanted to pose with the gurly grip tape and I said ok as long as they covered up what would crank Real Skate up a notch from it's G rating to R, ahemmmm! They said they would cover up her face in that case.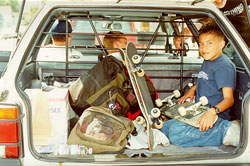 "The dawg" riding rumple seat in the Clarkmobile
But, my right-hand-man of the day, Marsupial, had the right idea. He took good care of me, carying stuff around; he always knew what time it was, and when Kasey sprained his ankle, he was right there administering treatment. I think this little skater might grow up to be a doctor some day. But what I think what he really wants, is to be a skater. And he is; they all are awesome rippers as these shots show.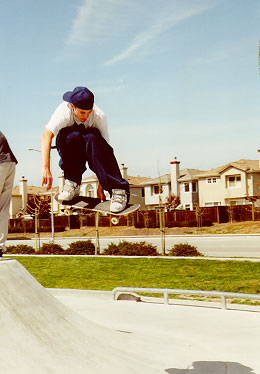 I think it would be unanimously agreed that the trick of the day went to Derek Watson with his "kickflip off the pyramid to indy grab first try" as they called it.
(Dang, where's the power winder when you need it! I'm still kicking myself for not getting a sequence shot!)