Keith Jacobs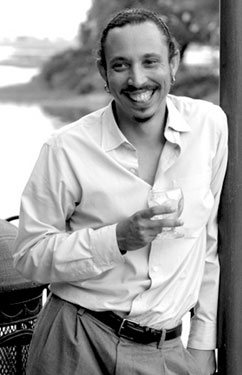 Meet Keith from Switch Magazine. Keith is a thirty-something true southern gentleman from Myrtle Beach, So. Carolina.
When Real Skate first went live there were a couple of skate e-zines that would rather see us as road kill on the information highway, but Keith opened his arms. One of my very first e-mails was from Keith, complimenting Real Skate and informing me he made us his top featured link for that month! Even more gentlemanly, he made a phone call to me, and once sent a cake as a thank you for our support. Awwwwwwwwwwwwwww.
Keith is a skater (of course, what hunk isn't) a photographer, a graphic designer. You may know Keith co-produced the Tampa Am 2000 which is one of my all-time favorite skate vids. And Switch is one of my favorite net mags. I refer people there all the time especially for the data base of tricks and other advice.
His drink of choice is a vodka gimlet martini (as seen in pic) favorite skatespot is the Skate Barn in Hampstead, NC. He loves skating minis to keep his physique but feels more comfortable behind the camera these days. Keith, sweeite, thank you for all these years being my friend, my peer, my respected skate mag colleague, and now my hunk!