This man of perpetual coolness is a man of my own trade. Kosta is a Graphic Designer for FOX Television. He's also a DJ, spinning hard-house/techno at clubs and raves in MD, PA, and VA. He also produces his own tracks at D-Cubed Studios in Baltimore. Maybe we'll have a special prize if you can pronounce his name properly.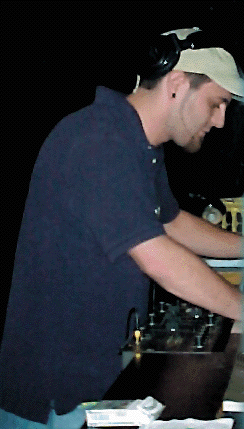 Kosta lives in Baltimore. He's 25 (birthday is 12/2/74). His interests are mini ramps, ancient concrete skateparks, pale ale, hardcore, grindcore, noise metal, Drum 'n Bass, trip-hop, HardHouse, Techno (not the cheesy shit you find at the local mall, pure underground mayhem!) he says. There's more.... beer, women, girls, beer... Technics 1200 turntables, crankin' out ill electronic noise at D-Cubed, computer animation, fresh graphics, and loud sound systems.
Whew, can you imagine having a quiet dinner at his house? You'd need ear plugs! But, at least, theyr'd be plenty of beer!
Kosta has a new mix tape coming out late February, or early March.
Thank you for being a good sport and going along with me and my madness Kosta! You're a hunk! *smooch*