The first time I got to see the Dub Allstars was in Santa Cruz in the summer of 98. Linds and I were chillin at Clarkie's for the weekend and found out that Eric, Bud, and Co. were going to be passin through Palookaville, a great place to catch a live show. The music was loud, raw, and I knew these dudes had something good going on. If you ever wondered if Eric could crank up the bass any louder, if Bud could pound the drums any harder, if RAS could get Miguel to turn the volume up any higher on his guitar—the Long Beach Dub Allstars came "Right Back" with a Bigger sound this summer.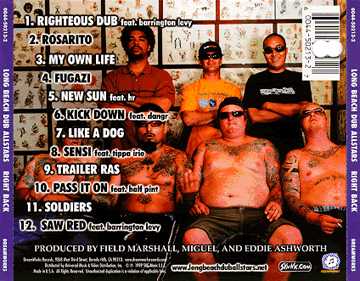 I was fortunate to be able to sit in on the sound check that afternoon. After listening to "Scarlet Begonias," "Fugazi", some new-style vocals from Opie, Field Marshall playin around on the turntables, and RAS pickin out some old Link Wray stuff I knew we were in for an awesome performance later that night.
The Dub Allstars started out the first set with some killer dub, never heard it before, but it was great. From there they went into their Sublime arsenal that included alot of material from earlier Sublime releases; too many to try and name. The band also played many of their new releases off of the "Right Back" CD throughout both sets plus a few other songs that, I have to admit, I had never heard.
There was a 10 minute break (yeah right, Opie) between sets. Joining the group on this tour was Pauley (Lordz, Burn Unit), who Opie described as their comic relief, took over on the turntables until the start of the second set. Half Pint, who is featured in a new cut "Pass It On," made a guest appearance and did a few other numbers in his own reggae style. "Santaria" was sung by the crowd with the Dub Allstars playing backup. What more could you ask for? The night finished with Miguel on stage doing "New Thrash."
The show was a non-stop party from start to finish with the music as loud and irreverent as ever in its usual Long Beach Style. What really impressed me this time was the "Big Sound" that the band has created. Along with Bud, Eric, Opie, RAS-1, and Marshall on the turntables, there's Tim on horns, Jack adding the keyboards and vocals, and Miguel mixing the sound all together. If you like your music loud then don't miss the Long Beach Dub Allstars next time they roll through your town. - J. Ryde
Graphics and cd photo courtesy of Skunk Records.
Check out to their site for all your LBDA needs!