Alex Smith by Abbey Whitney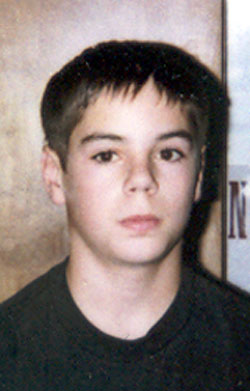 Alex Smith is 15, lives in Indiana and my hunk of the month for many reasons.
I first met him in Michigan while camping and ever since then we have been friends. I kinda screwed up with his named when we first met and told everyone I knew his named was Andy.... my bad! I think he hates me for that cause now everyone is like "Hey Andy or Alex or whatever your name is."
He has been skating for 4 years, and about three to four months ago got sponsored by a local skate shop called Rise. Alex rides a Black Label deck, Destructo trucks, Lucky bearings, and Spitfire wheels.
At a skate contest Alex got first place in all three catagories! Best single trick- Frontside flip down a three step, Best 1 minute Run, and Best Free Style 2 minute Run. Talk about kicking some major ass!
Since he is on the Rise team he will be traveling a lot this summer, going to skate contests, skateboarding in general, and making sure he goes camping on weekends in Michigan to see me *smile*, he will be pretty busy. But besides skating, Alex does the usual by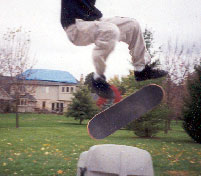 making sure he gets in trouble and grounded at least once a week. Well at least it seems that way to me. Other than skating and hanging out I don't really know or think he does much more! I know for sure he doesn't have a girlfriend at this time, but that can change at any given second!
Most importantly Alex is keeping it real and doing what he loves to do. I am so glad you could be my hunk Alex. Thanks a bunch for everything! Your awesome!