Well some of my female readers complained that my hunks are too old. So here you go, girls, meet Jonathan. He's 18 and also from England where he is going to a college of fine arts. His career goal is to become a professional illustrator. He's 5'11" and you can see his blue/grey/green eyes. His hair is originally blonde but recently dyed it "cherry chocolate."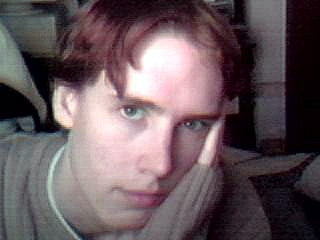 Jonathan recently moved to Redcar which is on the north east side of England on the coast. Most of his new friends are skaters and since they just built a skatepark right next to him, he's going for the bumps and bruises!
Jonathan spends his spare time drawing or playing guitar which he taught himself. He listens to music; bands such as Nirvana and anything else that is "half as good" he says.
He says "I have some sort of weird humour that not many people understand but love it. Those who don't love it brand me weird." Actually I like his sense of humor, he's not weird in my books. He's funny and sweet as pie! His birthdate is July 20, 1981 another romantic Cancer. He doesn't have any pets at his new home but he used to have a hamster called Fluffybum.
If you want to reach Jonathan, his ICQ number is 52549505. His e-mail is sappy_00@hotmail.com. I'll be posting his webpage soon which gives you samples of his awesome drarings. In the meantime, below is a recent one he sent me. Thank you Jonathan, you're a mighty fine lil hunk!