shhhhhhhhhh! Don't anybody tell Miki he is this month's hunk! He might die of embarrassment and we don't want to lose him. Dang shy photographers, always hiding their sweet faces behind some big lens. Well leave it to me to "expose" them; I think Mik is about the 4th photographer I've called my hunk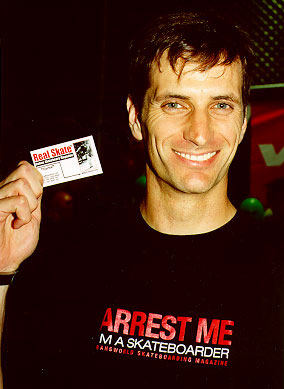 and no doubt there will be more. I'll have to open a "Photographer of the Month" site!
Miki needs no introduction to most of our readers, but if you are a newcomer to skateboarding, Miki is a photographer and staff editor for TransWorld SKATEboarding Magazine. One of the "big boys" as I say.
Although he's been schmoozing me (as seen in pic) to try and get a job at Real Skate, Miki is a very successful and respected guy in the industry. His skills are wide-range including some geek stuff. In fact, Mik helped me scan my very first skateboarding pic for a homepage he and Foundation were offering to 60/40 back in the day.
There's probably not a pro in this world who hasn't been shot by Mik. His contributions to the industry and supporters are numerous; there's nothing he won't do for you—(except agree to be a hunk of the month).
Mik, although you said if I did this you don't want to know about it, I know you are going to peek in here anyway, so I want to give you a huge THANK YOU because you truly are a HUNK! And hey, I might have a gray cubicle in the back opening up so go ahead and send me your resume. You just might enjoy working for free as we do!
If you would like to subscribe to
TransWorld, please order through
this logo so Real Skate will get a
small commission and we can
hire Miki!