Real Skate welcomes Mike McCourt from Toronto, a 15 year old skater/shutterbug of 4 years. Mike is 100% each making him a 200% kind of guy. About all he likes to do is skate and shoot skateboarders, and wants to do both for the rest of his life. His top-dawg shooter is a Canon A2E and he's patiently looking forward to slipping into darkness and making his own film come to life. His more immediate plan is to get into the photography class at his high school which is, unfortunately, offered only to seniors [bummer].
If you haven't been to Toronto by now you should be kicking yourself. I also like to call it heaven. Imagine a place with endless marble, stairs, handrails, or whatever you want to skate. Bright lights make the city skateable at night. You wouldn't believe how close all the spots are. I'll give you an example of how it is:
Security: "I will have to ask you to leave the premises."
Skateboarder(s): "Ok no problem."
Skateboarder(s): *cross the street to skate the next spot.*
Skaters can be found here mostly in the early hours of the morning, about 1:00 am is the starting time to skate. Not to worry; there is no crime here; I am not joking. You could skate all night without being bothered. I must warn you; the locals here tear it up, such as Justin Bokma, Corey Sheppard, Rob Poyner, Mark Appleyard, Dave Lapchuk, and Ariel Stagni just to name a few.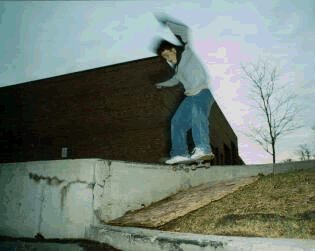 Chris Plewes
frontside tailslide around a curved ledge
Toronto is not the only place to skate, there are a lot of smaller cities with rad spots such as Mississauga, Hamilton, Oakville, St. Catherines, Kitchener, and many more. All are within an hour drive of the megacity. These areas are warm and sunny because the buildings aren't so tall.
Skateparks have been popping up all around the place, but the best one of all would have to be in the nearby city of Oakville. A half an hour drive brings you to this place of endless fun. The outdoor park consists of, well, just about everything. It was designed by a local who goes by the name of Alex Rothbauer. You must go here if you are in the area.
Not to worry about weather, just north of the city there is a pretty rad indoor skatepark called Blue Tile Lounge. If you don't feel like driving, there is a small skatepark right in the downtown core. If you ever decide to visit Toronto I suggest you come for a while because there is too much to skate. I could go on and on about how the Greater Toronto Area is the best but I think it's about time you GO SKATE!