Meet Tony Baloney version 1.0! Yup, just turned 10 in August. Tony is my new nephew, and how fortunate I am acquiring a new family member who skates. I had a feeling I was gonna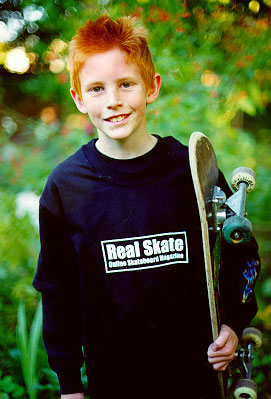 like this guy right off the bat. He has very good taste in t-shirts, and what makes him even more dear to my heart, like me, he absolutely adores ice cream!
Tony is quite a guy, very busy and always inventing new things. He has invented many gizmos and gadgets, but one that impresses me the most is a contraption to shut off his bedroom light after he gets into bed. Now that's California laid back living at it's finest!
Tony's sports habits are quite varied. He's been skateboarding for about 3 years, but he's also into body boarding, skim boarding, mt. biking, dirt biking, and motorized tryking just to name a few. He also plays the piano and flute. He's a video wizard, and is learning skateboard tricks from one of his favorites, THPS I.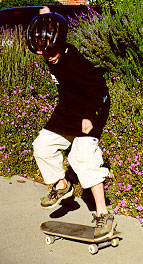 For you girls who like your boys smart, Tony's recent SAT's scored in the upper 90 percentile countrywide.
As if school and his activities aren't enough, he has two snakes, two dogs, and numerous cats to take care of. Tony has an awesome 12 year old sister named Tabitha. She's a true gurly gurl; smart, stylin, cute, and totally cool. I'm doubly lucky not only getting a brand new nephew, but a new niece too!
Although still under construction, tony will be hosting his own domain soon. In the meantime you can e-mail him at: tony@siranthony.com
Tony, thank you for being my hunk, and oh yeah, (you can keep the t-shirt!) Love ya!...........Auntie Clarkie!