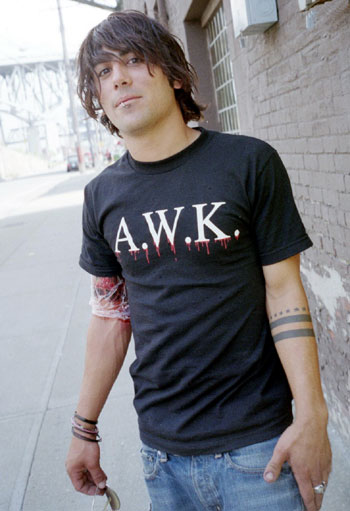 DJ should change his t-shirt to just say "HUNK" don't you agree ladies? I love his hair, that's my new favorite boy hairstyle.
Abbey found DJ at Warped Tour '03 in Cleveland. We sent her to interview his band called Never Heard Of It. Ever hear of them?
They hail from LA, DJ is lead singer. I was impressed when their manager contacted me and said they were the only unsigned band on the tour, a real DIY deal. Check out Abbs' interview which gives a lot more detail on the band.
When I saw this picture I said (after I swooned) there's my next hunk. Maybe he will see this, call me up and thank me, then come over and sing to me or something. Thanks for being my hunk DJ, you're a sweetie.
Check out Abbey's interview NHOI.