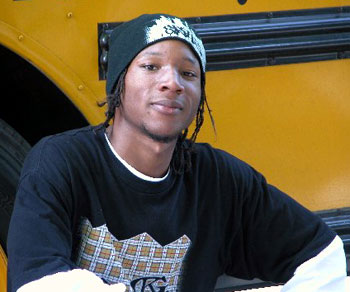 Here's someone to watch. No, not for hunk factor ladies, well that too, but for his skating progression. I have been following Lamonzo (who currently lives in Santa Monica) since he was a little tike. He has been street skating since age 13.
Now at 21, Lamonzo has picked up several sponsors. SPAUSA, Armada Skateboards, Madrid Flypaper, and Active Skate Shop to name a few.
Also, in his bag of tricks (forgive the pun) Lamonzo just won best trick this year at Slam City Jam (nollie frontside noseslide on a Hubba nine-stair) in spite of his favorite signature trick he calls "trebombs" which is a switch 360 flip. He is competing in the Damn Am as we speak and he is damn cute! No doubt, his favorite pastime, aside from skating, is girls. He travels with the SPAUSA demo team and also works at their office. He is soon taking on a job at The Cove.
Lamonzo wants to go pro some day and, if you ask me, he's over halfway there! Lamonzo, good luck with your skating career—I have lots of confidence in you. Thank you for being my hunk, sweetie. And ladies, please don't go swarming around him at the Cove, let the guy work please!
Lamonzo wants to leave you with these final words: Althugh he competes he is "...against seeing skateboarding in the Olympics." And, in his own words - "Helmet and pad laws SUCK!" [I couldn't agree more].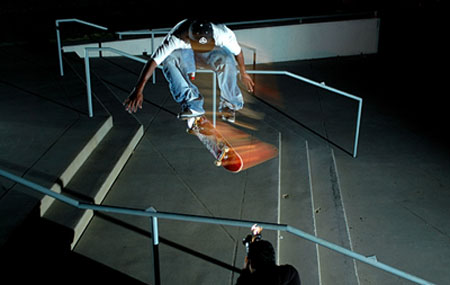 photo copyright Taylor Fitz-Gibbon