The fourth annual Ramsay Park Skateboarding Comp. was held July 21. The City of Watsonville and Parks and Rec., making the best use of what they have, go all out to make this competition a success and it's very much appreciated by the local skaters. De-emphasizing the competitive element, everyone who entered had their names announced and was recognized with a prize for their participation.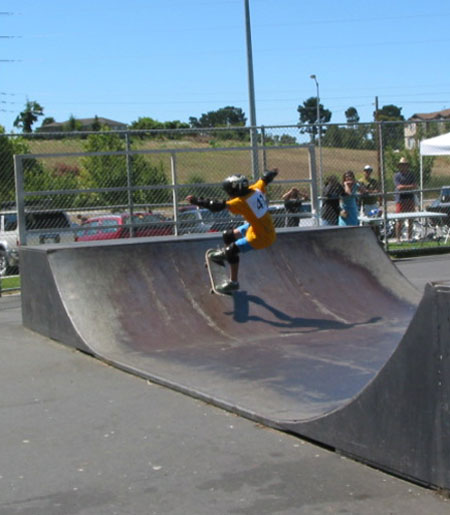 Alex Samuels
This was the first year Real Skate cosponsored the event and it was well worth it. My apologies to the skaters, my camera was refusing to let me take action shots and my brain was refusing to remind to get all the names.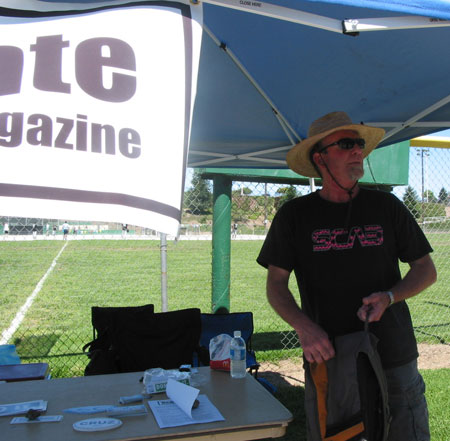 Billy from SCAB in Aptos came by to dump off a bunch of stickers for us to flow. Altogether we gave out about 600 stickers also donated by Consolidated, Santa Cruz Skate Shop and us, Real Skate. We donated two cases of ice cold water which went VERY fast! We also served as a makeshift first aid station, garbage collectors, sewed some torn pants up with stickers, and my xacto knife came in very handy for all types of artistic sticker adornment from cell phones, boards, helmets to casts!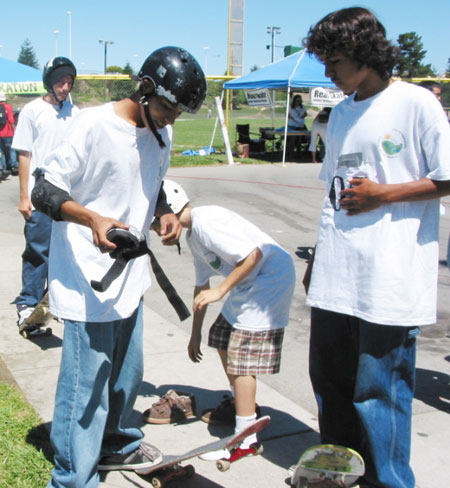 Pads required—OH DRATS! You can see Marie Tibbitts in our booth in the background. Also helping set up our booth was Troy Martin, thank you!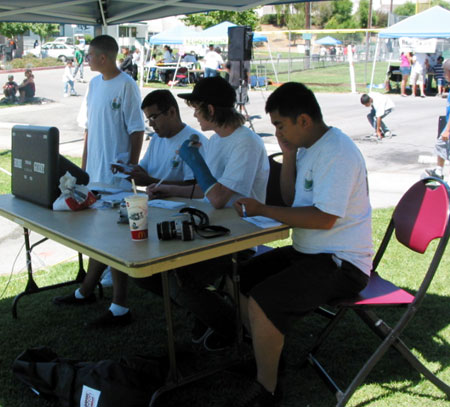 Announcers and judges did a great job!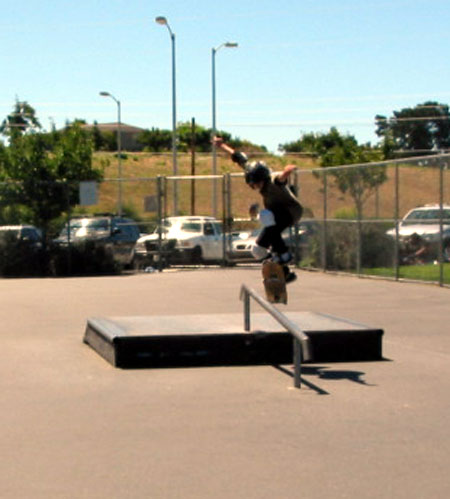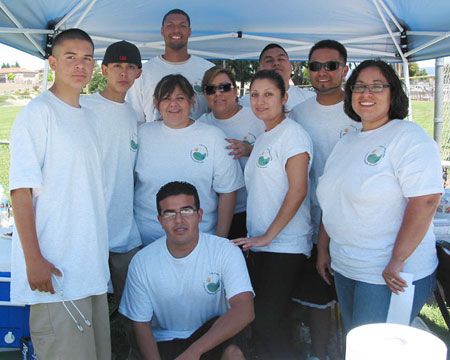 Watsonville Parks and Recreation staff. These guys ran the contest, cooked up delicious grub all day, setup and strike, you name it they did it and they worked hard in the hot sun. I think they should get a raise!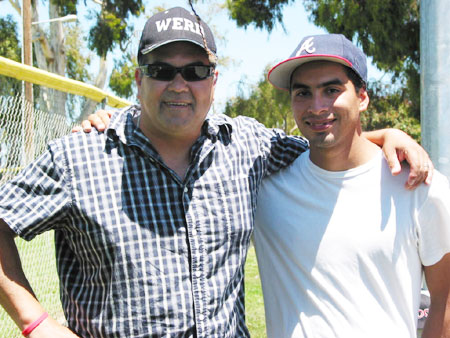 Jerry Shallenberger and Irving Prieto. Jerry and Marie Tibbitts helped me run the booth which was pretty busy all day. We drummed up tons more interest in our grass roots effort to build a state of the art concrete skatepark on the Ramsay site. The skatepark is memorialized by the 5 popular Ramsay skaters who died tragically in an auto accident two years ago. Their families constructed an awesome permanent memorial for them which exists at the entrance of the existing park—5 benches, plaques, concrete artwork, and a water fountain. They are: Julio Prieto, Andrew Tibbitts, Matthew Escamilla, Evan Kuhn, and Tami Uresti. "Rest in Paradise."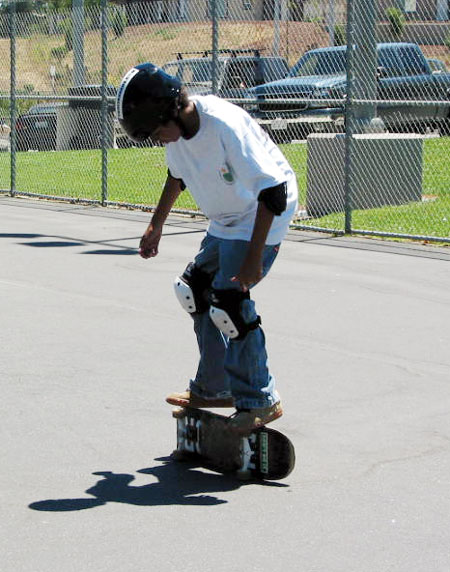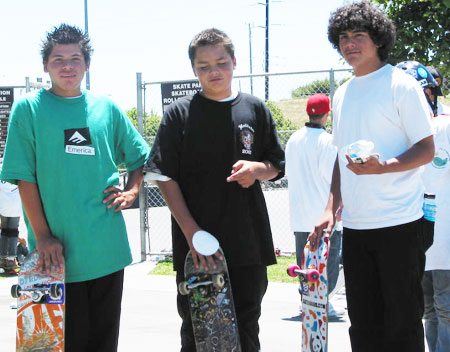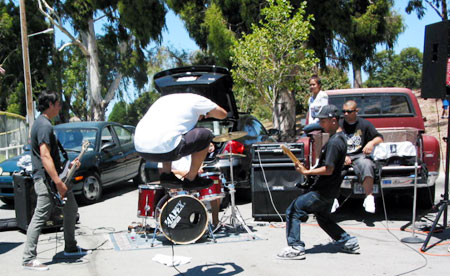 The band Pt of Watsonville played—but not for long. A neighbor apparently doesn't have a sense of appreciation for good music.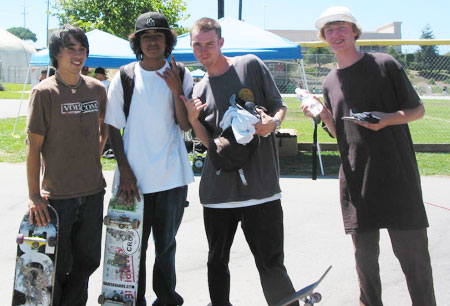 And at the end of the day the winners and losers were all smiles...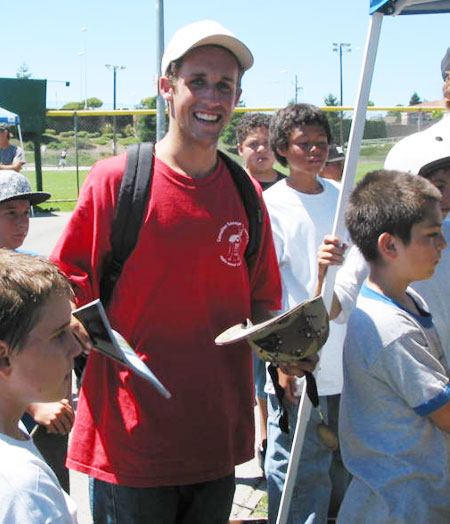 ...especially the winners!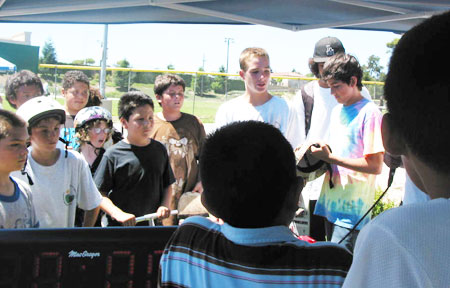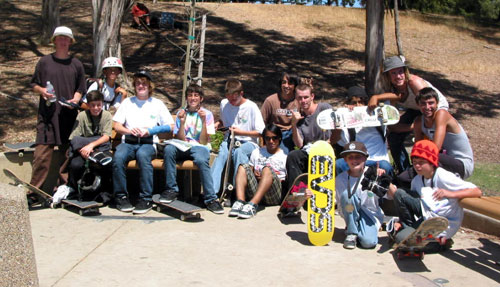 Thank you Ramsay skaters for a good time! Hope to see you skatin a new park soon!
12 & under:
1. Tyler Grimes
2. Omani Murphy
3. Marlon McNary
Best Trick: Shane Knowd

13–17:
Amateur:
1. Jorge Bravo
2. Gavin Hunt
3. David Magaña
Sponsored:
1. Autrey Maldonado
2. Dylan McKay
3. Stephen Moulding
Best Trick:
Amateur: Gavin Hunt
Sponsored: Blake Spencer

18 & older:
Amateur:
1. Austin Goodman
2. Jason Evans
Sponsored:
1. Michael Beddow
2. Chad Ridout
3. Knox
Best Trick: Knox