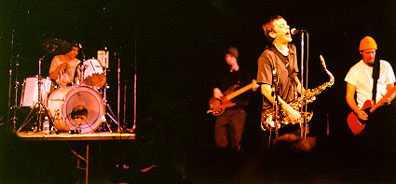 Greetings and Big-Ups to all you boarders on the planet, be it skate, snow, wake, or whatever you may ride. The snow is starting to fly and my board is waxed so I better get this out while there's still time. Besides, I told Clarkie it would be finished six months ago.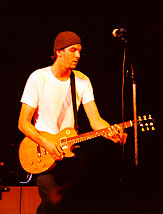 Every time we go to see a Skunk related band it turns into an unusual night and the Filibuster show was no exception. This would turn out to be the band's last show, but something good comes out of everything. It was like unforeseen forces were throwing up roadblocks all night long. I got lost in Sacramento's maze of one-way streets and couldn't find the "free" parking garage (had nothing to smoke I tell ya), had press passes pulled (if you have yer place in line, stay there), and paid an inflated price at the door get back in the Crest Theater. But staying positive as we always do we were determined and driven to check out these skate rats in their home digs.
Sitting through a short sound check with these guys in the afternoon gave you the sense that Filibuster stirred up a lot of energy (ghosts included) and drew the attention of everyone. Jason, lead vocals and sax, was always on the move.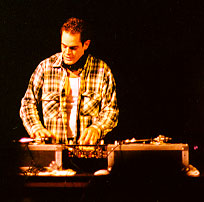 The band started off their set with some kick-ass Ska/Rocksteady tunes off of "New Ruler" and "Deadly Hi-Fi." That pretty much got the place up on their feet. Unlike many ska bands with horn sections, Jason was the lone sax player and gave their sound a raw edge. Add some turntables, a lead, a bass, some drums, crank up the decibels, and the Crest was rockin. Although the set was only about an hour long we got a taste of what Filibuster was all about as they played cuts off of their three CDs. The music bounced and blended from ska to hip-hop to punk riffs to rock, that all came together in a unique style that someone once called Sacramento Streetsteady.
One of the most creative and freshest sounds to evolve out of the Sacramento area in the 90's has been Jason Boggs and Filibuster. I was kinda down at the time to hear that the band had split up but shortly after, the rumors were flying that they were regrouping as another band. In October the Hi-Fi Players made their debut down in Long Beach. I downloaded "Ruff Town" on MP3 to see what was up and found some killer dub. Word out is that Jason and Co. also have about 10 new songs. Check it out and see what you think. Time to make it a wrap so later skaters and keep it real. Ryde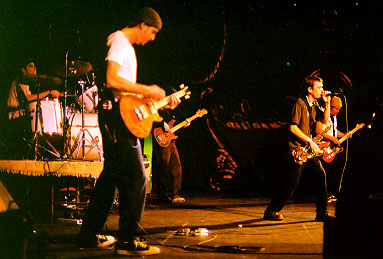 Skunk Records/Cornerstone R.A.S cordially invites you to the
Hi-Fi Players' website where you can download free MP3's
of their debut performance recently in Long Beach.