I think I had been waiting for this for about 3 years. Every time I tried to make my way out to Vancouver for the contest, it would fail. I'd seen it being covered in magazines and videos and always find myself wishing I could have been there. This year I was going to be there, no matter what. This is what I, along with thousands of others, had going through our heads before stepping onto that plane, or into that vehicle. This is the contest of contests to go to in North America. You go for the experience, first and foremost, although the skateboarding itself is pretty important.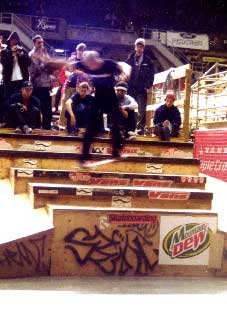 The plane ride was short, and before we knew it we were already in Vancouver. Not only is this place a dope city to skate, it's beautiful to just be there. We took a cab to the skatehouse we were staying at in east van and unloaded all our gear. It was still morning so after getting some groceries we went out for breakfast with a bunch of new faces and people I never thought I'd meet in real life. A couple of the people we were with still had to sign up for the comp and the pre-slam BBQ was going down at the new Hastings park so we made our way down there. There were quite a few people tearing apart the brand new bowl, it was busy but still too early for a lot of the school-aged kids to be there. My friends took advantage of the veggie burgers while Louise convinced me to follow her lines in the bowl. I realized then that I should either stick to street skating or spend a little more time on the tranny. The bowl is completely amazing but the small street section is lacking to say the least. It's almost a waste of space, in my opinion. Other than that the park is super fun. Being Vancouver though, it started to rain and the BBQ ended before hardly beginning. I never got my veggie burger and when the others went into the coliseum for practice we headed to this makeshift skatepark (dubbed Leeside) built in an abandoned tunnel under Hastings St. It was empty and dry so we skated it until the rain slowed down. Everyone met up again in the evening and a group of us headed to the Port Coquitlam park (Poco) for a night session. This park is super fun, it's a perfect mix of transition and street. It wasn't busy and we skated it until the lights turned off for the night.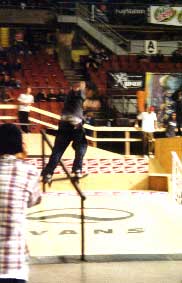 The next afternoon the contest began. We woke up with a few hours to spare so I skated to the PNE with some of the people I had met the day before. It was basically a scenic hill bomb that lasted an hour and a half. By the end of it the rain had started again so I met up with my friends who had gone shopping and we entered the coliseum. I had thought it was crazy enough seeing skateboarders on every street corner in the city, but once inside I couldn't believe it. There were thousands of kids in hip skate stuff with money to spend, and dozens of booths with hipper stuff to spend that money on. Beyond all the clothing and useless crap there was skateboarding. The course looked a little odd at first. There were plenty of rails, ramps and ledges to skate, but the setup left me confused. The most skated objects were the staircase-type grindboxes, the bank to step up, the Shorty's rail and the squared rail on the opposite end of the course. There was a lot of wasted space in the middle, it seemed as though everything was bunched together in the corners. Either way, there was skateboarding going down to see who'd qualify for the heats on Saturday.
The most noticeable skaters, of course, were the rookie pros. The likes of Mark Appleyard, Colt Cannon and Paul Rodriguez were killing it and leaving many of the veterans in the dust. Their skating is just so consistent and fearless because they know they're still young enough bounce when they fall. Even NBC thought that Colt's kickflip fs boardslide down the squared rail was dope. The new pros definitely dominated the day. Being underage is a great thing. It's especially great to be underage when the options in the night are either bar starring or skateboarding. Maybe if I (or any of the other kids crashing at the skatehouse) were legally allowed to drink and party with pros, I would do that instead of going skateboarding. Being underage is a great thing.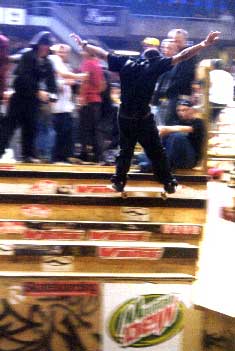 Saturday morning the crew headed back to Poco for some skating before the contest. One of the Australians staying with us had qualified so we had to be sure to make it back to the PNE by 5 p.m. It's amazing the amount of talent you can find in the oddest of places. Kids from small towns in the middle of who-knows-where are out skating everyone and doing things that shouldn't be done with such ease. I shot some photos after skating to exhaustion and then we had to head back. It was always nice catching some quick bowl skating at Hastings before going into the claustrophobic environment known as Slam City. Today was a little more exciting because the pre-qualified skaters were thrown into the mix and the vert skating began. It's one thing seeing your favorite pro in a photo or video, but in real life it's amazing. One thing a lot of kids don't realize is that the tricks you see done in magazines generally aren't going to be done during a contest run because of the high risk/low consistency factors. There were still a lot of nice moves like switch 360 flips up the step up and feebles on the high box. McCrank was using the corner bowl to wind around and pull some weird lipslide thing on an extended quarterpipe ledge thing that I'm finding hard to explain. Unfortunately I don't think he landed it in his run that day (although I saw him do it in practice).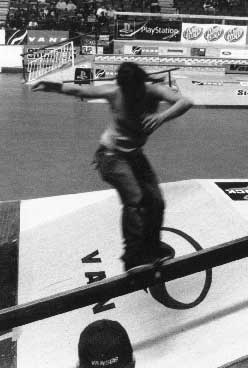 I didn't catch much of the vert but I saw Rune Glifberg and a few others skate. It completely blew my mind. I hold so much respect for vert skateboarding. One thing that's kind of too bad about vert is how predictable the results in contests seem to be. Bob was at the top but the competition was close. I should mention that Slam City also has some good music. It showcases a lot of good local bands as well as some bigger ones like Suicidal Tendencies for the rockers out there. I also enjoyed going and catching some of the photo, art and video exhibitions (along with the Major Dave booth) in the skatelounge when I got bored. That night a couple of the girls and boys from the house went for a midnight session downtown at the infamous 401 building. Why is this double 3 set with a couple benches so infamous? Because it's practically the only half decent spot left to skate in downtown Vancouver. We propped up some sideways mailboxes down the stairs and all went well, especially when the Roughriders crew showed up with a slick bench (round rail backing and all).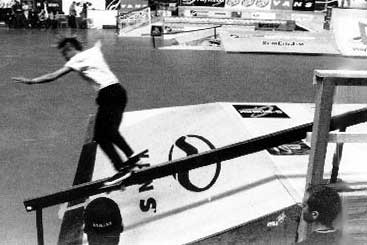 Sunday morning we dragged ourselves off the floor early and skated the Hastings bowl before it got too busy. I had to go into the PNE early to be sure to catch the girls comp though. It's too bad that a lot of people don't go see the girls skate. It may not be quite like seeing Kerry Getz and Daewon Song but it's still worthy of some cheering and attention. There were nearly 30 entrants and it was cool watching the practice and seeing so many girls skate all at once. At first it was moving a little slow but soon I was astonished to see a few girls whom I'd never heard of outskate the girls we see coverage of. A few notable tricks would be Jamie Reyes' and Amy Caron's boardslides down the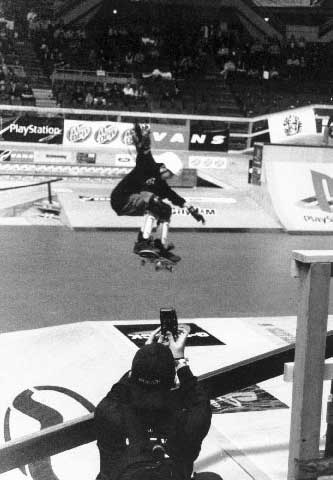 squared rail as well as many kickflip to fakies done by numerous ladies. The two girls that stood out in my mind (and the judges) were definitely Vanessa Torres and Stefanie Thomas. Stefanie's run scored her second place and included a kickflip up the step up, a 50-50 along the stair grind box thing, boardslides on the flat bars and a big kickflip over the gap to drop near the Shorty's rail (she didn't land it in her run though). Vanessa had a perfect run with a kickflip up the step up, a noseslide down the squared rail, k-grind on the flat bar and a tailslide to fakie on the Shorty's ledge with the big drop. That is why she claimed first place. The women's vert was next with nearly a dozen competitors. I don't really understand why more women don't get into vert. I'd like to see more of the ladies out there pushing vert and closing the gap between the boys and the girls. Jen O'Brien got first place proving that mom's can skate it up too.
Next were the vert finals which brought in a huge audience. Bucky Lasek, Colin Mckay and many others definitely gave NBC something to show the non-skateboarding population of America. Bob Burnquist blew minds with his run. I honestly can't believe how well he can skate switch. He scored 99.0 and obviously took first, making him and Jen a winning couple.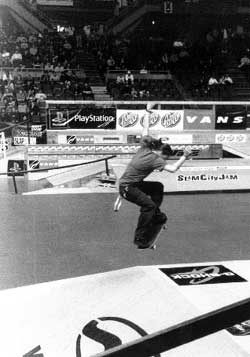 The street finals were so good. Daniel Haney was another surprising skater with little coverage, hitting up the rails like mad. Chad Bartie was insane and used a narrow bank to nail a high tailslide on the sketchy side of the large set/kinked bank setup. Mark Appleyard was skating excellent, of course. McCrank wasn't skating as consistently as he needed to and only placed third (I use the term "only" loosely). Colt Cannon had an amazing run, landing everything down anything. He got second but many people think he should've won it. In the end, superstar Eric Koston won with a slick, consistent run.
The best trick contests were after that. Chad Bartie won the Shorty's rail with his nollie lipslide down the sketchy "Martha Stewart' rail. Malcolm Watson won the Shorty's box with a 360 flip to 50-50 or something like that. There was another best trick on the snowboard-type launch to kicker and I think Alex Chalmers won it [he did]. I was so distracted watching ams like Chris Cole and Bryan London 180 and 360 flip over the massive set of grind boxes to the floor.
Jurassic 5 ended the night with some beats to a full-packed house. It was a melancholy night for those of us who knew we'd be leaving the next day. Vancouver does that to a person. It sucks you in so that you never want to get out. We did some latenight hill bombs and came back to watch "Conan the Barbarian."
The following morning we all said our good-byes and swore we'd return next year. It was time to leave, but not without one more bowl session at Hastings. Go to Vancouver next May; just don't plan on ever coming back.

Visit Rhianon's website: