Vans Slam City Jam X, '03
The Never Ending Story by Talia Kaufman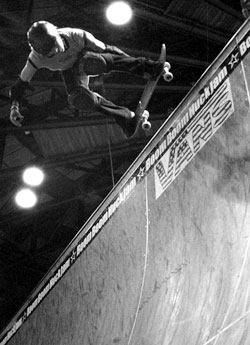 BC's West Coast, and Vancouver in particular have a long-standing reputation as being the skateboarding mecca of Canada. Slam City Jam has played a large part in developing this reputation. In 1994 Slam City Jam started out as a few ramps at the Plaza of Nations. Now the media attention and economic benefit Vancouver receives from contest goers and from the numerous skate shops and parks in the city and its suburbs has finally prompted the municipal government of Vancouver to recognize an official skateboarding week, which will coincide annually with Slam.
Mayor Larry Campbell made this declaration official a week before Slam City Jam X. Skateboarding is now recognized as a legitimate form of transportation and police can no longer confiscate skateboards. The city also approved a proposal from the Vancouver Skatepark Coalition to construct a small outdoor park in the East side of downtown, (take a buddy with you if you decide to check it out, it's not the most "touristy" part of town).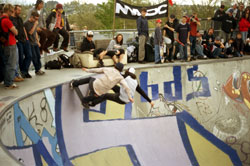 The best way to do Slam is on a road trip with a few select buddies. Having a vehicle at your disposal allows for efficient use of time for visiting the excellent parks throughout the city's suburbs. My crew returned twice to Tsawwaasen's new addition to the legend.
The qualifying runs took place on a Friday, as usual. This year's street course offered a ton of variety, efficiently using the available space. The local ams were ripping it, notably Geoff Dermer who came in second place just after the seemingly unbeatable Ryan Sheckler to qualify for the semi-finals.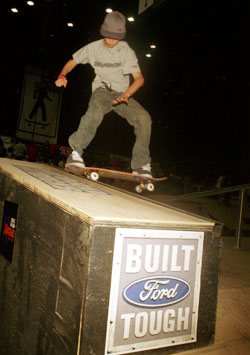 Ryan Sheckler, Slam City Jam 10 winner
Corey Duffel was sporting a Charlie Chaplin style hat, but it didn't seem to get in the way of his crooked grinds and backside lips on the rails. The speed of progression from year to year is always amazing. I think out of towners like to use Slam as a gauge for their own progression too because of the amount and variety of skating there is to be had on in Vancouver. Tony Hawk's Boom Boom Huck Jam tour provided the vert ramp, which featured a massive gap in the middle of one side, which was braved by Tony Hawk himself during the best trick contest on Sunday. His 900 was beat by Bucky Lasek in the end. One could go on forever naming the best tricks of each day, or one could just check out the Slam Website http://slamcityjam.com/slam10/ for updates which were posted after each heat for a more thorough account of how it all went down.
Maybe partly due to the fact that it's Canadian, and we never take things too seriously here. Slam has become more of a festival of sorts than a serious competition. It's a chance for the skate community to bond and enjoy being part of the world of skateboarding. The bowl jam is probably the best example of this. Prizes abound, girls skate alongside guys, and people pull the gnarliest tricks, beer in hand. The Hastings bowl is also the location of the annual Slam kick-off Bar-B-Q, the existence of which seems to be threatened by rain every year.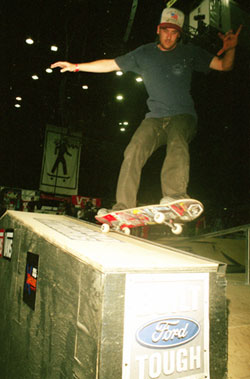 Friday night the soundstage featured The Coup and Talib Kweli, leaving the crowd pumped for Saturday's semi-finals while my crew decided to check out the Anti Social shop screening of the new and much-talked-about Yeah Right Girl team video. Directed by Spike Jones, and featuring a special appearance from Owen Wilson of Zoolander and The Royal Tenenbaums fame. Also, showcased in the gallery were photos taken during filming and others by folks involved with Girl. Strangely enough, most of the Girl team didn't show up this year. Rumor had it that they were "tired from filming the video," but an inside source said they were afraid of contracting SARS. Perhaps they'd been watching too much CNN
.
After the Anti Social party a few socializers made their way down the block to the new vegan/vegetarian restaurant, Foundation. It's located two blocks North of Broadway on the West side of the street, and the Thai/Western fusion is well worth a special trip. They are open for dinner and drinks, but not lunch.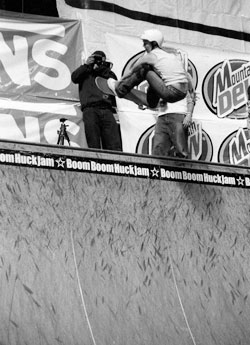 Saturday was an intense day for everyone, but with the much loved Rene Rene doing a swell job as MC, the atmosphere was kept light-hearted. Sheckler was standing out against all the pros. He came in first in the semi finals, with Geoff Dermer only a point behind him, and Ryan Johnson taking a close third. It must be hard for the pros at the peak of their careers in their mid to late 20s having to deal with this phenomenon of a 13 year old being better than you ever were. The kid is amazing to watch. His smooth, consistent style had everyone staring in amazement during each of his runs. This year he managed to mix it up a bit more with a couple different runs. He had obviously been working on his street skating over the past year. Geoff Dermer stood out once again, along with other local Trevor Dunnet.
The girls practicing on the vert ramp were going bigger than previous years, and in the end Cara-Beth Burnside took first place.
There seems to be an inextricable connection between art and skateboarding, and regular visitors to the skate lounge on the bottom floor of the coliseum know this best. This year Mike Vallely did a spoken word and autograph signing for his loyal fans, and showed the premiere of his latest video Greatest Hits. The day concluded with a packed Bad Religion performance, and the likes of Side 67 and The Casualties gracing the side stage.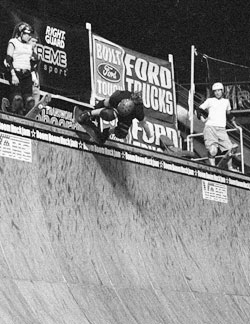 Saturday night, my crew enjoyed some drinks at the Cambie pub, and then headed down to one of the ghettoest venues in town, the Astoria, for the tunes of the local grunge band Streets.
One phenomenon of Slam City Jam which I will never come fully to terms with is the Hooters booth where little boys (or girls, as the case may be) can have their pictures taken with silicone-injected peroxide beauties. It seems to me the ultimate reflection of skateboarding's growing presence in the mainstream.
Fifteen amazing females showed up for the women's street contest. Vanessa Torres took the cake, with Lauren Perkins at a close second. Monica Shaw, Jessie Van Roechoudt and last years winner Amy Caron came in third, fourth and fifth. Alexandra White stood out with her consistent frontside boardslides down just about anything. The girls stuck mainly to one corner of the course which featured a steep rail, a six-or-so set, and some ledges and banks, making the skating tight and fast. Lyn-Z-Adams expanded her repertoire of skill past the impressive grabs and launches of last year's contest. She's one skater to keep your eye on because her talent is going to explode.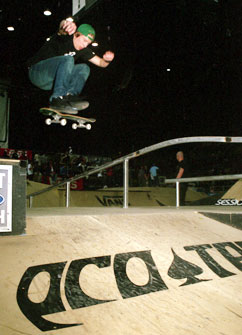 Rick McCrank, Chris Haslem, Trevor Dunnet, and Greg Lutzka all ripped the course on Sunday. Having three runs allowed the skaters to shred a little harder and take some chances with their runs. Sheckler had two equally amazing and consistent runs that didn't leave much of the day's results to the imagination. Carlos DeAndrade switch frontside lipped the large curved rail, and skated like he didn't come up all the way from Brazil to go home empty handed.
Sheckler came in first, as was expected by many. McCrank made a comeback from last year's bad luck and took second place, making his hometown proud, and Carlos took third.
Tension was released when the local Jaks crew showed up to challenge the infamous Slam hockey team. Asses were kicked and much fun was had by all.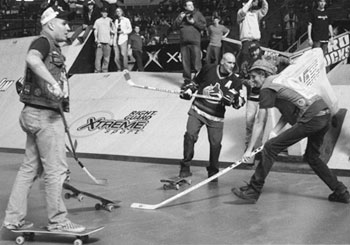 Three separate best trick contests took place this year on the Sessions ledge, the Vans vert wall, and the Shorty's rail, which made the whole ordeal a bit less redundant. These were conquered by Joey Brezinski, Mike Vallely, and Chris Haslam, respectively. Amy Caron won the women's best trick with a feeble grind. The best trick is the perfect end to Slam. The pros let loose with the craziest stuff they've been dying to try all weekend and the crowd is always left somewhat awestruck.
'Til next year—keep shreddin.