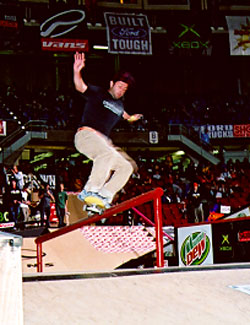 Mark Gonzales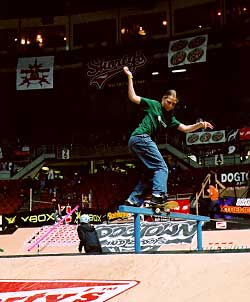 Alexandria White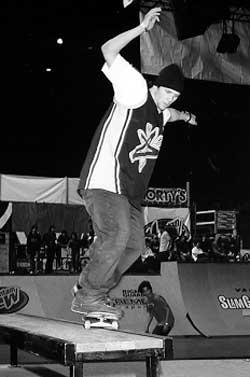 Caine Gayle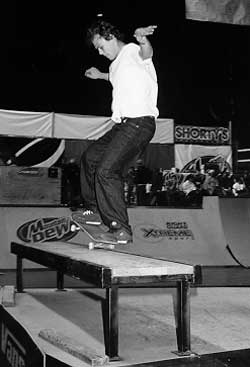 Rick Howard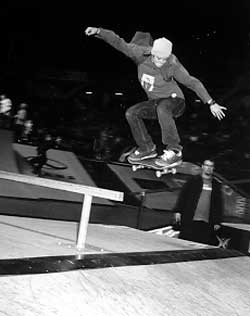 Amy Caron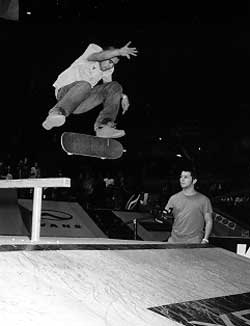 Eric Koston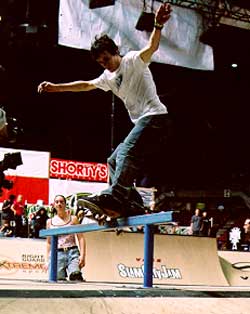 Rick McCrank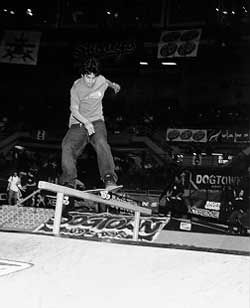 Paul Rodriguez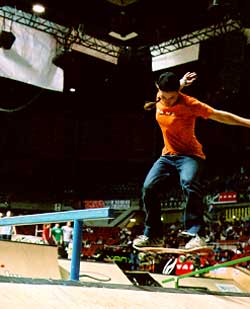 Louise Henault-Ethier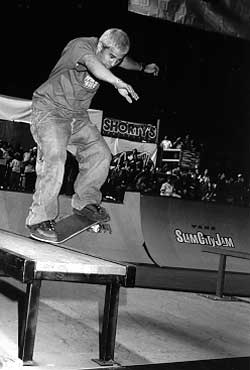 Steve Caballero
The longest three days of the year have come and gone once again, leaving Slam City Jam attendees like myself nothing but fond memories of a great time to cling to until next year. Slam weekend is, hands down, the best time to visit Vancouver. The flowers are in full bloom, April showers have passed, and the locals kindly open their doors, and turn over their couches to participants and spectators from as far away as Australia and South America.
The pre-Slam Hastings Bowl BBQ on Thursday was unfortunately rained out, so anyone in search of free food had to search around a little harder until they found a reclusive man giving away well-rounded meals consisting of hot dogs, chips and candy, hiding under the shelter of an overhang on the south side of the building.
This year I discovered there is a whole network of free food available behind the scenes at Slam, which can supply up to two meals a day for the average traveler on a tight budget.
Friday was the first day of the event, and right away the tone was set for a rad weekend. Everyone was full of excitement and skaters all seemed to be there just to have a fun time. I believe the mood was largely due to inspiration from the first Canadian screening of Dogtown the night before. It chronicled the rise of the first pro skaters out of an elite surfer scene at Venice Beach, California, and the development of skateboarding as a competitive sport.
Melissa Dafnos and Hillary Pearce from Australia both showed they were into the spirit of it all by throwing birdlemans and laybacks into their runs on Sunday. Gonzales showed everyone he was also just up for goofing around when he pulled a caveman roast beef boardslide down the big green rail that looked like it had been bent in two. And 15 year old Austin Seaholm amazed the crowd all weekend with his consistently great runs. In his first qualifying run on Friday he landed a frontside 360 kickflip body varial up the Shorty's 10 stair, as well as a smooth frontside tail 270 out.
It's crazy seeing guys push themselves that hard and risk it all in a 45 second run that could determine whether or not they qualify. I guess when skaters are young and it's they're first time at a big contest, they figure they've got nothing to lose so they might as well go all out. Ryan Sheckler, 12, was another young'n who went huge on everything and landed just about all of it, though by Sunday he could have stood to show a little more variation in his runs.
By the end of the day a lot of guys had been cut out, and the pressure was on for those who made it into Saturday's semifinals.
Before the semi's on Saturday, the girls had an hour and a half to test out the course and get some practice runs in.
The course offered more variety this year and more skateable objects, compared to last year—it seemed like a far better use of the space. The level of skating shown by the girls during practice got me stoked to see their runs on Sunday. I could already tell that as a whole they would be significantly better than last year. It's fun to watch the progression take place among the girls who enter at Slam because the increase in talent and skill is so noticeable from one year to the next.
Mid-afternoon there was the traditional Canada vs. USA hockey game, which quickly turned into a brawl and a lot of guys getting wrapped up in duct tape. I'm still unclear as to who won the thing, but I guess that wasn't the point.
That night everyone had the pleasure of rocking out to Mike V and the Rats. My crew skipped the music and headed to the famous Naam restaurant on West 4th Avenue to finish off the night. The ample vegetarian and vegan selections were a nice change from the Slam snacks. I saw some skaters like Rick McCrank and Eric Koston there as well, fueling up for the next day's finals with a dragon bowl or vegan burrito.
Sunday began with the girls vert and street contests. The vert was laid back, and basically just seemed like a fun sesh where anyone could drop in and try something whenever they wanted. All the skaters were ultra supportive of each other, especially of the younger ones like Lin-Z Adams-Hawkins who mustered up the courage to do the (15 ft?) vert roll-in.
In the street contest, I already had my eye on Amy Caron from her smooth, consistent practice runs on Saturday. I didn't see her miss more than two tricks through the whole thing. She ended up taking 1st with a feeble grind on the baby blue rail and a frontside nosegrind on the bench. Last year's winner Vanessa Torres was a close second. She got in a crooked grind and a frontside lip on the blue rail and a frontside boarslide on the yellow one. Alison Matasi, 15, also impressed the crowd with a long, smooth frontside board, and a lot of style.
I can hardly skate sometimes when I'm at the park and it feels like too many eyes are on me. It must take so much courage for the skaters to put themselves out there, exposed not only to the critical eye of the judges, but also to the thousands of spectators.
I didn't watch the guys vert contest as intently as the rest of the event, but I heard Renton Miller, Pierre-Luc Gagnon, and Sandro Dias were all amazing. In the end Pierre-Luc took first place with some tech tricks like nollie heels and some fancy grinds.
Matt Beach did awesome in his qualifying street runs on Saturday, but he broke his ankle and possibly changed the course of fate by being unable to compete in the finals. In the end Rodil Junior, of Brazil came in first place after landing a frontside flip up the charity's gap, and a frontside lip on the huge green rail, among other things.
Koston, Rodriguez, and Ryan Sheckler took second, third and fourth places, respectively. Last year's second placer, Colt Cannon placed fifth overall.
Vancouver's local pride, Rick McCrank, who placed first at the World event in Australia earlier this year, seemed to just not be hitting it during his final runs. He missed many of the tricks I had seen him land in practice, and I think everyone was a bit surprised. He said he hates the stress of Slam.
Rick's household opens their home every year for the first weekend in May to about a dozen folks like myself, which is a very kind thing to do at a time that is already so hectic. He and his girlfriend Michelle also held the grand opening of their new skateshop/art gallery, Anti Social, during the weekend, which was a fine party with free beer good food and tons of nice people.
Rick said that Slam being under the direction of Jay Balmer this year made a real difference to how smoothly things went for the skaters. He was apparently very accommodating when it came to the smaller details like guest lists for the skaters. Hopefully he'll be back next year to help again make Slam City Jam weekend another great success.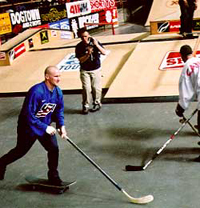 Mike Vallely, Hockey Team USA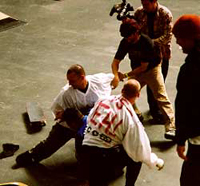 Gonz, duck-taping the Canadian Team