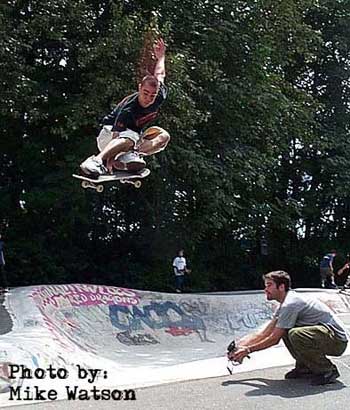 The fifth annual Canada Day "Bowl Bash" went off without a hitch again this year. This is a skate series that goes from Seylynn, White Rock, Griffin, and ends in Whistler.
A wide range of competitors showed up as well as a hundred or so spectators! It was nice to see every age group just kicking it with a cold one watching some local skaters rip it up on the holiday. They had every style and age of rider at this event. There were 10 year olds busting huge grabs, even a kid trying a couple of flips!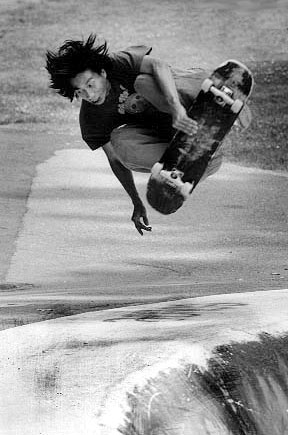 Pro skaters were everywhere. Some notables were Alex Chalmers and Craig Williams. Chalmers didn't compete, although he did dominate the series last year.
Chalmers chose to support the contest by signing up amateurs... well, basically anybody with a board! Although, I did catch him helping a guy out with clearing a pallet! Nice one.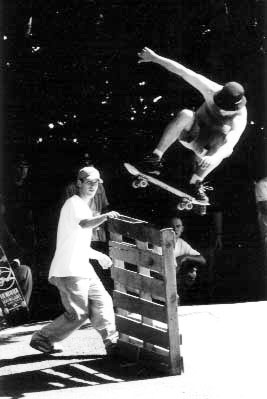 Craig Williams was ripping it, busting huge six foot grabs off the lip and landing them every time. Seylynn is one of the original skateparks in the Vancouver area. This bowl is fast and snaky and it gives riders a ton of speed.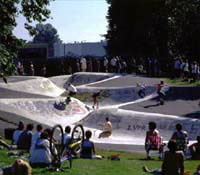 A few times there were about twelve people in the bowl, and they were moving quickly. Seylynn has been known to "spank" a few in the past, and this competition was no exception.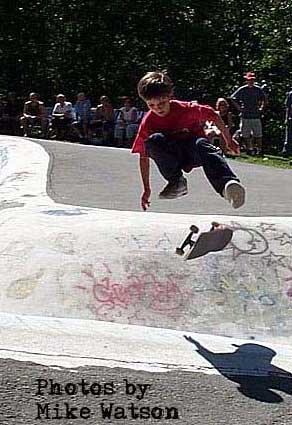 There was a bit of skin left that day, but no major injuries. A great event and three more to go.
Results:
Sponsored 1. Gary Harris 2. Dave Boyce Sr. 3. Jordan and Craig Bushman
Jay Balmer, Marc Rowe, Shane Hunter, George Faulkner aka CoverBoy, Jordan Kidlerk, Jay Wainwright, James "Cuban", Steve Denham, Steve Boyd, Johnny Dread Byers, Craig Thompson, Danny Hagee, Dave Sterling, Tim Nelson, Phil, Damon K.
Longboard 1. Langer 2. Sherrat and Steve Boyd 3. Shane Hunter
John Newhouse (Team Banana), Jason "Misty" Colvig, Jason Saarri, Simon Pigeon, Chet Moller, Eve, Jay Wainwright, Mitchy
Over 30 1. Marvin 2. Jay and Bushman 3. Nick Parker
Don Hartley, Kill Blem (Spanky) (Jordan), Chris Parry aka Big Guy, Mark Happeney, Sluggo, Rory Rory (England) Whale Cock (flow)
Intermediate 1. Brian Tancredi 2. Scott MacIntyre 3. Jesse "The Birthday Hippy"
Allen Tudor, Chris Ish, Jaime Boddy, Josh Murhphy, Cedric Cook, Peter Radmonski, Ray Hill, Scott Gilbert, Gary Redcliffe, Travis Robb, Nick Posso, Myles, Brendan Hardy, Fraser McCaul, Trevor Moncasder, Chris Trapnell
Novice 1. Jaimie Stevenson 2. Jeff Walter 3. Dave Dolan
Steven Croik, Kyle Gibbs, Zach Holt, Marlon Strang, Eric Bell Beer
Relay - Winning Team 1. Chris Parry 2. Glen Wal 3. Jay Balmer 4. Langer