Sessions sponsored the first Annual Tim Brauch Memorial Amateur competition in Scotts Valley, CA August 30, 1999. Scotts Valley is the proposed location for the Tim memorial skatepark, and this contest was the first step towards fundraising efforts.
What would Tim love more, (except maybe something to do with animals) than supporting an AM competition. You've all seen pics of the long lines of kids waiting for Tim's autograph. And Tim, signing anything and everything in sight, till the last kid is gone.
Ron & Karina photo by Clarkie
The shots tell the story, really. It was one of those warm Santa Cruz County late summer days, with spectators, pros, big name photographers, industry people, the BMC, Karina, and Tim's family turning out to honor and remember Tim and support something Santa Cruz County is definitely lacking: places to rip without going to the local penitentiary.
I arrived just as Karina was presenting Ron Whaley with the "best trick" award. Wait! Isn't this an amateur contest? I guess Ron lied about his age and height. Boy, what some will do to get little extra beer money!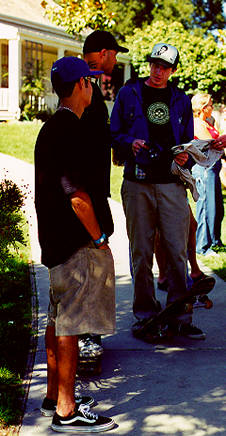 Jason, Salman, & ? photo by Clarkie
Is this a face! Future hunk material huh ladies? Salman turned out to enjoy the hot day in remembrance of his fine friend and to support the AM's.
Jason Adams after a hard day of judging, chatting with Salman and someone who's name I didn't catch. The other judges were Scott Greathouse and Jason Strubing. Moish from Consolidated was the announcer.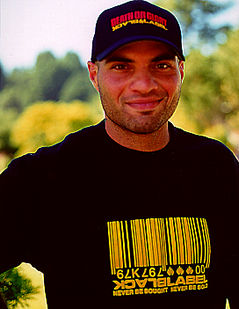 Salman Agah photo by Clarkie