On May 5–7th in Vancouver B.C. was the now world famous "Slam City Jam." It was neither a "Slam City" or a "City Jam," yet this year it was somehow special.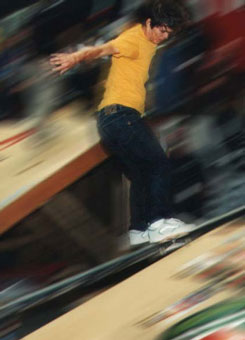 Geoff Rowley
It was Slam City Jam 2000. I was personally hoping for Ford Skateathon, or maybe Mountain Dew Madness 2000, but I guess nothing beats tradition, and Slam City Jam was here again.

Friday was the first day and there was plenty of good skating going on. It was just qualifying, but even those prequalified were eager to skate the course. If you have ever seen a pro contest like this, practice is quite a sight, over 100 skaters "jam" the course, and some even "slam" into the photographers as well. (Psst...I've heard insurance companies pay out big for skate related injuries!)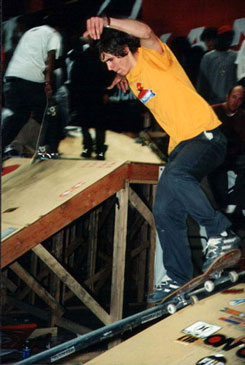 Brad Staba
I guess that is why this is Slam City Jam right? It is pretty hectic with all the skaters preparing their runs, and the photographers getting their shots. Despite the madness, there is an energy that everyone is there to do their best.

This day belonged to Brad Staba. Mike McCourt, told me early in the day, "Brad is going to win today's qualifying." He did just that, placing first out of 80 skaters that day in the qualifying round. Impressive blunt transfers can only help oneself. Saturday was the street and vert semi's.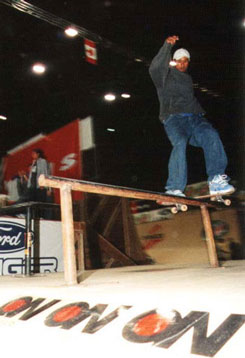 Alfonso Rawls
Over on the vert ramp, it was Bob's turn to show us why he is Bob Burnquist, by skating better than everyone else. Also, impressive were Vancouver local Colin McKay who was going the highest on this day by my opinion.
The street semi's were entertaining, with skaters like Mike Vallely, Eric Koston, Ed Templeton, and Jamie Thomas, it was rather pleasing to watch Jamie 50-50 the biggest rail in the place, and see Ed Templeton set new standards of coolness.
Brad Staba finished second in this days run, and was for sure favored to win it on the third day. Local boy Rick McCrank cranked it up and pleased everyone with 360 grabs off the quarter and over the box. While others were doing this, Rick was going about two feet higher than everyone else!

The day of the finals was also the girls competition, and a few years ago, SCJ was one of the first major contests to have a section just for girls. Seems like time, doesn't it? It reminded me of those WNBA ads, "you watch cause they are better than you." Yeah, they are better than you. Taking first on today was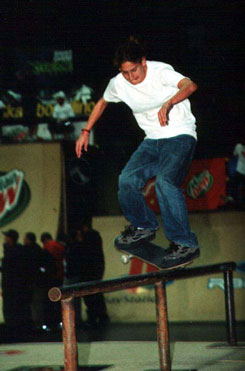 Elissa Steamer
Cnaan Omer of Trust Skateboards, Second was Faye Jamie of Consolidated, and third was everyone's favorite, Elissa Steamer of Toy Machine.

The men's vert should us once again Bob's talented, switch filled run, amazing is a good word to describe this guy. Amazing. Pushed by the crowd, Colin McKay finished third and Brazilian Sandro Dias who put together a nice solid run to earn himself fourth.

The street finals showed us some new blood, among them were Gailea Momolu, representing World with his blue Etnies, lit up everyone's flash with his nollie heelflip backside boardslides. Yeah, impressive. Watch out for this guy in 411 VM.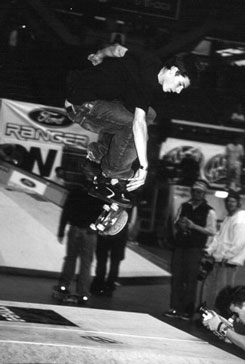 Mark Appleyard
The always "going bigger" Chris Senn ollied huge to frontside boardslide, damn fast and burly.
But this day belonged to Ryan Johnson of New Deal. He started out by pumping on the vert ramp to ollie out of vert to transfer to a steep bank nearby, and continued to rip up the rest of the course with by hitting handrails, and skating hella fast. Afterwards, I congratulated him on his run, and he replied he wanted "to flow like water;" he was flowing like expensive water then, cause it earned him $7000.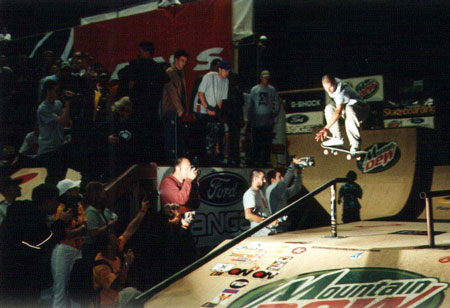 Chris Senn
The weekend was over, except for the am's, which I didn't get to stay for. Back to my everyday life—things resumed. I still wonder why, "Slam City Jam?" Any ideas?
---
Real Skate would like to give major props to Kriddy Earl and all the SCJ staff and volunteers for accommodating us to come shoot shit up. There's a "pitcher" with your name on it waiting for you in Santa Cruz!
For all the final results of the SCJ check out their site: