Vans Warped Tour, Boreal '01 Slightly Stoopid Interview by Ryde ( photos by clarkie)
Every once in a great while a band shows up on the music scene that has the raw emotion, ability and talent, to grab from different styles and pull it all in and make it their own. Anyone can play music but real artists can feel it.
The first time I ever saw or heard of Slightly Stoopid was about 3 years ago in Santa Cruz. For whatever reasons, there were alot of cancellations that night; but when we walked in the club, Slightly Stoopid had just started their set. It wasn't long before a few gurlies jumped on stage, shed their tops and started dancing. I was expecting to hear a straight hard punk set but it didn't take long to find out that there was more going on with these guys. The music bounced around from hard core to reggae, ska, hip-hop, dub...all Stoopid's style of punk.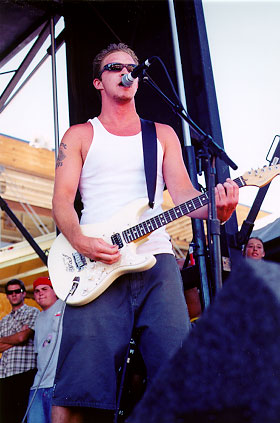 Last December Miles and Kyle released a limited edition CD titled, "Acoustic Roots," recorded live at a So Cal radio station. They didn't have a new drummer yet, so decided to jam an acoustic set. After hearing Acoustic Roots it really hit me how damn good they really are.
Vans Warped Tour hooked us up at Boreal outside of Truckee, CA. After about 5 hours of hi-energy punk Slightly Stoopid took the stage. They opened up their set with a reggae song. I thought to myself," damn, what a gutsy call." The tempo quickly changed to punk with originals like "Fuck the Police," an electric version of "If This World Were Mine", and others off of their first two cds. The music was a ride from hard pounding punk riffs by Miles on lead, Kyle on his tight fender bass, and Danny on drums, to melodic dub-style with Kyle's heavy mesmerizing bass lines.
As in Warped Tour tradition, it was only a half-hour set, even though the crowd was calling for more. But Slightly Stoopid left their mark with the audience.
Clarkie made her way back from the frontlines to backstage alive but kind of wet due to crowd-hosing after shooting pics in the tight strip of land between the stage, bouncers, and moshpit. We got to sit and chill with Miles, Kyle, and Danny and ask them a few questions before they loaded their vans.
RS: Thanks for taking time out before you guys get on the road again. We know that youĆve been really busy.
SS: Yeah we've had a rough couple of days. We're not doing the tour in a bus. We're doing the tour in a van because we were doing our own stuff before we joined the tour; started out playing in places like Sacramento, Santa Cruz, San Francisco, New Mexico, and Arizona.
RS: So then where does it all end for you?
SS: It'll end in Denver. Then we're going back home and do some recording. We'll be working with The Scientist in the studio. But we're also doing another tour this summer with Buju Banton. We'll be doing about 25 shows in about 4 weeks and two weeks on our own coming home.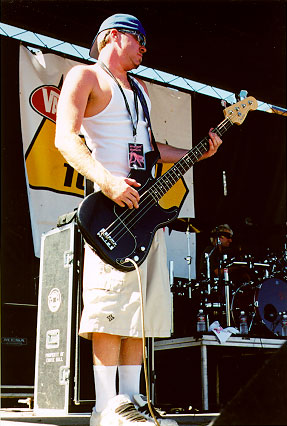 RS: Where did the dub influence come from in your music?
SS: (Miles) I listen to a lot of reggae, ever since I was a kid. We used to be just a straight punk band when we were about 16 or 17. That's all we played. Every now and then we'd throw in a few ska songs. Actually Brad [Bradley Nowell from Sublime] taught us how to play reggae. A lot of bands that try don't actually understand the whole strum of the reggae guitar. So Brad kind of showed us how to do it and from there we just listened to lots of reggae, like Bob Marley, Barrington Levy, Half-Pint, Israel Vibration, and stuff like that. It has a lot of influence on you, and as you get older you start to think I just can't go out there and do a straight hard punk set.
RS: How long have you known each other?
SS: (Kyle) Since we were about 2. (Miles) Yeah, Kyle and I have always known each other. Danny our drummer is the new comer.
RS: You guys have a great mix of music.
SS: I think that's what helps us. We're so diverse, we play so many different styles of music. Like we broke up the monotony today. Like it's been punk rock all day long and we opened up with a reggae song.
RS: (laughing) Yeah we saw a lot of blank faces at first; kind of a hush over the crowd.
SS: Yeah, people were probably thinking "oh my god"!
RS: Do any of you skate?
SS: (Kyle) I'm sponsored by Sector-9 Skateboards. They kick us down with the fattest skateboards. They give us everything we need to shred it up. I get flex decks, fiberglass decks and other stuff.
RS: Where are all of you from?
SS: (Kyle) We're from Ocean Beach/San Diego. (Danny) I just moved out here from Phoenix.
RS: How long have you been playing together?
SS: Kyle and I have been in the band for about 6 or 7 years, ever since we've been about 16 or 17 years old. Danny just joined us. He's been in the band since a couple of weeks before we started the tour.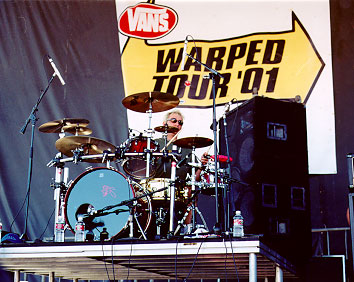 RS: How many CDs do you have out now?

SS: We have 3. Our first album was in 1996, self-titled "Slightly Stoopid.'' It's out of print and I just heard that a copy of it went for like $270 on E-Bay. We're thinking about re-recording it cuz all those songs are great songs, and we were just kids when we did them. If we did it now it would be so much better. Then we did "Longest Barrel Ride" in 1998.
RS: How about the 3rd one? It was recorded live, right?
SS: Yeah, we happened to put out an interesting live album around last December (2000) called "Acoustic Roots." We were invited to play a 40-minute set for a radio show on Rock 105.3. We were still looking for a drummer at the time so Kyle and I decided we'd bring our acoustic guitars down to the studio and we jammed an acoustic set. We were really pleased with the end result so we released it in a limited edition. It was also a really good thing for us to do at the time. It helped to keep a lot of stuff in perspective. (Danny) These guys did a really great job on it. It's the reason why I'm playing with them.
RS: (to Danny/drums) How did you hook up with Kyle and Miles?
SS: I heard about them from a mutual friend in San Diego that played me their cds. I came out here last year and jammed with them, but we just started playing together before the Warped Tour.
RS: We wouldn't have known. You guys sound pretty tight... I mean with all the different styles of music and changes in some of the songs.
SS: (Danny) Glad you thought so. I'm critical about myself when I perform and don't like to make mistakes. These guys are an amazing band. They're very poetic and melodic and that's what I like about them. They know how to carry a melody and change up in a song.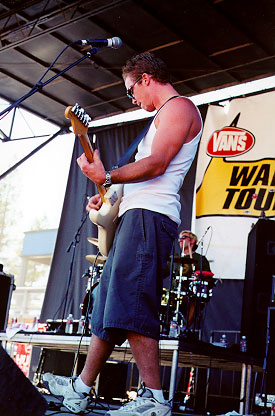 RS: Do any of you play other instruments?
SS: Kyle plays guitar besides bass guitar, keyboards, and drums sometimes. He also got his own little Mad Scientist studio going on at home. Danny plays timpans, steel drums and a lot of other percussion. He's the schooled one.
RS: How did you get your name?
SS: (Miles) Hmmm, I was a 16 year old kid. So when you're 16 it's like "Stoopid" little kids.

RS: Do your parents ever come and see you play?
SS: Oh yeah all the time. (Miles) Yeah my dad is like total born again christian and he says like "that's God's choice, son," that we play music. He comes down to the bar to watch us play, but he doesn't drink.
RS: Does he think you're going to hell? (laughing)
SS: (Miles) Haha, no he doesn't think that. He'd like me not to smoke weed or drink, but....what are ya gonna do?
RS: Well, that's a parent for ya!
SS: Exactly! I don't do drugs. I don't consider weed or beer as drugs, and I won't fuck up my life smoking weed. I just like drinking, and smoking weed...is all we need, and playing music.
RS: You ever chill with RAS or Opie [from Long Beach Dub Allstars]?
SS: Not really anymore. We used to when we were younger but we're all doing our own thing now.
RS: When we asked them [LBDA's] about the naked chicks on stage, RAS thought for a second and said "it ain't us, it's those guys from Stoopid" that called them up. Haha. You got the rep.
SS: We don't invite them up. They just do it.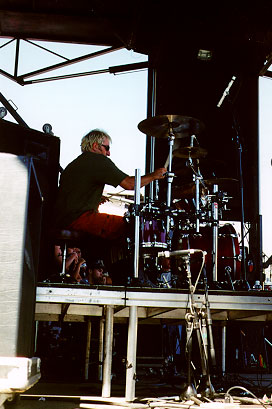 RS: Where did you meet Bradley?
SS: (Miles) I met Brad when I was 16 playing at a bar. He came over to the pad and we started jammin acoustic. On our first album there's a song on the end (secret song) with Brad playing bass and tambourine. We were doing that shit in my living room. My Mom has got hours and hours of footage. He did one of our songs "Ain't a Prophet" that came out on a bootleg called "Bums Lie" or something like that. Brad died right after that. We're going to re-record it on our new album.
RS: Will you be adding any additional people to the band in the future?
SS: Right now with three guys on stage our attack is good so we want to keep it that way for awhile. Eventually maybe we'd like to get a keyboard player and someone on turntables.
RS: We know you want to go have dinner and some beers already. Anything else you want people to know about you before we wrap up?
SS: We're from Ocean Beach/San Diego, and we're with Silverback Management And if you want any band information it's at Skunk Records, stoopid@skunk.com.
Oh yeah...Thanks to Matt at Silverback Management for being so accommodating to Real Skate. We were able to connect with you guys at Warped with hardly any roadblocks. Peace out. Ryde
For more info on Slightly Stoopid pleaase visit their website at: