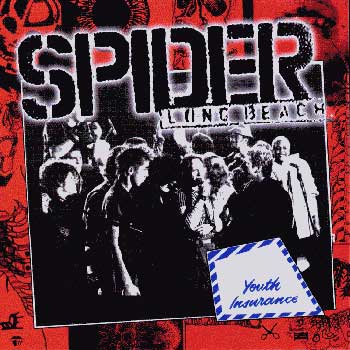 ........... then along came a SPIDER.
In these times when punk music is getting "popped" out, and large recording labels are trying to shove down our throats what they think punk should be like, it's refreshing to hear a CD like SPIDER's first release, "Youth Insurance."
SPIDER took their name from a ride by the same name that was at the infamous Pike in Long Beach. The Pike was an old seaside carnival in Long Beach and had the rep over the years of attracting a gritty, and what some might have called an unsavory crowd. I thought this is worth mentioning because it seems to also reflect what SPIDER's music is about. This is hard-driving, straight forward punk, with an old school influence, but at the same time it's definitely contemporary. All tracks except for one or two are original works written by this foursome. The lyrics are a mix of dark metaphors, similes, and just straight up street talkin trash, that I'm sure alot of people can relate to.
The sound is hard, fast, simple, and melodic. Hector Martinez' raw vocals tell the story, Steve Westerkamp's driving bass and Karl Izumi's killer cord work and leads pack the power punch, and Al Silva's unending workout on drums pulls Spider's sound all together. The engineering and mix is also well done. I can actually pick out the chord progressions.
"Barcode Baby" and "Metal Detector," are a couple of pretty hot tracks. "Shooting Stars" will let you catch your breath for about 10 seconds, but the CD as a whole is pretty damn high-energy and a decent first effort. If you want to see SPIDER in action you'll have to come to the west coast at this point, but you could find their CD on an indie label, Jesus Records, but I gotta say there's nothing holy about SPIDER.
Peace Out,
Ryde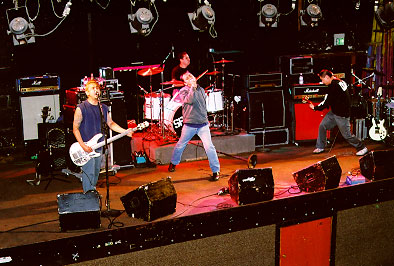 For more information about Spider and where to buy
"Youth Insurance" contact: